Released today by 451st Air Expeditionary Wing Public Affairs: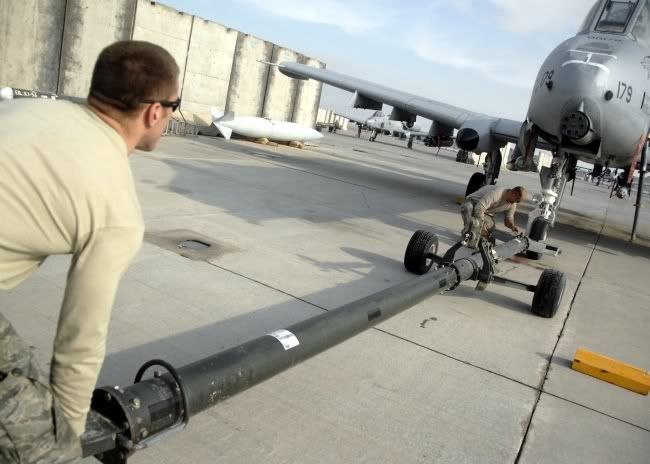 KANDAHAR AIRFIELD, Afghanistan -- Senior Airman Nathan Tierney (left) and Staff Sergeant Eddie Evans return an aircraft after an in-flight emergency here December 10, 2009. Airman Tierney and Sergeant Evans are A-10 crash recovery troops with the 451st Expeditionary Maintenance Squadron Maintenance Flight. Note: The aircraft is A-10C 80-0179, deployed with the 354th Expeditionary Fighter Squadron. LAU-131 Rocked Pod on station 9 is not usual for any A-10 loadouts! Two more A-10Cs are parking at the flight line, protected by barriers like at Bagram AB, Afghanistan. (U.S. Air Force photo by Senior Airman Timothy Taylor)
Hi-res
by Staff Sgt. Angelique N. Smythe
451st Air Expeditionary Wing Public Affairs
12/15/2009 - KANDAHAR AIRFIELD, Afghanistan -- The 451st Expeditionary Maintenance Squadron Maintenance Flight keeps A-10 Thunderbolt II aircraft up and running, enabling them to provide close air support throughout Afghanistan by performing phase inspections after every 500 hours of flight.
These deep inspections make sure the aircraft are in the best condition possible to support the warfighter and operations here in Afghanistan.
"Every 500 hours we have to take a harder look at things that you don't normally look for during a regular preflight or basic post flight inspection," said Senior Master Sgt. David Wade, Maintenance Flight Chief.
The aircraft is removed from service, then all aircraft panels are removed. All components of the aircraft are inspected, including landing gear, engine operations, door rigs and flight controls.
Approximately 25 Airmen work two 12-hour shifts each day to complete both the look and fix phases within four to five days.
"Normally, at home, this process takes 15 calendar days, which is eight to ten duty days," said Tech. Sgt. Emery Makany, Phase Section Chief. "The fastest we've done it here has been in 55 hours flat."
The maintainers look for structural integrity, serviceability of parts, and system operation.
"We're able to put out phases in less than half the normal time because we're working around the clock," said Sergeant Wade, who also added that he'd once given a tour to a Belgium F-16 unit of the maintenance flight's operations.
They were very "impressed with our efficient processes and phase flow (four days as opposed to their standard three-week flow for an F-16)," he said.
"And it's not just our folks who work on those aircraft," he said. "We rely heavily on the armament flight, the fabrication flight, the aircraft maintenance specialists ... all of those people have a job to do on the phase."
The unit also relies on Airmen of metals technology who take care of tasks such as baring and welding; Airmen in general structures who take care of standard sheet metal and fabrication; the fuels shop that works on refueling, internal/external tanks, pressure systems, and pressurizations; the electrical and environmental team, which takes care of climate control, cabin pressurization, wiring and lighting; the avionics team which covers things such as the laser targeting pods and navigation systems; the armament shop which focuses on the GAU-8 Avenger; and also those who work on the A-10s' engine systems.
The Maintenance Flight also consists of the Repair and Reclamation shop and Crash Recovery experts who respond to in-flight emergencies and ground emergencies for coalition and U.S. forces.
"We do all the flight control ratings on all the primary flight controls," said Master Sgt. Robert Bierma, Repair and Reclamation Aero Repair Shop Section Chief. "We also rebuild and resupply supply stations with wheels on tires. We go through and remove the old skins to put new skins on, air it back up and return the tire to service."
If an aircraft comes down with an in-flight emergency or ground flight emergency, it parks on the runway as soon as possible. Once the runway shuts down, the crew responds to remove the aircraft from the runway.
"Our technical order's time frame for removing an aircraft from the runway is 10 minutes," Sergeant Bierma said, "from the time the aircraft hits the runway to when we actually hook up to it, tow it off the runway, then actually open that runway back up."
"The Repair and Reclamation shop provided top-notch support to an F-16, which recently landed on Kandahar Airfield with an engine malfunction," said Sergeant Wade. "They coordinated weapons download and towed the disabled aircraft to the phase hangar where the A-10 phase dock supported the maintenance recovery team."
The aircraft was fully mission capable within less than 24 hours.
"The Maintenance Flight is a team of first-rate Air Force professionals and I am lucky and proud to have served with them," Sergeant Wade said, who is deployed from Dyess Air Force Base, Texas.
With the exception of Sergeant Wade, members of the Maintenance Flight are deployed from Davis-Monthan, Ariz., where civilians are generally the source of expertise in the maintenance flight. The Airmen most often help these civilians rather than run the maintenance areas themselves as they do here.
Here, the team consists of mostly young Airmen with an average of four to six years of total Air Force time.
"At homestation we have more 7-levels and a whole crew of civilians with combined experience of over 200 years," he said. "What we're doing here is really quite amazing considering all the experience level of all the guys we've had."
He also described his Airmen as being very motivated, and "just couldn't wait to get over here to get the job done."
"Motivation is insane," he said. "A lot of these guys are first-time deployers. We may have three veterans of deployments. They're not terribly experienced, but that's the nature of the beast. Sink or swim. And they jumped in head first and really started swimming. Everything they were weak in, they learned to improve on. Everything they didn't know, they learned to do."
KANDAHAR AIRFIELD, Afghanistan -- Senior Airman David English installs a left rudder actuator on an A-10 Thunderbolt II here, December 10, 2009. The left rudder actuator is a device that controls the rear flaps. Airman English is a crew chief with the 451st Expeditionary Maintenance Squadron Maintenance Flight from Davis-Monthan AFB, Arizona. (U.S. Air Force photo by Senior Airman Timothy Taylor)
Hi-res
KANDAHAR AIRFIELD, Afghanistan -- Senior Airman Julio Morato, 451st Expeditionary Maintenance Squadron Maintenance Flight crew chief, adjusts the taxi light wire harness attached to the nose wheel steering unit cover here, December 10, 2009. Airman Morato is deployed from Davis-Monthan AFB, Arizona. (U.S. Air Force photo by senior Airman Timothy Taylor)
Hi-res
KANDAHAR AIRFIELD, Afghanistan -- Airman 1st Class Jake Gallet safety wires the accumulator servicing valve December 10, 2009. Safety wire ensures the bolts will not loosen during flight due to vibrations. Airman Gallet is a crew chief with the 451st Expeditionary Maintenance Squadron Maintenance Flight from Davis-Monthan AFB, Arizona. (U.S. Air Force photo by Senior Airman Timothy Taylor
Hi-res
Source