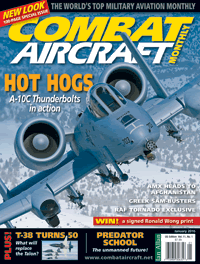 In their January 2010 (Volume 11, Number 1 issue) Combat Aircraft published a news article "Idaho's Hot 'Hogs'" (eight pages). As the Idaho ANG trained hard with new capabilities and upgraded aircraft, James Haseltine was on hand to capture the action. Robert F. Dorr details the work of this unit and forthcoming plans.
Combat Aircraft Magazine
is published by Ian Allan Publishing Ltd, United Kindom.
(The Hog is only pictured on the cover of the U.S. edition)