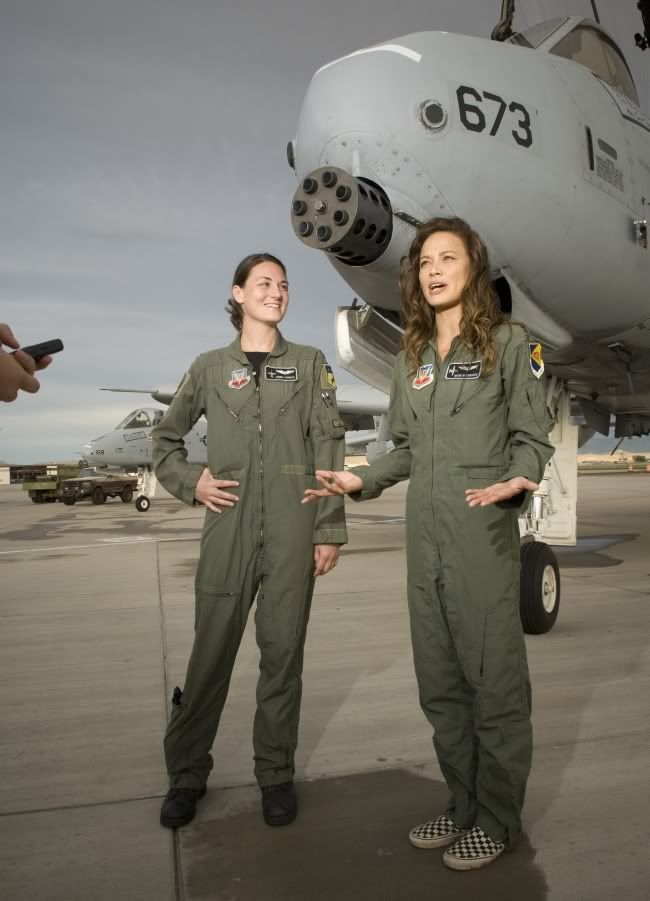 Capt. Jennie Schoeck (left) and actress Moon Bloodgood meet in front of A-10 78-0673 for an interview with the news media during the production of "Terminator Salvation" at Kirtland AFB, New Mexico. Captain Schoeck is assigned to the 358th Fighter Squadron at Davis-Monthan AFB, Arizona, and was the A-10 advisor for the production. Moon Bloodgood portrays a lead resistance pilot in the movie. (U.S. Air Force photo by Lance Cheung)
Hi-res
by Staff Sgt. Matthew Bates
Defense Media Activity-San Antonio
4/6/2009 - KIRTLAND AIR FORCE BASE, N.M. (AFNS) -- Airmen here recently supported a different kind of war, one against futuristic machines out for world domination.
The Airmen performed as extras on the set of "Terminator Salvation," which filmed several scenes in a hangar on the base's flightline. The movie is the latest in the popular man-versus-machine franchise and stars Christian Bale and is directed by McG.
"It's really cool," said Airman 1st Class Andrew Saunders, a member of the 377th Logistics Readiness Squadron, who plays a "resistance" soldier. "The set, the vehicles, the stars ... it's a lot of fun."
And, as Airman Saunders found out, making movies is a lot of work, too.
"It's amazing," he said. "It takes so much to prepare for a 30-second clip ... hours and hours of work for just one scene."
Still, the Airmen didn't only sign on to support the "resistance." Some were brought on as advisors to the stars, teaching them how to act and think like military people.
One of these Airmen was Capt. Jenny Schroeck, an A-10 Thunderbolt II pilot instructor with the 358th Fighter Squadron at Davis-Monthan AFB, Ariz., Captain Schroek worked alongside the movie's lead actress, Moon Bloodgood, who plays an A-10 pilot in the movie.
"I just showed her how to act and talk when inside the cockpit," Captain Schroeck said. "And she shadowed me around for a while and just observed what I did and how I did it."
It was "training" Ms. Bloodgood was happy to get.
"Of course it helps," she said. "As an actor, anytime you can observe someone performing the roles you're about to play, it's a tremendous benefit. It makes it look like you know what you're doing and adds a touch of credibility and realism to the movie."
But it wasn't only the stars who benefited from the base's support. Those involved in the movie's production also found working with the Air Force a positive experience.
"The eye-opening thing for me was just how mutually beneficial the relationship between the Air Force and the production staff was," said James Middleton, an associate producer with the movie. "The base has been very supportive, flexible and done what they could to meet our needs."
"Terminator Salvation" is the latest in a number of recent films to highlight Air Force people and equipment. Others include "Transformers," "Eagle Eye" and "Iron Man."
Capt. Jennie Schoeck shows the cockpit of an A-10 Thunderbolt II to actress Moon Bloodgood. (U.S. Air Force photo by Lance Cheung)
Hi-res
Source
(Video included)