Released today by
52nd Fighter Wing Public Affairs
:
7/13/2010 - Col. Christopher Weggeman (right), 52nd Fighter Wing commander, accepts command of the 52nd FW by receiving the unit's guidon from Lt. Gen. Frank Gorenc, 3rd Air Force commander July 13, 2010. Command of the unit of more than 5,500 Airmen was transferred from Col. Tip Wight to Colonel Weggeman. (U.S. Air Force photo by Staff Sgt. Logan Tuttle)
Hi-res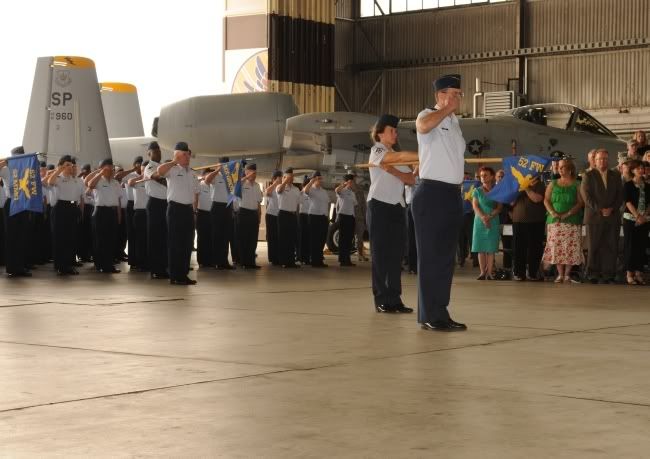 7/13/2010 - SPANGDAHLEM AIR BASE, Germany – Members of the 52nd Fighter Wing render their first salute to Col. Christopher Weggeman, incoming commander, during a change of command ceremony July 13, 2010. Colonel Weggeman took command from Col. Tip Wight, who will be assigned to the Pentagon. (U.S. Air Force photo by Staff Sgt. Benjamin Wilson)
Hi-res
Please note:
Althoug Col. Christopher Weggeman is from the F-16 Fighting Falcon ("Viper") community, the crowd in Hangar 1 is pictured in front of A-10C 81-0960 from the 81st Fighter Squadron.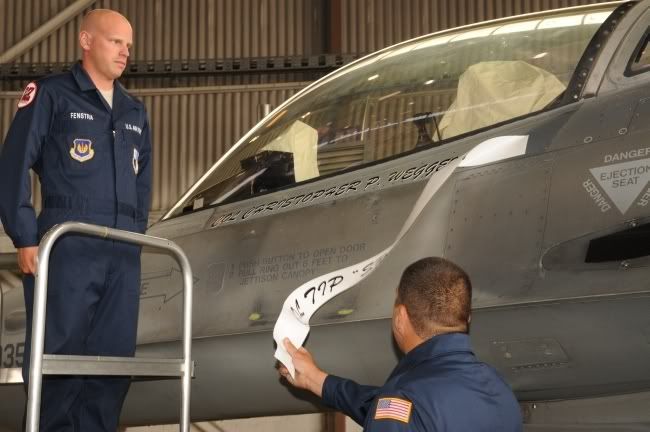 7/13/2010 - SPANGDAHLEM AIR BASE, Germany – Airman 1st Class Anthony Fenstra, left, and Staff Sgt. Joseph Ramirez, 52nd Aircraft Maintenance Squadron dedicated crew chiefs, remove the name of Col. Tip Wight, former 52nd Fighter Wing commander, from the 52nd FW flag ship revealing the name of Col. Christopher Weggeman, 52nd FW incoming commander, during a change of command ceremony July 13, 2010. (U.S. Air Force photo by Staff Sgt. Benjamin Wilson)
Hi-res
Related info:
New commander meets wing
by Staff Reports
52nd Fighter Wing Public Affairs
7/13/2010 - SPANGDAHLEM AIR BASE, Germany -- Col. Christopher Weggeman, 52nd Fighter Wing commander, assumed command from Col. Tip Wight during a change of command ceremony that began at 9:52 a.m. in Hangar 1.
The 52nd FW Public Affairs office spent a few minutes with the new commander to learn more about him.
1. When were you notified of your assignment to Spangdahlem? What was your initial reaction or impression?
General Brady told me personally in our NATO headquarters. I was first extremely excited and honored. I also felt both anxious and humbled. Those were the strongest emotions. Then over time, the excitement completely took over. I'm just excited to come out here and have the opportunity and the honor to lead our great Airmen.
2. What are some of your previous experiences that prepared you for the mission here?
I was born and raised in the F-16 community, and I know that's only one of the major weapons systems we have here at Spangdahlem. My squadron command tour was at Hill Air Force Base, and I was able to twice take my squadron to combat - once as the first operational active duty squadron based at Balad Air Base in support of Operation Iraqi Freedom. Then I was able to take my squadron back. I think the experience I gained in that combat Area of Responsibility prepared me for a command. For me it painted a picture of what we're doing today in Iraq and Afghanistan. I think it further prepares me to advocate for the resources and the skill sets that our Airmen need.
3. As commander, what items of interest do you plan to focus on?
Very simply it's mission, Airmen and family. Those are my three main emphases. But, I also intend to forge future leaders, so I will place an emphasis on leadership as part of the command climate. As commanders, we're developing the next generation of leaders - that means taking the young Airmen, NCOs and officers and making sure we're developing them to be leaders. We also need our senior NCOs, chiefs and commanders to sharpen their leadership skills, given the operation tempo we have, when urgency can overcome importance. It's important is to make sure that we forge these new leaders across the spectrum.
4. What is your most vivid or memorable AF moment - either as a pilot or commander?
One of my most vivid memories is when I had the honor as the 12th Operations Group commander to host the POW/MIA reunion Dining-In at Randolph AFB. I just loved the overall experience and meeting all the POWs, or freedom flyers as we call them at Randolph. For a fighter pilot that was chicken soup for my soul.
5. What are some ways you plan to support the efforts and mission of NATO and USAFE?
The first thing is to ensure our Airmen and our civilians have the resources they need to do the job, and that we build an environment that's conducive to our well-being both in executing the mission and during off-duty time, like when we take care of our families. As far as NATO and our host nation, I want to continue to leverage the great relationships that Colonel Wight has made with the local communities and their leadership. We need to continue and exist in a relationship of harmony. I want to make sure we strive to do that.
6. Can you tell us about your family?
My wife and I met at Purdue University - she was an ROTC cadet in my flight, and we've been together since. We have two kids - a son Sam who's going to be 14 on the 14th, and my daughter Olivia who is 11. We also have two Great Dane dogs - Gemini and Jules . We love our house, and we're happy to be here.
7. What are some of your hobbies?
I'm into physical conditioning, so I go to the gym to work out and lift weights. Skiing is probably my biggest sport. I've been skiing since I was four. I was actually on our high school ski team, and I raced competitively throughout high school. We love Bavaria, and it's one of our favorite places to go including Garmisch. I occasionally play golf, but I'm not like Colonel Wight - I'm not a scratch golfer by any means.
8. What cemented your decision to join the AF?
I'm the first military member in my family, and I just wanted to serve my country. I'm a patriot. I get choked up when I hear the national anthem, and if you cut me I bleed red, white and blue. I don't know where it came from, but I felt a calling and wanted to serve. Initially I joined to be a flight surgeon--but then when I had my first ROTC physical, they said I was medically cleared to fly, and the rest as you say is history.
Source
Official USAF online bio of Colonel Christopher P. Weggeman:
COLONEL CHRISTOPHER P. WEGGEMAN
Colonel Christopher P. Weggeman is Commander, 52d Fighter Wing, Spangdahlem Air Base, Germany. As such, Colonel Weggeman leads a wing of over 5,500 military and civilian personnel who maintain, deploy, and employ F-16 and A-10 aircraft, TPS-75 radar systems and $2.5B of U.S. Protection Level 1 assets in support of NATO and U.S. missions as directed by the President and Secretary of Defense. The wing supports the Supreme Allied Commander Europe with mission-ready personnel and systems providing expeditionary air power for suppression of enemy air defenses, close air support, non-traditional intelligence, surveillance, and reconnaissance, air interdiction, counterair, air strike control, strategic attack, combat search and rescue, and theater airspace control.
Colonel Weggeman is a 1987 graduate of Purdue University, where he was commissioned through Air Force ROTC as a distinguished graduate. Prior to this assignment, Colonel Weggeman was the Director of Staff, U.S. Senior National Representative and Commander, Air Force Element, Allied Air Component Command Headquarters, Ramstein Air Base, Germany.
EDUCATION:
1987 Bachelor of Science in Biology, Purdue University, West Lafayette, Ind.
1993 Squadron Officer School, in residence (distinguished graduate)
1994 United States Fighter Weapons Instructor Course, Nellis AFB, Nev. (distinguished graduate)
1996 United States Weapons School Instructor Pilot Upgrade Program, Nellis AFB, Nev.
1999 Master of Military Arts and Sciences, Army Command and General Staff College, Fort Leavenworth, Kans.
2006 Masters in Strategic Studies with Academic Distinction, Air War College, Maxwell AFB, Ala.
2008 Enterprise Leadership Seminar, UNC Keenen-Flagler Business School
ASSIGNMENTS:
1. November 1987 - December 1988, student, Euro-NATO Joint Jet Pilot Training, Sheppard AFB, Texas (distinguished graduate)
2. March 1989 - October 1989, student, F-16C Training, MacDill AFB, Fla.
3. October 1989 - June 1994, F-16 Pilot, Hill AFB, Utah
4. January 1995 - January 1996, Weapons Officer, 35th Fighter Squadron; and Assistant Chief of Wing Weapons and Tactics, 8th Fighter Wing, Kunsan AB, Republic of Korea
5. January 1996 - June 1998, Instructor, F-16 Division, USAF Weapons School; Division Scheduler and Assistant Operations Officer, Nellis AFB, Nev.
6. June 1998 - June 1999, student, Army Command and General Staff College, Fort Leavenworth, Kans.
7. June 1999 - August 2001, Joint Strike Fighter Operational Requirements Branch Chief, Air Combat Command, Langley AFB, Va.
8. August 2001 - December 2002, Chief of Safety, 388th Fighter Wing, Hill AFB, Utah
9. December 2002 - July 2003, Operations Officer, 4th Fighter Squadron, Hill AFB, Utah
10. July 2003 - July 2005, Commander, 421st Fighter Squadron, Hill AFB, Utah
11. July 2005 - July 2006, student, Air War College, Maxwell AFB, Ala. (academic distinction)
12. July 2006 - June 2008, Commander, 12th Operations Group, Randolph AFB, Texas
13. June 2008 - July 2010, Director of Staff, U.S. Senior National Representative and Commander, Air Force Element, Allied Air Component Command Headquarters, Ramstein AB, Germany
14. July 2010 - present, Commander, 52d Fighter Wing, Spangdahlem AB, Germany
JOINT DUTY ASSIGNMENTS:
1. September 2000 - December 2000, J3 Weapons & Tactics Officer, Joint Task Force Southwest Asia
2. June 2008 - present, Director of Staff, U.S. Senior National Representative and Commander, Air Force Element, Allied Air Component Command Headquarters, Ramstein AB, Germany
FLIGHT INFORMATION:
Rating: Command Pilot
Flight Hours: More than 2,800
Aircraft Flown: F-16C, F-16D, T-38C, AT-38C, T-6A, AT-38B, T-1A
MAJOR AWARDS AND DECORATIONS:
Defense Superior Service Medal
Legion of Merit
Distinguished Flying Cross with Valor
Meritorious Service Medal with three oak leaf clusters
Air Medal with oak leaf cluster
Aerial Achievement Medal with oak leaf cluster
Joint Commendation Medal
Air Force Commendation Medal
Air Force Achievement Medal
EFFECTIVE DATES OF PROMOTION:
Second Lieutenant 13 August 1987
First Lieutenant 13 August 1989
Captain 13 August 1991
Major 1 September 1997
Lieutenant Colonel 1 May 2000
Colonel 1 February 2006
(Current as of July 2010)
Source