In response to my post
Defining our Legacy
, Warthog News contributor Brian Walter from United States e-mailed me the following ladder door art close-up: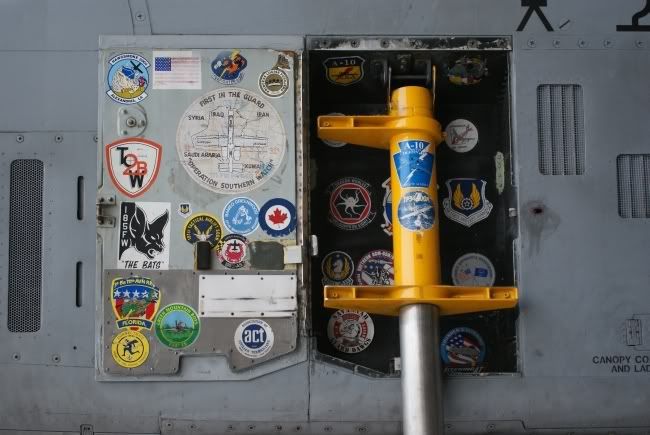 A-10 79-0219 from the 103rd Fighter Squadron, 111th Fighter Wing. "It's a bunch of stickers", Brian told me. Please give me time to interprete at least some of these stickers during the next couples of days. Any help from Warthog News readers?
Full size
Today, in an e-mail Warthog News contributor James O'Rear from United States told me: Stickers: The 185FW BATS sticker on the door is the unit designation for the (now) 185th Refueling Wing Guard unit flying out of Sioux City, Iowa. Formerly they flew the F-16 and before that A-7s. They are now a KC-135 wing. The Vipers of the 174th FS/185FW used to have that bat symbol on the tail, you can see it at the site below under the Air National Guard title: http://bathead.com/noseart.html Hope this helps!
Let me try to identify this cluster of patches
On the ladder door:
- Hawgsmooke 2004, Alexandria, Louisiana
- "Washed" United States Flag
- 104th Fighter Squadron patch [104th Fighter Squadron, 175th Wing (Maryland Air National Guard)]
- Princess Louise Fusiliers [
The Princess Louise Fusiliers
is a Primary Reserve infantry regiment of the Canadian Forces]
- T 2 B W
- FIRST IN THE GUARD "OPERATION SOUTHERN WATCH" (SYRIA, IRAQ, IRAN, SAUDI ARABIA, KUWAIT) 103 FS 111 FW PA-ANG 32° latitude [Please note: In the past, on this location there were two other stickers]
- 185FW "THE BATS"
- 181ST TACTICAL AIRLIFT SQDN. [= 181st Tactical Airlift Squadron, 136th Airlift Wing (Texas Air National Guard)
- BAMEO GHREENWOOD CP140 MAINTENANCE WIZARDS
- Canadian Air Force roundel
- Maryland ANG 135TH AS [= 135th Airlift Squadron, 175th Wing (Maryland Air National Guard), C-130 Hercules]
- 1st BN 111th AVN REG [= patch of the 1st Battalion, 111th Aviation Regiment, Florida Army National Guard, AH-64 Apache attack helicopters]
- CONNECTICUT HOME OF THE FLYING YANKEES
- GREEN MOUNTAIN BOYS 134TH FS [= 134th Fighter Squadron "Green Mountain Boys", 158th Fighter Wing (Vermont Air National Guard), F-16C/D Fighting Falcon]
- act ASSOCIATION OF CIVILIAN TECHNICIANS Duty...Dedication...and Dignity [=
Association of Civilian Technicians - A National Labor Organization Representing National Guard Civilian Employees
]
Inside the ladder bay:
- A-10 KC HAWGS
- 175TH WING MARYLAND AIR NATIONAL GUARD
- 103TH FIGHTER [...] [= 103rd Fighter Squadron, 111th Fighter Wing (Pennsylvania Air National Guard)]
- ARKANSAS AGASHAW[...] AREFG
- DRAGON WHALES HELSUPPRON EIGHT [= Helicopter Sea Combat Squadron "Dragon Whales" (HSC-28), United States Navy]
- [Not readeable]
- AIR FORCE MATERIAL COMMAND
- 2951 CLSS [652nd Combat Logistics Support Squadron (CLSS), formerly the 2951st CLSS[probably related to Operations Desert Shield and Desert Storm]
- RAYTHEON AGM-65 H/R [...] PERFO[...]
- AIR FORCE SERGEANTS ASSOCIATION [=
Air Force Sergeants Association
]
- SAVANNAH GUARD DAWGS GEORGIA AIR GUARD 165 AW [= 158th Airlift Squadron, 165th Airlift Wing (Georgia Air National Guard), Savannah International Airport, C-130H Hercules]
- THUNDER & LITENING [...] LITENING AT [= related to Northrop Grumman's
AN/AAQ-28 LITENING AT targeting pod
]
On the ladder:
- A-10
PHILLY'S
FIGHTIN' 103RD VIRTUTE ALISQUE
- TF34 [...]00A [The
General Electric TF34
engine enables the the A-10 aircraft to operate from short, remote airfields, withstand frequent exposure to ground fire and provide effective close-air support for ground forces.]
Please await further interpretations.