As Warthog News contributor André Inácio from Portugal told me via e-mail on Sunday, the remaining two of twelve 81st Fighter Squadron A-10Cs finally departed Lajes Field, Azores, for Continental United States (CONUS) February 21, 7:30am local time, together with a KC-135 Stratotanker for tanker support.
Related info:
Twelve 81st Fighter Squadron A-10Cs left Spang for CONUS
Please note the following exclusive picture (posted again), taken by Warthog News contributor Paulo Santos from Portugal: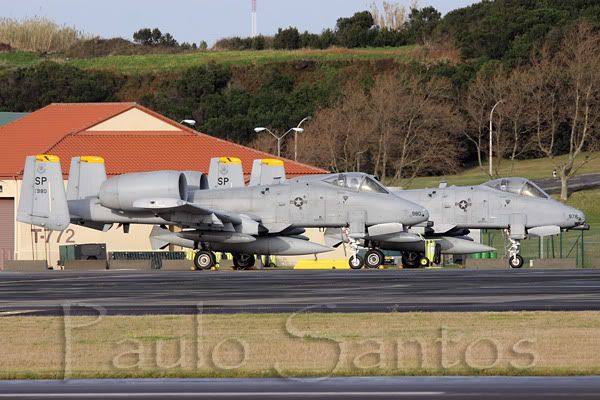 A-10Cs 81-0980 and 81-0976 are still parking at Lajes Field February 9, 2010, after the rest of the 81st Fighter Squadron aircraft package had already departed for CONUS on the same day. (Photo by Paulo Santos)
Note: According to a comment from Bruce, the 81st FS twelve-ship is due to participate in Red Flag 10-3 at Nellis AFB, Nevada. Still there are no related official U.S. Air Force pictures online. But so I hope, we will get shots in the next couple of days (or weeks ???).
Update:
Later today, from Warthog News contributor James O'Rear, United States, I got the following e-mail: Will be interesting if the 81st do show at Red Flag, haven't seen them on the schedule. I'm there for a couple of days so will see if I can get something for the blog.
Good luck, James!