Updated February 9, 10 and 12, 2010
Today, twelve A-10Cs from the 81st Fighter Squadron, 52nd Fighter Wing (USAFE), Spangdahlem AB, Germany, left their home base for Continental United States (CONUS). As mentioned on the recommendable
Dutch Scramble Messageboard
, they departed as six-ships with callsigns Tabor 31-36 and Tabor 41-46, alongside Clean 81, 82, 91 and 92 (KC-135R Stratotankers) and already arrived at Lajes Field, Azores, before crossing the Atlantic.
They were already scheduled to depart February 6 and 7, but weather at Lajes Airfield prevented them to launch.
Their final destination is still unknown, but it looks to me like an exercise participation.
Later today, on the Scramble Messageboard the following serial numbers were published (in order of departure at Spang):
275 = 80-0275
945 = 81-0945
960 = 81-0960
976 = 81-0976
980 = 81-0980
983 = 81-0983
985 = 81-0985
988 = 81-0988
991 = 81-0991
650 = 82-0650
654 = 82-0654
656 = 82-0656
(Credits to Scramble members Oscar01, r.e.hendriks and raameagle)
Immediately, I asked my five Portuguese Warthog News contributors for photo support. As Fábio Pinheiro told me via e-mail, currently there's no "Lajes spotter" on base to take any pictures. According to Fábio, the A-10Cs probably will leave Wednesday.
Sources:
Hogs to deploy
Lajes (Azores) (LPLA/TER) - 2010 MIL
Update 1:
In an e-mail from January 9, 2010, Warthog News contributor André Inácio from Portugal confirmed all of the A-10C serial numbers, already logged by Oscar01. Additionally, he provided the following info: Supporting KC-135R tankers were 62-3564 and 63-8084 (for the first cell), and 58-0067 and 59-1495 (for the second cell).
Update 2:
As mentioned today on the Scramble Messageboard by Dutchmil, all the A-10Cs arrived at Westover Joint Air Reserve Base [KCEF] last night.
Update 3:
In an e-mail from February 9, 2010, Warthog News contributor André Inácio from Portugal told me that ten of the twelve Hogs departed on that day, and that two of them are still at Lajes (reason unknown).
On the same day, Warthog News contributor Paulo Santos from Portugal had the opportunity to take the following picture: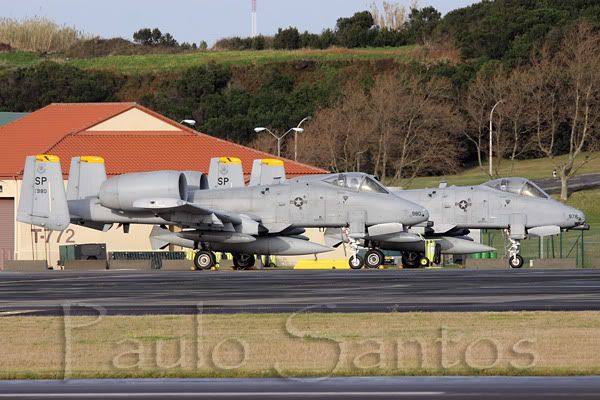 A-10Cs 81-0980 and 81-0976 are still parking at Lajes Field after the rest of the 81st Fighter Squadron aircraft package had already departed. (Photo by Paulo Santos)
Note: This post will be further updated if more info is known.