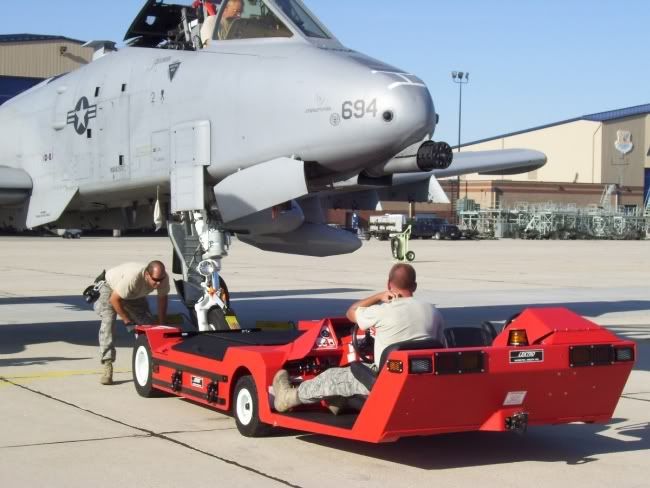 A-10 crew chief Master Sgt. Mike Davidson waits as Master Sgt. Ed Correll connects the tow bar-less tug's strap to the front landing gear of aircraft 694. (U.S. Air Force photo by Capt Tony Vincelli)
Hi-res
by Capt Tony Vincelli
124th Wing Public Affairs
9/11/2009 - GOWEN FIELD, Boise, Idaho -- Speed, efficiency and safety for aircraft maintainers have long been a focus for the Air Force. A-10 maintainers here now have a new piece of equipment that could help in that effort.
Dubbed the Tow Bar-less Tug, this revolutionary piece of equipment makes moving A-10 aircraft faster and potentially safer.
The Tug was brought to Gowen Field recently as part of a field test currently underway at at a handful of A-10 units, said Maj. LaRue Dewald from the Air National Guard Air Reserve Test Center in Tucson, Ariz.
The test is evaluating the Tug's ease of use, safety, training time, impact on manpower and other objectives, Dewald said.
The Tug looks and operates quite a bit differently than previous aircraft towing vehicles. First, it's fire engine red paint job is easily distinguishable from the typical olive drab paint scheme found in the familiar Coleman Tug, which has been a mainstay on Air Force flightlines for many years. It also sports a front-facing and rear-facing seat and steering wheel which allows the vehicle's driver to more safely and easily position the Tug and tow an aircraft.
One of the more useful innovations is a single canvas strap and hydraulic winch that hooks to the aircraft's front nose landing gear and pulls the aircraft's front wheel on to a platform and raises it slightly to allow the aircraft to be towed. The winch and strap eliminate the need for a heavy and cumbersome tow bar, which is used on the Coleman. That bar, which weighs more than 300 pounds and must be attached to the Coleman's front or rear, depending on whether the aircraft is being pulled or pushed, is potentially hazardous to a crew chief's back.
Master Sgt. Mike Davidson is an A-10 crew chief working on the Consolidated Install Program team. He and others are in the midst of a host of upgrades to roughly 235 A-10 aircraft and have to move aircraft in and out of the hangars on the east ramp on an almost daily basis. He said the strap and winch eliminate the strain and potential for injuries that come with lifting a standard tow bar. He also said the new vehicle is very easy to use and makes positioning aircraft in a hangar much easier and faster.
However, innovation doesn't come without its share of trade-offs. First, the price: the tow bar-less tug carries a $125,000 price tag. And it isn't covered, which means towing an aircraft in the open air during the wet and cold winter would be less than ideal.
But, all in all, maintainers like what they've seen during the early days of the test. Only time -- and funding - will tell if the new Tug replaces the old Coleman. However, in an era where doing more with less seems to be the norm, speed and efficiency are always important.
As Chief Master Sgt. Wayne Slappey, NCO in charge of the Consolidated Install Program points out: "The (Consolidated Install Program) is all about saving time. With 235 airplanes to work on , if you can save an hour here and there by moving aircraft in and out of the hangar faster, it adds up."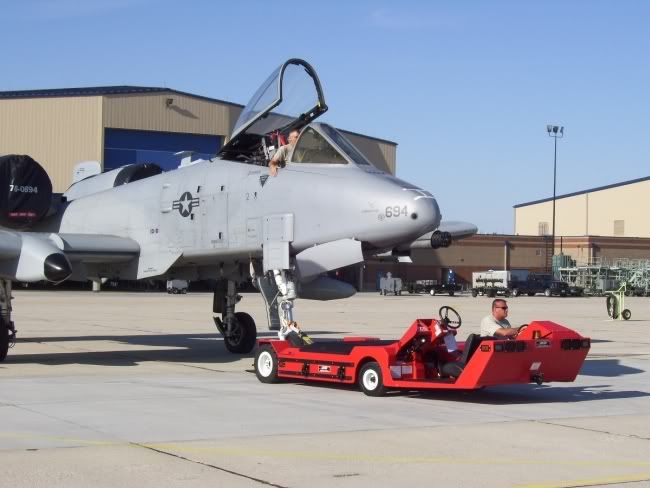 With the strap connected and the nose landing gear raised on to the tug's platform, Davidson switches to the front-facing seat to pull the aircraft. (U.S. Air Force Photo by Capt. Tony Vincelli)
Hi-res
Source