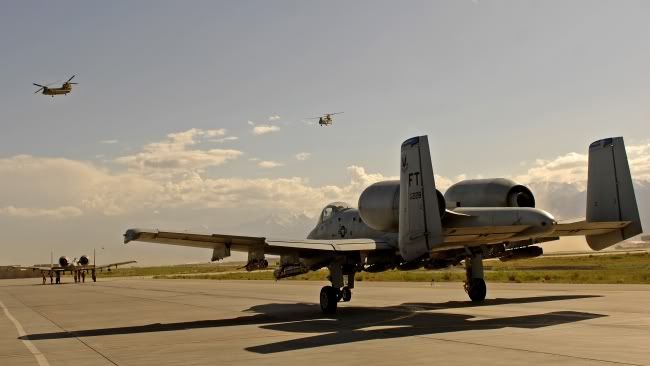 While two U.S. Army CH-47 Chinook helicopters are in the air, a pair of A-10 Thunderbolt IIs from the 74th Expeditionary Fighter Squadron get their final weapons check before taking off on a close air support mission at Bagram AB, Afghanistan, June 9, 2009. Last month the 74th EFS and 336th Expeditionary Fighter Squadron together logged a total of more than 5,000 combat flight hours over Afghanistan. The F-15Es and A-10s assigned here provide close air support and airborne intelligence, surveillance and reconnaissance for American and coalition ground troops. The aircraft in the foreground is identified as A-10 80-0228 from the 74th Fighter Squadron. Visible combat loadout: LAU-131 Rocket Pod on station 2, SUU-25 Flare Dispenser (especially for night missions) on station 3, four bombs (either all GBU-38 JDAMs or a 2/2 mix of Mk 82s and GBU-38 JDAMs as viewed on some relased USAF Bagram photos in the last couple of months) on stations 4, 5, 7 and 8, empty single-rail LAU-117 for AGM-65 Maverick on station 9, AN/AAQ-28 LITENING AT targeting pod on station 10. (U.S. Air Force photo by Staff Sgt. Jason Lake)
Hi-res
by Staff Sgt. Jason Lake
455th Air Expeditionary Wing
6/10/2009 - BAGRAM AIR FIELD, Afghanistan -- The 455th Air Expeditionary Wing surpassed a historic milestone after two fighter squadrons deployed here accumulated more than 5,000 combat flight hours in a single month.
The A-10 Warthogs, from the 74th Expeditionary Fighter Squadron, and F-15E Strike Eagles, from the 336th Expeditionary Fighter Squadron, accomplished the feat last month while providing close air support and airborne intelligence, surveillance and reconnaissance for American and coalition ground troops throughout Afghanistan.
For Cols. Raymond "Donk" Strasburger, 455th Expeditionary Operations Group, and Dave Blanks, 455th Expeditionary Maintenance Group, the accomplishment couldn't come at a better time as both prepare for their final week at Bagram before their respective change of command ceremonies.
"I can't begin to tell you how proud we are of our combined maintenance and operations team," said Colonel Blanks, a 23-year aircraft maintenance veteran. "Both units flew more hours in a single month than any previous fighter squadron deployed here. Five thousand combat flight hours in one month is unprecedented, and represents approximately five or six months worth of flying back in the states."
For the 336th EFS, the milestone caps off the unit's first month in country.
"For the 'Rockets' to accomplish this in their first month here is particularly impressive because the maintainers, pilots, weapon system operators and more importantly the jets have to get acclimated," Colonel Blanks said. "They're adjusting to the environment and using a number of the systems on the aircraft differently than they do at home station."
On the flip side, Colonel Strasburger said the 74th EFS mastered the challenge of keeping its A-10 aircraft mission-ready despite nine months of wear and tear in a combat zone. Before the 74th EFS arrived in March, its sister squadron, the 75th EFS logged more than 10,000 flight hours over a six-month deployment. Together, the two A-10 squadrons deployed from the 23rd Fighter Group have logged more than 18,000 combat flight hours in nine months.
Since the two colonels took command last summer, the wing has missed only one air tasking order line out of more than 11,000 close air support sorties generated.
"I have never seen a work relationship between the operations group and maintenance group like this," Colonel Strasburger, a 25-year veteran A-10 pilot said of the competitive relationship that typically exists between the two groups at home stations. "No matter what the challenge, our combined teams rolled up their sleeves, worked together and found a way to make things happen because they knew what was at stake - safeguarding America's and our coalition partners' sons and daughters."
As more American and coalition ground troops deploy ahead of the Afghanistan's scheduled elections in August and the demand for air support steadily increases, Colonel Strasburger said the maintenance and operations team will continue to do whatever it takes to protect "the 18-year-old warriors on the ground."
"Our guys are out there making it happen, working long hours and sometimes under less than optimal conditions without a complaint," he said. "It's a 24-hours a day, seven-days a week operation and we never stop because there's always someone out there with their life on the line who's depending on us."
Col. Raymond Strasburger, 455th Expeditionary Operations Group commander and A-10 pilot, goes through his pre-flight checks before taking off on a close air support mission over Afghanistan April 11, 2009. (U.S. Air Force photo by Staff Sgt. Jason Lake)
Hi-res
Source
Note:
A-10 80-0228 was not deployed with the original 75th EFS aircraft package. It could be the remaining and unknown fourth A-10 of the first replacement, deployed in case of A-10 groundings. But I'm not sure.
Related info:
A-10 Afghanistan Combat Summary for May 2009