The unsung A-10 Warthog is saving jobs at Boise's air base and may bring more work this way
by Kathleen Kreller
Idaho Statesman
Published: 06/13/09
The Idaho Air National Guard in Boise is retrofitting about one-third of the nation's A-10s with new equipment and software to keep them in operation until well into the next two decades.
Crews are focusing on quality and efficiency as they add new equipment, sensors and software to about 120 of the nation's 350 A-10s from Georgia, Arkansas, Nevada and other states. The project is expected to save the military more than 26,000 man-hours of labor and millions of dollars in the next year.
On Warthogs' home bases, it would take almost a month to complete the retrofits, which means pilots lose flying time. At Gowen, the improvements take about 10 days per plane.
Gowen Field's Warthog project is the first time the Air Force has used a one-stop-shop, or "mini depot" to make such upgrades, Idaho Guard spokesman Lt. Col. Tim Marsano said.
"It's exciting. We don't just do this for Boise or the Guard," Capt. Eric Newman, one of the project's supervisors, said. "This impacts the whole A-10 community."
Gowen officials are hoping the experiment pays off and impresses the nation's military leadership. If it works, the Warthog project could lead to new missions in Boise for other aircraft.
"We think if we are very proficient in the first couple of months, maybe more work will come our way," Newman said.
The Warthog project has restored 45 full-time jobs to Gowen Field just months after the military shuttered the Air National Guard base's C-130 cargo plane squadron to save money.
The squadron had employed 65 people on flight crews, many of whom took jobs where C-130s are still flown. A larger group of support staff were absorbed into other jobs on the base. Still, some like Tech. Sgt. Jet Fontaine were left without a full-time job.
Fontaine said he spent an unsettling three months working in the civilian world before he was recruited for the Warthog project.
Now he spends his days learning the intricacies of A-10 electrical wiring.
"It will help if I want to move into flying, and it is more opportunity to stay in Idaho," Fontaine, a Treasure Valley native, said.
Crews have converted hangar space into an assembly line that mimics super-efficient commercial manufacturing. They've constructed special gear and ready-made part kits to help process the laundry list of upgrades.
And they aren't small projects. Airmen must run lengths of electrical wire, add new components and precisely modify the plane's structure.
Others install complicated software that runs the plane's systems.
The changes are intended to make the planes more useful, extend their working life and keep pilots safer, Newman said.
Priority is given to aircraft from units scheduled to head into overseas service.
"When an aircraft lands, it looks like ants crawling on a hill," Newman said. "The guys are working long hours and skipping breaks just to get something accomplished by the end of the day."
Staff Sgt. Shawna Rowland, an Idaho Air National Guardsman based at Gowen Field in Boise, works on an A-10 Warthog that is based in Maryland. Recent cuts that removed the C-130 mission at Gowen Field provided a cost-efficient opportunity for a new, one-stop retrofit for the Air Force. Many of the airmen from the C-130 mission have been retrained to make the A-10 upgrades. (Photo by Darin Oswald / Idaho Statesman)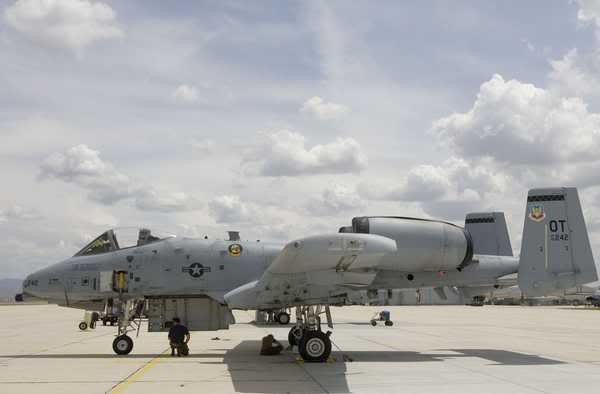 A-10 Warthog aircraft based at various locations around the nation tare flying into Gowen Field in Boise to be retrofitted with new software and equipment. Visible is A-10 80-0242 from the 422nd Test and Evaluation Squadron, Nellis AFB, Nevada. (Photo by Darin Oswald / Idaho Statesman)
Idaho Air National Guardsmen are retrofitting A-10 Warthogs from around the nation at Gowen Field in Boise in a one-stop upgrade mission. The space and manpower was available after BRAC cuts removed the C-130 mission at Gowen Field. Visible is A-10 78-0705 from the 104th Fighter Squadron, 175th Wing (Maryland ANG), Martin State AP Air Guard Station, Baltimore, Maryland. (Photo by Darin Oswald / Idaho Statesman)
Staff Sgt. John Driebergen, Idaho Air National Guard, monitors the upload of new software from the cockpit of an A-10 aircraft at Gowen Field in Boise. A-10's from around the nation are being retrofitted in a one-stop service at Gowen Field. Visible is an A-10C cockpit. (Photo by Darin Oswald / Idaho Statesman)
Source
Related news:
Warthogs get makeover in Idaho

Associated Press - June 13, 2009 6:24 PM ET
Published by KIVI-TV
BOISE, Idaho (AP) - A fleet of aging Warthogs is providing job security for the Idaho Air National Guard and Gowen Field in Boise.
Crews at the airfield in the desert south of Idaho's capital city are retrofitting 120, or about a third, of the nation's 350 A-10 Thunderbolts - known due to their ungainly appearance as Warthogs - with new equipment and software to keep them in operation for decades to come.
The planes, propelled by twin engines located just in front of the rear wings, are flying here from bases in Georgia, Arkansas, Nevada and elsewhere, marking the use of Gowen as a one-stop-shop aimed at making repairs more quickly.
At home, without specialized equipment and a trained force, such repairs might take a month; in Boise, they take just 10 days, helping return pilots to the air more quickly.
Information from: Idaho Statesman, http://www.idahostatesman.com
Source