110th Fighter Wing members line up in the snow to watch the last A–10C jet, serial number 80-0258, take its final flight from the Battle Creek Air National Guard Base on Thursday, February 19, 2009. The jet will arrive to its new home, Selfridge Air National Guard Base joining the rest of the fleet which started leaving back in November. (Photo by Master Sgt. Dale Atkins - extracted from PDF file)
Full size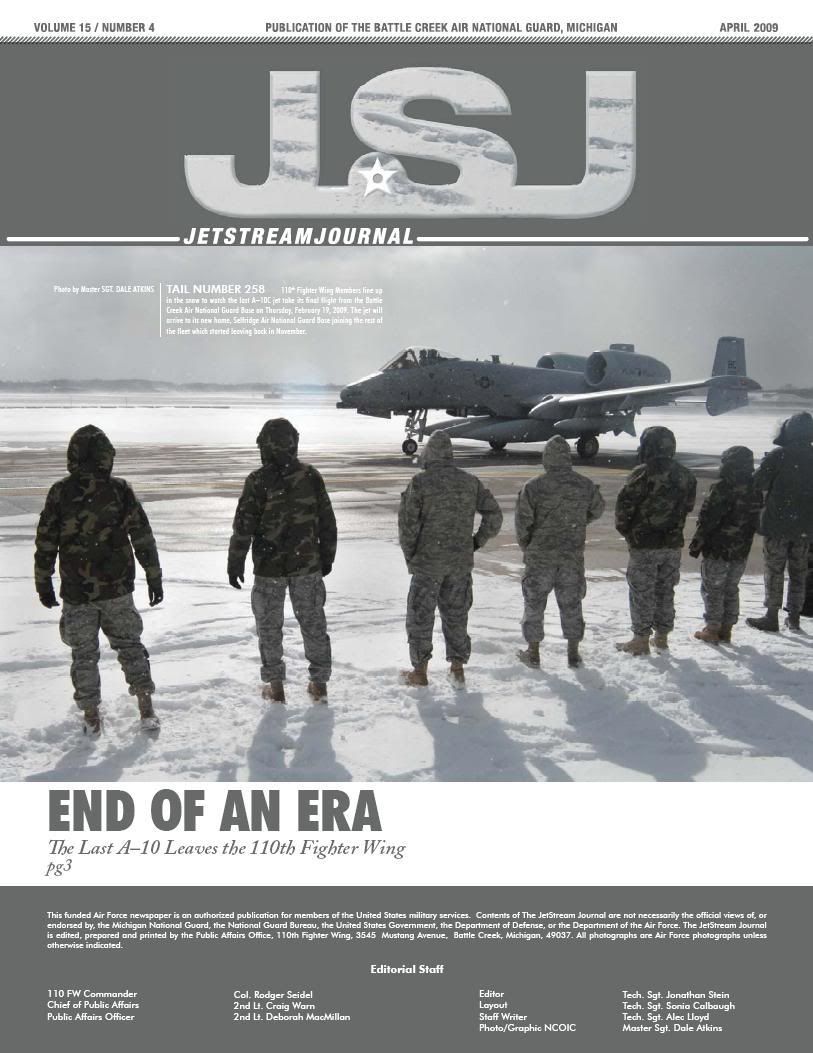 By Tech. Sgt. Jonathan Stein
On the morning of Thursday, Feb. 19, 2009, the 110th Fighter Wing's last A–10C took off for Selfridge Air National Guard Base to serve with the 127th Wing. The departure of the aircraft, tail number 258, marked the end of an era at Battle Creek Air National Guard Base and the beginning of a new one for Selfridge. This particular A–10 had a lot of history with the 110th Fighter Wing as it lost part of an engine to an enemy missile during the 110th's 2003 deployment in support of Operation Iraqi Freedom.
Unlike the November fini–flights, and the upcoming farewell ceremony in July, the event was not attended by family and friends, local politicians or the media. It was just attended by those around the base who wanted to watch 18 years of history taxi out to the runway and make a final take off.
Col. Ronald Wilson, the 110th Operations Commander, was present with his new C–21 patch on the uniform, and while he is prepared for the new missions ahead it is hard to shake off around 3000 flying hours in the A–10 including close to four years of
active duty, and three major confl icts abroad with Kosovo, Iraq and most recently Afghanistan.
"Guys who fly the A–10 have a unique mission," said Colonel Wilson, "we provide close air support and no other aircraft can do as great a job." His fini-flight took place last November and he said that climbing out of the cockpit for the very last time was tough. "That flight was a quiet one with many of the pilots reflecting on their experience with the A–10" said Colonel Wilson.
The building that holds the 110th Operations Group is filled with A–10 memorabilia that includes models, pictures, the warthog mascot and more. As the C–21 gains more time on this base the A–10 related items will likely live on in a hallway somewhere in the building. There was talk of giving some of it to Selfridge, but it was determined they have their own memories to make.
The dining facility happens to hold a piece of 258. When the 110th Fighter Wing took the A–10 over to support Operation Iraqi Freedom, Maj. Gary Wolfe was piloting the aircraft when an enemy surface–to–air missile struck the engine. He managed to get the aircraft back to Talil Air Base and a small part of that moment is on display and will remain there now with the actual aircraft across the state.
When Battle Creek first received the A–10 Warthog in 1990, times were different. "The aircraft was camouflaged, nothing was digital, pilots were still looking at paper maps, and eventually things got upgraded from the A–10A to the A–10C," said Colonel Wilson.
"Battle Creek was the only unit to go to one theater of operation and move to another. We did this most recently when we were in Iraq for 10 days and found out we had a new mission in Afghanistan. We have done these three times and are the only unit to ever have done so," said Colonel Wilson.
As the last A–10 took off one might think it quietly closed the final chapter of a story and mission like no other, but the farewell ceremony coming up in July will give the A–10 the necessary dedication it deserves.
A–10C Pilot Major Shawn Holtz takes his final 'step' to the the last A–10C jet, serial number 80-0258, at Battle Creek Air National Guard Base. Major Holtz flew the aircraft to its new home, Selfridge Air National Guard Base on February 19th, 2009. (Photo by Master Sgt. Dale Atkins - extracted from PDF file)
Note: This news article appeared in 110th Fighter Wing's base newspaper Jetstream Journal, April 2009 public online PDF issue.
Source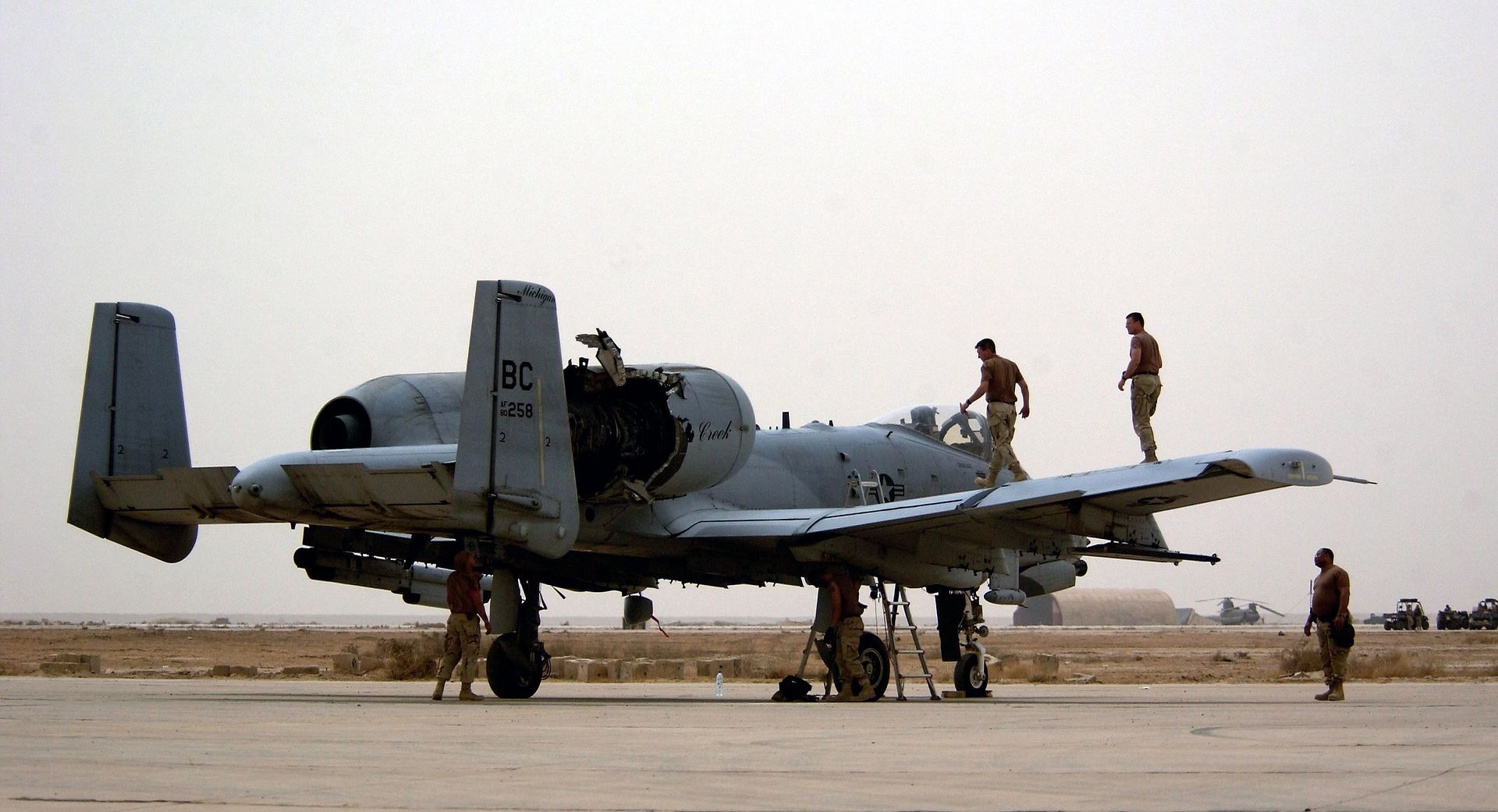 From my archives: Damaged A-10 80-0258 at Tallil AB, Iraq, in early 2003. (U.S. Air Force photo)
Hi-res
Note: If I remember right, at least a second USAF shot of damaged A-10 80-0258 was released by USAF. Give me time to search my harddrive and the web to recover this close-up picture.