By Joachim Jacob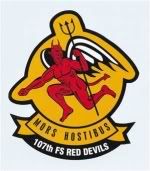 As directed by the 2005 Base Realignment and Closure commission, the 107th Fighter Squadron 'Red Devils', 127th Wing (Michigan Air National Guard), still prepare its conversion from F-16C/D Block 30 (small mouth) Fighting Falcons to the A-10C Thunderbolt II.
In a news article about the latest 127th Operations Group command change ceremony, which was held at Selfridge ANGB on November 2, 2008, 127th Wing Public Affairs stated:
The leadership changes come as the unit prepares for a conversion to A-10 aircraft in the next few months, which was mandated by Base Realignment and Closure law of 2005. A-10 aircraft will begin to arrive at Selfridge in the coming weeks, with personnel training away at Air Force technical schools and other A-10 locations throughout the United States. The 127th Wing plans to have the ramps at Selfridge filled with A-10s by early next summer, flying its training locally at that time. Source
According to other sources and some personal contacts, Selfridge is sending its Vipers to the 163rd Fighter Squadron 'Blacksnakes', 122nd Fighter Wing (Indiana Air National Guard) at Fort Wayne IAP, which will retire its F-16C/D block 25. The 107th Fighter Squadron will get A-10Cs from the 172nd Fighter Squadron, 110th Fighter Wing (Michigan ANG), at Battle Creek ANGB, along with many of their pilots.
A-10Cs from the 172nd Fighter Squadron are lined-up at Battle Creek ANGB on October 5, 2008. From left to right: 80-0262, 80-0269, 81-0996 and 80-0258 (Ladder door art inscription: PEACE THROUGH SUPERIOR FIREPOWER). (U.S. Air Force photo)
Hi-res
On December 16, 2008, the 'Red Devils' flew their last F-16 sortie:
Last Michigan Air Guard F-16 Flight

by 127th Wing Public Affairs

12/17/2008 - Dec. 17, 2008 -- SELFRIDGE AIR NATIONAL GUARD BASE, Mich. - Michigan Air National Guard's 107th Fighter Squadron flew its last F-16 sortie yesterday afternoon as the unit prepares to transition to the A-10 aircraft and mission.

The fighter jets will leave the base at the end of December, flown by Indiana Air National Guardsmen to their new home at Ft. Wayne Air National Guard Base. Now, 24 A-10 aircraft will be assigned to the base.

Major Brian Davis, a pilot with the 107th Fighter Squadron, explains their new mission.

"The F-16 is a multipurpose aircraft. It can do many things. The A-10 is designed primarily for Close-Air Support. It was created to work and support the Soldiers and Marines on the ground. If that is the mission that needs to be done - and it is - then that's the mission we want to do."

The 127th Wing and its predecessor units in the Michigan Air National Guard have been flying "F" designated aircraft since 1950 when local Guardsmen began flying the F-84 Republic Thunderjet. Since then, the wing has flown the F-86, RF-84, F-89, F-100, RF-101, F-106, F-4 and F-16 aircraft.

The Michigan Air National Guard F-16s have flown in Operation Desert Storm, Operation Northern Watch, Operation Noble Eagle, and Operation Iraqi Freedom, being the first U.S. F-16 unit stationed inside Iraq in 2004 - instrumental to the Marine ground forces in the Fallujah battles that year.

Capt. David Wright, an intelligence officer with the unit, describes, "In 2004, our unit was assigned to Kirkuk, Iraq. It was unprecedented to bring F-16s into that austere environment. But we went in there and on the very first day, we had planes in the air. All the training, all the money spent to make sure that we were ready, all the work preparing - it all paid off. It was one of the most important things I have ever done in my life."

The 107th FS also deployed a second time in support of OIF in 2007, performing a significant role in the battle of An Najaf in January of that year.

This transition is the last of the changes brought to the 127th Wing from the 2005 Base Realignment and Closure commission. Earlier in the year the wing converted its airlift mission of C-130s to the KC-135 Stratotanker refueling mission. The wing also stepped away from the Air Soverieignty Alert mission in October, preparing for the drawdown of the F-16s.

The 107th Fighter Squadron first took possession of an F-16 aircraft in late 1989. The squadron was certified mission-ready with the aircraft in early 1990. Prior to the upcoming transition mandated by the 2005 Base Realignment and Closure commission, Selfridge had 15 F-16 aircraft assigned. Source
F-16 Pilot Lt. Col. William Hargrove prepares to launch F-16C Block 30B 85-1490 in an alert jet as TSgt. Harold Hayes, aircraft armament systems specialist, goes over the procedures checklist. The alert mission at the 127th Wing, Selfridge ANGB was officially passed off to the 180th Fighter Wing, Toledo, Ohio, on October 2, 2008. Note the mission markings just bellow the canopy. (U.S. Air Force photo)
Hi-res
Related info:
Alert Mission comes to an end at Selfridge
(3 October 2008)
Michigan Air Guard takes new wings, new mission
(12 April 2008)