Altus AFB, Okla. - Operating the A-10 Thunderbolt II, U.S. Air Force Col. William DeMaso, vice commander of the 23rd Wing at Moody AFB, Georgia, flies parallel to younger brother U.S. Air Force Maj. Lewis DeMaso, a KC-135 Stratotanker pilot with the 54th Air Refueling Squadron at Altus AFB, March 21, 2010. Colonel DeMaso received fuel from his brother Major DeMaso for his A-10C during his return trip from Tucson back to Moody AFB. The DeMaso brothers are from Maspeth, N.Y. (U.S. Air Force courtesy photo release / 97th Air Mobility Wing Public Affairs)
Hi-res
by Airman 1st Class Myles Stepp
97th Air Mobility Wing Public Affairs
4/16/2010 - ALTUS AIR FORCE BASE, Okla. -- Air Force siblings and natives to Maspeth, N.Y., reunited in the skies over Colorado March 22. Despite a 13 year age difference and separate career paths, fate and strategic planning brought them together for a rare reunion in the skies above Colorado.
Major DeMaso, a KC-135 Stratotanker pilot with the 54th Air Refueling Squadron, met up with his brother who was flying an A-10 Thunderbolt II from Tucson, Ariz., to Moody Air Force Base, Ga. Maj. Lewis DeMaso refueled his older brother, Col. William DeMaso, at 21,000 feet during an in-flight refueling mission. Both brothers agreed that it was the flying highlight of their career.
"What are the odds that the both of us would be pilots; what are the odds that each of us would be flying planes designed to meet up in flight," questioned Major DeMaso. "And due to our age difference, what are the odds that my brother would be still flying for the Air Force at 23 years of service?"
Colonel DeMaso originally planned to stop at Altus AFB to refuel but his flight schedule would not allow for a gas-and-go. Only an in-flight refueling mission would get Colonel DeMaso and his plane back to base on time. Before his departure from Tucson, preparations were made for an Altus AFB tanker to top off his aircraft.
"There was a slim chance that I would get a tanker and it was an astronomically smaller chance it would be my brother," said Colonel DeMaso, vice commander of the 23rd Wing at Moody AFB.
It just so happened that Major DeMaso was scheduled to fly for training that day and was informed that his brother would be passing over and needed fuel. Major DeMaso also brought along two extra boom operators to practice refueling a fighter plane.
"It was a win-win training situation for everybody," said Major DeMaso. "My brother was refueled, three booms received training and I got to see my brother."
As siblings, they have the opportunity to see each other during holidays or special occasions, but meeting one another in flight is an unusual story.
"I would imagine that this will be the first and last time I will get this opportunity," he said. "Years ago, if you told me I would have a chance to refuel my brother, I would say 'Prove it!'"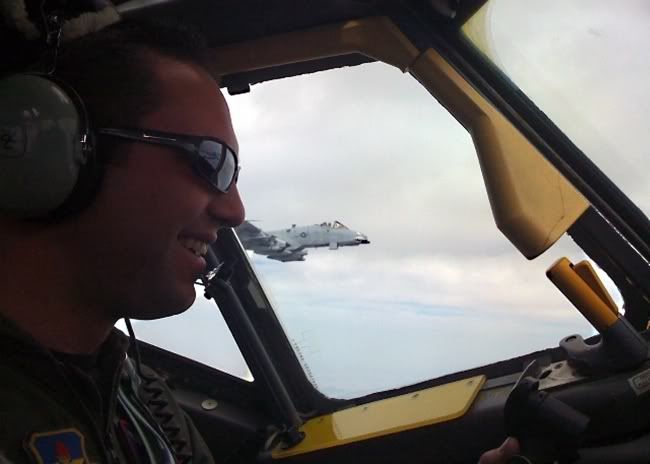 Altus AFB, Okla. – U.S. Air Force Maj. Lewis DeMaso, a KC-135 Stratotanker pilot with the 54th Air Refueling Squadron at Altus AFB, Oklahoma, provides aerial refueling to his older brother U.S. Air Force Col. William DeMaso, vice commander of the 23rd Wing at Moody AFB, Georgia, March 21, 2010. (U.S. Air Force courtesy photo release / 97th Air Mobility Wing Public Affairs)
Hi-res
Source
Official USAF online
biography
of Colonel William C. DeMaso (as of June 2009)
Hi-res
Colonel Bill DeMaso is a fighter pilot with over 2,000 hours in the F-15E Strike Eagle and A-10 Thunderbolt II. His assignments have taken him around the globe and include combat missions during Operations Desert Storm, Iraqi Freedom, Provide Comfort and Deny Flight where he employed the A-10 and F-15E in close support of U.S. and Coalition ground forces. He has served as a Flight Commander, an Air Officer Commanding of a Cadet Squadron, and an Army Air Liaison Officer, where he taught close air support techniques to forward air controllers.