Today, from aviation photographer and photojournalist
Neil Dunridge
from United Kingdom I got the following e-mail:
Hi Joachim,
Offered these to the MD ANG to put on their facebook site, happy for you to use on your web site as well.
Regards
Neil
Welcome as the latest Warthog News contributor, Neil. Nice to see at least some of your pictures already posted on
175th Wing's facebook site
. And special thanks for sharing your exclusive Kandahar shots also on Warthog News.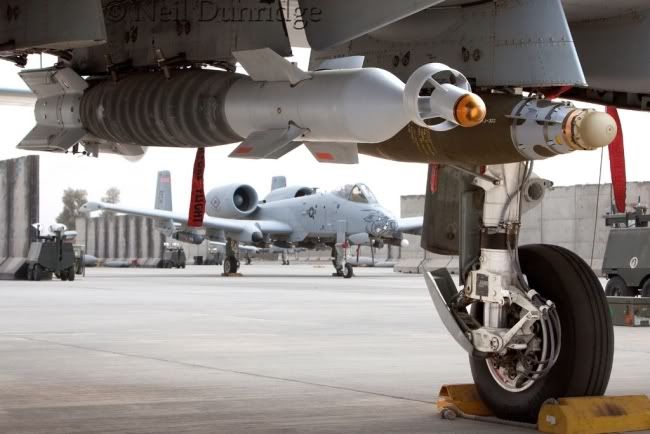 On February 9, 2010, an A-10C is loaded with GBU-38 JDAM on station 4 and GBU-12 Paveway II with unusual Zebra stripes on station 5. The Hog in the background is from the 184th Fighter Squadron, 188th Fighter Wing (Arkansas Air National Guard), Fort Smith, Arkansas, also deployed for OEF with this ANG "Rainbow Team". Visible loadout: SUU-25 flare dispenser on station 2, LAU-131 rocket pod on station 3, either GBU-38 JDAM or Mk 82 on station 4, GBU-12 Paveway II on station 5, Mk 82 on station 7, GBU-38 JDAM on station 8, empty launch rail for AGM-65 Maverick on station 9, AN/AAQ-28 LITENING AT targeting pod on station 10. (Photo by Neil Dunridge)
Full size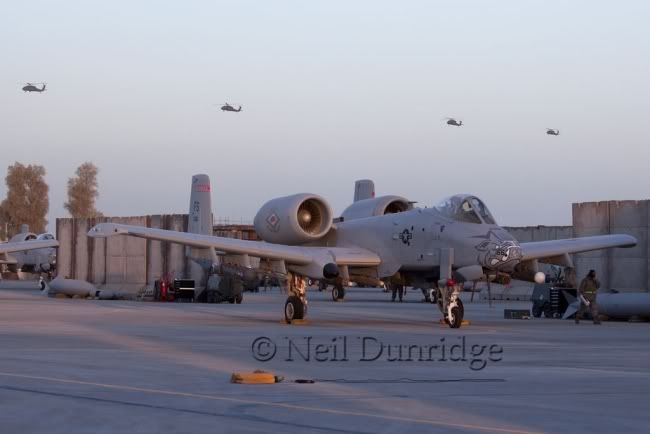 A-10C 80-0166 from the 184th Fighter Squadron, 188th Fighter Wing (Arkansas ANG), February 9, 2010. Visible loadout: SUU-25 flare dispenser on station 2, LAU-131 rocket pod on station 3, either GBU-38 JDAM or Mk 82 on station 4, GBU-12 Paveway II on station 5, Mk 82 on station 7, GBU-38 JDAM on station 8, empty launch rail for AGM-65 Maverick on station 9, AN/AAQ-28 LITENING AT targeting pod on station 10. (Photo by Neil Dunridge)
Full size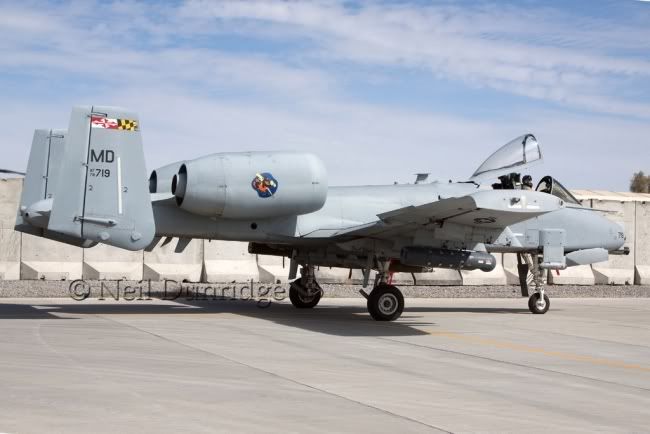 A-10C 78-0719 from the 104th Fighter Squadron, 175th Wing (Maryland ANG), February 10, 2010. SUU-25 flare dispenser on station 2, GBU-38 JDAM on station 8, empty launch rail for AGM-65 Maverick on station 9, AN/AAQ-28 LITENING AT targeting pod on station 10. (Photo by Neil Dunridge)
Full size
Shot taken February 23, 2010. (Photo by Neil Dunridge)
Full size
Shot taken February 23, 2010. (Photo by Neil Dunridge)
Full size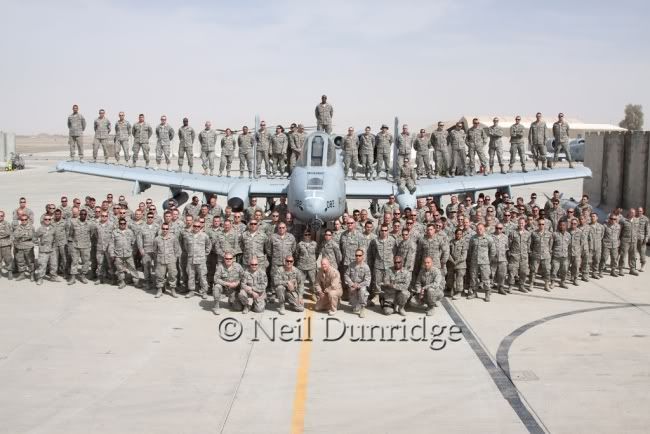 104th AMXS group shot along with the 104th EFS commander (first row, center), taken February 23, 2010. The aircraft is A-10C 78-0682 from the 104th Fighter Squadron, 175th Wing (Maryland ANG). AN/AAQ-28 LITENING AT targeting pod on station 10. (Photo by Neil Dunridge)
Full size