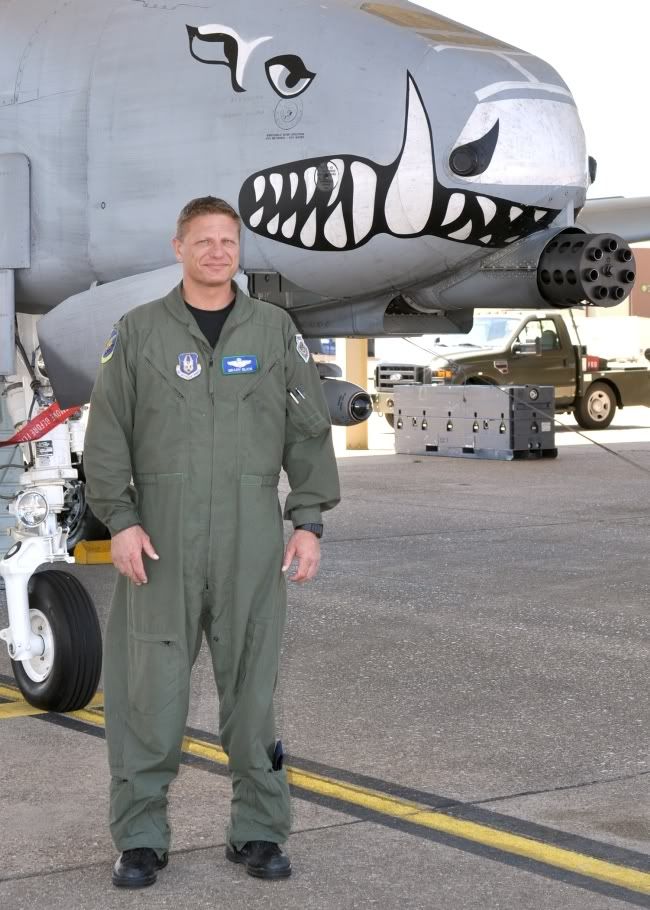 Lt. Col. Brady M. Glick, a pilot for the 47th Fighter Squadron on Barksdale AFB, Louisiana, achieving a historic milestone, became the first pilot ever to fly over 5,000 hours in an A-10 Thunderbolt II on April 2, 2010. Colonel Glick, who is no stranger to pushing the limits, broke a previous record of 4,600 hours flown in an A-10 Thunderbolt II June 13, 2008. (U.S. Air Force Photo by Senior Airman Crystal Marie Jordan)
Hi-res
by Senior Airman Crystal Marie Jordan
917th Wing Public Affairs
4/14/2010 - Barksdale Air Force Base, La. -- Lt. Col. Brady M. Glick, a pilot for the 47th Fighter Squadron on Barksdale Air Force Base, La., achieving a historic milestone, became the first pilot ever to fly over 5,000 hours in an A-10 Thunderbolt II on April 2.
Colonel Glick, who is no stranger to pushing the limits, broke a previous record of 4,600 hours flown in an A-10 Thunderbolt II June 13, 2008.
"One of the main reasons I have been able to reach these milestones is the maintainers here at the 917th Wing," explained the Colonel. "They do a great job. Our A-10s are some of the best maintained in the fleet. It's a great feeling to walk out to my aircraft and know that it's safe and well cared for."
"I also take pride in being available to fly," added the pilot. "You've got to have pride to do this. You've got to be ready to go, day or night."
Colonel Glick, a seasoned pilot, joined the United States Air Force in the 1983, knowing, from the beginning, exactly what he wanted.
He wanted to fly fighter aircraft.
"I knew I wanted to be a fighter pilot and thankfully, I had the opportunity to do that," said Colonel Glick. "I'll keep doing it, as long as I am a viable asset to the Air Force."
The aerial warrior's first operational flight was in January of 1989, as a Regular Air Force pilot in the A-10 Thunderbolt II.
Since then, he spent seven years on Active Duty and transferred to the Air National Guard for five years after that. Sticking with the A-10 throughout his entire military career, Colonel Glick then joined the Air Force Reserve, moving to Barksdale.
Colonel Glick, also an instructor at the 47th FS, has been a part of the Reserves on Barksdale for 10 years as an A-10 pilot.
"I've experienced a lot of things," he said. "But the most rewarding thing in my career has been to teach people what I've learned as a pilot."
"And that is the awesome thing about the 917th Wing," added the Colonel. "The environment is great because of the unit's Formal Training Units (FTU). I'm able to teach as well as fly."
"I'm glad I can make a decent contribution to this unit," stated Colonel Glick. "The pilots here are highly professional and skilled cadre."
"Lt. Col. Glick is a testament to the caliber of people the Air Force Reserve attracts and why they continue to faithfully serve their country long after their initial commitment ends," said Col. Keith D. Schultz, commander of the 917th Operations Group on Barksdale.
Colonel Glick, with his enthusiasm for and pride in his work, plans to continue flying the A-10 as long as the Air Force will allow him.
Source