By Joachim Jacob
As recommended freelance aviation photographer
Neil Dunridge
from United Kingdom e-mailed me today, he has an 8 page news article in this months AIR International (March 2010 issue) on the 47th Fighter Squadron's deployment for exercise Patriot Rifle III back in September 2009.
Publisher's preview
:
PATRIOT RIFLE III
Neil Dunridge visits Hill AFB, Utah, to witness an A-10 AGM-65 Maverick live-fire training exercise.
Tomorrow, I will go to my international press shop at Berlin's Bahnhof Zoo to take a first look on Neil's article (if the current issue of AI is availlable in Germany now).
Related info:
Mavericks live at Patriot Rifle III
(917th Wing Public Affairs news article)
Quote:
Neil Dunridge, a freelance photographer from Oxford, England, is authoring a book about the A-10 Thunderbolt II and was able to imbed with the 47th Fighter Squadron during the deployment.

"This book will not be just about the A-10, but also about the maintenance personnel who keep it flying," said Mr. Dunridge. "The people were fantastic and the trip couldn't have gone better."
Neil at work: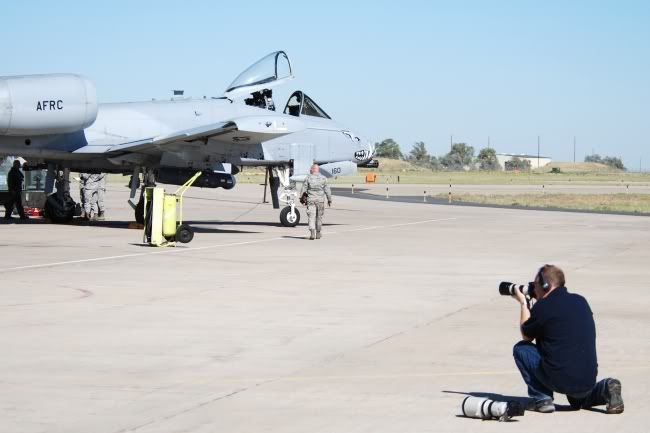 Neil Dunridge, a freelance photographer from Oxford, England, deployed with the 47th Fighter Squadron to Hill Air Force Base, Utah, on September 12, 2009. Mr. Dunridge is currently writing a book about the A-10 Thunderbolt II aircraft. More than 54 members of the 917th Wing from Barksdale Air Force Base, La., and six aircraft participated in the exercise. (U.S. Air Force photo by Master Sgt. Greg Steele)
Hi-res