As reported by Warthog News, three unmarked A-10s from the 81st Fighter Squadron, 52nd Fighter Wing, left Spangdahlem AB, Germany, for Continental United States (CONUS) October 24, 2009. Serial numbers were: 81-0952, 81-0978, and 81-0984. One of them - A-10 81-0978 - was photographed at Davis-Monthan AFB, Arizona, home of the 355th Fighter Wing (ACC), November 18, 2009 (It looks to me that all three former Spang Hogs joined the 355th):
Lini Koria, 19, University of Arizona girls' softball team catcher and infielder, holds a replica of a bullet and learns more about the lethal effects of the A-10's 30 mm seven-barrel Gatling gun during a tour here November 18, 2009. Fourteen players from the softball team visited the base to play a game of kickball with children at the Davis-Monthan Youth Center. After the game, they were provided with a tour of an A-10 display. (U.S. Air Force photo by Airman Jerilyn Quintanilla)
Hi-res
Note:
The aircraft in the background is A-10 81-0978.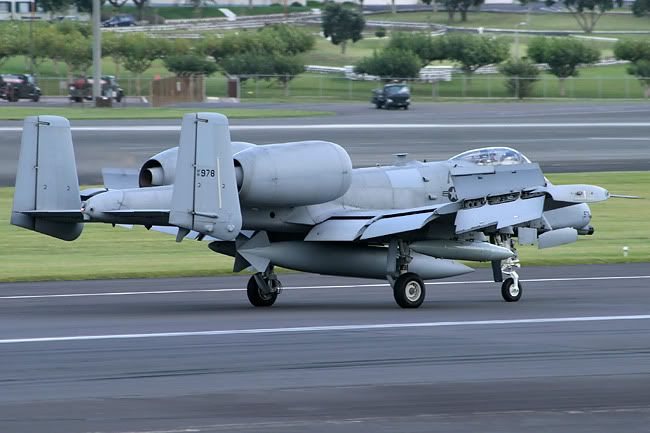 A-10 81-0978 landing at Lajes Field, Azores, for stopover October 24, 2009. All former unit markings are painted over in a lighter grey tone. (Photo by André Inácio)Related info:
University of Arizona girls' softball team visits D-M
(Warthog News November 21, 2009)
Former 81st Fighter Squadron A-10s still at Lajes
(Warthog News October 30, 2009)
Three unmarked 81st Fighter Squadron A-10s left Spangdahlem for CONUS
(Warthog News October 25, 2009)