By Joachim Jacob
One of the most popular questions I've got from Warthog News readers: What are the ways to identify an upgraded A-10C from outside?
General info
[...] The A-10 is currently undergoing the precision engagement modification, which adds upgraded cockpit displays, moving map, hands on throttle and stick, digital stores management, LITENING and Sniper advanced targeting pod integration, situational awareness data link or SADL, variable message format, or VMF, GPS-guided weapons, and upgraded DC power. Precision engagement modified aircraft are designated as the A-10C. [...] The upgraded A-10C reached initial operation capability in September 2007. [...]
Source:
Official USAF A-10 factsheet
Visual proofs from outside:
Best proof would be a Sniper XR targeting pod, either mounted onto stations 2/10 or 3/9. A significant A-10C improvement is the ability to carry this pod also on stations 2 and 10, thus once again freeing up stations 3 and 9 for the AGM-65 Maverick. Please note: Sniper XR is not compatible with the A-10A or A-10A+.
A-10C 82-0658 from the 422nd Test and Evaluation Squadron (422nd TES), photographed over Nellis AFB, Nevada, on March 25th, 2009. Loadout: LAU-131 rocked pod on station 2, 'golden' AGM-65 Maverick on station 3, Mk.82 Air Inflatable Retard (AIR) dumb bombs on stations 4, 5, 7 and 8, empty LAU-117 launch rail for a Maverick on station 9, Sniper XR targeting pod on station 10. (Photo by Bruce Smith)
Hi-res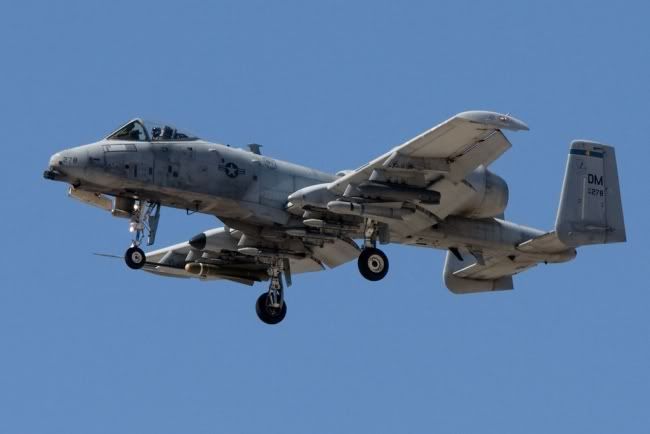 A-10 80-0278 from the 354th Fighter Squadron landing at Davis-Monthan AFB, Arizona, September 24, 2009. Sniper XR targeting pod on station 2 and gunsmoke residue. (Photo by Ned Harris)
Hi-res
Another proof from outside would be an angle view of the cockpit from the ground, typically for all aircraft photographers and spotters. Only one sample: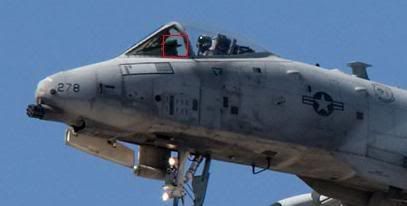 Close-up snap of the picture above. Clear visible is the broadened upper instrument panel without the former A-10A panel shroud "eyebrows". (Photo by Ned Harris)
Among other things, the A-10C received an entirely new "glass" cockpit. Two large 5 x 5 inch MFCDs (Multi-Function Color Displays) are installed either side of the primary flight instruments and the original Armament Control Panel has given way to a new design. To accomodate the new MFCDs, the upper part of the instrument panel was broadened, requiring a slightly re-shaped External Stores Jettison and Fire Bottles Selector switches, although their functions remain unchanged. The new broadened instrument panel also requires new panel shroud "eyebrows" which have yet to be installed on any A-10C. They will eventually be fitted; however, the lack of them is the quickest way to identify an A-10C from the outside.
Source:
The Modern Hog Guide
Stars and Stripes (a DoD publication) released the following picture:
See:
'Warthog' squad revamped with digital upgrades
Capt. Dave "Q" Befort, an 81st Fighter Squadron pilot, gazes into the cockpit of an upgraded A-10 Thunderbolt II Thursday at a Belgian factory in Charleroi. All 24 planes in the 81st FS at Spangdahlem have been approved for the C model upgrade, which will cost an estimated $286 million, part of an Air Force-wide program. (Photo by Ben Bloker / Stars and Stripes)
The following news photo was published by the Idaho Statesman June 13, 2009:
Staff Sgt. John Driebergen, Idaho Air National Guard, monitors the upload of new software from the cockpit of an A-10 aircraft at Gowen Field in Boise. A-10's from around the nation are being retrofitted in a one-stop service at Gowen Field. Visible is an A-10C cockpit. (Photo by Darin Oswald / Idaho Statesman)
Source
The following close-up cockpit shots of A-10C 81-0960 from the 81st Fighter Squadron, 52nd Fighter Wing, Spangdahlem AB, Germany, were taken by Warthog News contributor Mariusz Krawczyk during Radom Air Show 2009 at Sadków Radom Airport, Poland.
At left, please note the inscription RADIO CALL 10960 - related to the aircraft's serial number 81-0960. (Photo by Mariusz Krawczyk)
(Photo by Mariusz Krawczyk)
(Photo by Mariusz Krawczyk)
A new Up Front Controller is placed on top of the instrument panel coaming, replacing the existing OSP found on the A-10A and A-10A+. It is used to input data and select options through the HUD. It also integrates many weapons, navigation, and HUD commands into a single piece of equipment, simplyfying pilot workload. (Photo by Mariusz Krawczyk)
(Photo by Mariusz Krawczyk)The new antenna behind the cockpit
Please note: This antenna is not a part of the A-10C upgrade.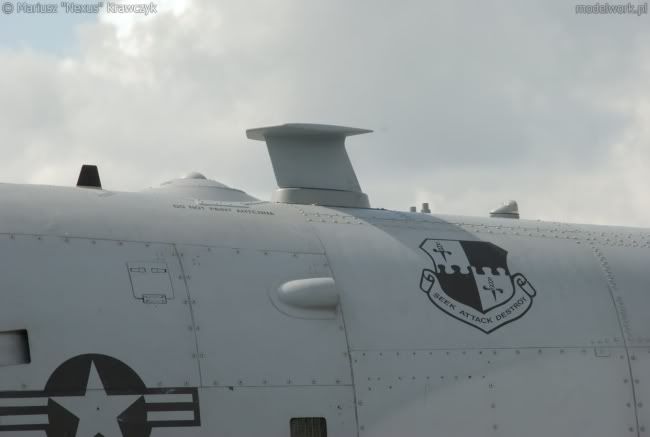 The new antenna on A-10 992. (Photo by Mariusz Krawczyk)
The new antenna on A-10 992. (Photo by Mariusz Krawczyk)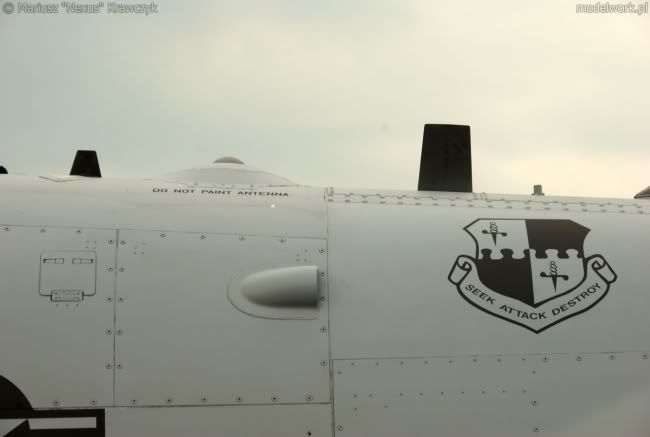 The older antenna. (Photo by Mariusz Krawczyk)
Antennas below the tail. (Photo by Mariusz Krawczyk)Note:
This post will be further updated.