Updated 27 August 2009 (with the pictures)
A-10 78-0621 from the 188th Fighter Wing receives fuel from a KC-135 Stratotanker over the skies of Arizona during a deployment to Davis-Monthan AFB August 5, 2009. The tanker, provided by the 137th Air Refueling Wing in Oklahoma City, carried local civic and military leaders to Davis-Monthan, where they received a tour of the facilities. (U.S. Air Force photo by Tech Sgt. Stephen Hornsey)
Hi-res
by Capt. Heath Allen
188th Fighter Wing Public Affairs
8/24/2009 - DAVIS-MONTHAN AIR FORCE BASE, Ariz. -- If the 188th Fighter Wing wants to come through in the heat of the moment it must learn to remain cool under fire. The Flying Razorbacks tested their mettle and their aim during a recent deployment to Davis-Monthan Air Force Base in Tucson, Ariz., July 25-Aug. 8 to work with the 162nd Fighter Wing's Operation Snowbird.
The 188th deployed approximately 300 operations, maintenance and support personnel along with 13 of the unit's 21 A-10 Thunderbolt II "Warthogs" to Davis-Monthan.
The deployment furnished the 188th with the opportunity to conduct training and gain operational experience in a mountainous, desert terrain, which closely mimics the climate and conditions in Afghanistan.
The 188th is scheduled for its Aerospace Expeditionary Forces (AEF) rotation to Afghanistan in spring 2010 as part of Operation Enduring Freedom. The 188th, which will be the first A-10 Air Guard unit to deploy to Afghanistan, will send a similar package to the AOR.
Operation Snowbird, which is a National Guard Bureau program located at Davis-Monthan and supported through the Arizona Air National Guard's 162nd Fighter Wing, was established in 1975.
"This deployment was vital to the 188th's continued preparation for Afghanistan," said Col. Tom Anderson, 188th Fighter Wing commander. "Snowbird provided the 188th with valuable training in much the same geographic environment and climate that we will see in Afghanistan. We gained a lot of essential experience that will help prepare us for our upcoming mission."
The 188th received its first A-10A in 2007 and quickly initiated an upgrade to the A-10C to meet criteria for upcoming AEF rotations.
"It's the same aircraft modified with increased capabilities," said Col. Jeff "Kid" Hickman, 188th Operations Group commander. "It's a pretty significant capability leap for the aircraft."
The pilots and support personnel need plenty of time to become efficient at operating the new equipment. Snowbird helped accelerate their proficiency.
"The A-10C features hardware and software upgrades so it's a pretty rapidly evolving process for the pilots," Hickman said. "Right now, we still have aircraft going through modifications to help prepare us for the AEF."
The 188th flew 186 sorties totaling 437 hours during its deployment to Davis-Monthan.
"At Snowbird, we operated in a combat surge mode," said Maj. Ray Hunter, 184th Fighter Squadron commander. "We typically fly about 250 sorties and 375 hours in a month and we've done that in about 10 days. We've flown a lot of 10 turn, 10s and 10 turn, 11s. That's hard to do and our maintenance personnel did an absolutely outstanding job keeping the planes operational."
The 188th dropped 31 GBU-38 JDAMs, 38 GBU-12 LGBs, 100 MK-82s (live), 350 MK-82s (inert), 525 MK-66 rockets and 13 AGM-65 Mavericks and fired 14,000 30 MM rounds from the A-10's GAU-8/A seven-barrel Gatling gun.
"Those are the weapons we'll be using in the desert," said Maj. Brian Ahlert, 188th project officer for Snowbird operations. "So for maintenance and ops it was a huge learning experience for everyone involved. It's not just about the pilots learning how to drop live, it's about our weapons guys learning how to load live and our maintenance personnel getting used to being around them."
While many members of the 188th have deployed multiple times with the unit's former aircraft, the F-16 Fighting Falcon, none have experience with the A-10 under such conditions.
"The primary purpose of Snowbird was for us to employ live weapons," Ahlert said. "Most of our pilots are F-16 guys who haven't dropped live off the A-10C. This was a chance for us to drop live weapons on live targets, which will be similar to what we expect to see in Afghanistan."
The 188th will continue training for its upcoming AEF deployment with another two-week exercise slated for October. The 188th will venture to Green Flag, hosted by Nellis Air Force Base, Nev.
"Most of what we're doing at Snowbird is learning how to deploy the ordnance effectively and safely," Hickman said. "When we get to Green Flag we will be ready to use those skills in a tactical scenario and operate as if we were in Afghanistan."
Ahlert said Snowbird wasn't just about pilots and support personnel adjusting to the live weaponry but also the unit acclimating itself to the extreme temperatures they will endure in a desert work environment.
Ahlert said a temperature assessment was conducted during the first week of the deployment and the flightline reached 150 degrees in the sun and 108 degree in shaded areas.
"It was good for us to experience that kind of heat," Ahlert said. "That's what we're going to see in Afghanistan and we need to be prepared to handle it. We had heat monitors on the flightline to make sure everyone stayed safe and hydrated. The maintenance personnel did an outstanding job and performed admirably under those circumstances."
Civic duty
The 188th also hosted a civic tour during its deployment to Davis-Monthan. Ten media members and 65 civic and military leaders boarded two KC-135 Stratotankers in Fort Smith, Ark., and ventured to Davis-Monthan where they able to observe an aerial refueling of the 188th's A-10s above the skies of Arizona.
The KC-135s were furnished by the 155th Air Refueling Wing based out of Lincoln, Neb., and the 137th Air Refueling Wing stationed in Oklahoma City.
Once on the ground the group toured the Snowbird Operations building and was given a briefing on the 188th's upcoming deployment and aircraft upgrades. The group also viewed the munitions area, the flightline and the "Boneyard," where many of the military's aging aircraft are retired.
A-10 79-0216 or 80-0216 from the 188th Fighter Wing receives fuel from a KC-135 Stratotanker over the skies of Arizona during a deployment to Davis-Monthan AFB August 5, 2009. The tanker, provided by the 155th Air Refueling Wing in Lincoln, Neb., carried local civic and military leaders to Davis-Monthan, where they received a tour of the facilities. (U.S. Air Force photo by Capt. Heath Allen)
Hi-res
A-10 78-0636 from the 188th Fighter Wing taxies down the Snowbird ramp during a deployment to Davis-Monthan AFN July 30, 2009. The deployment helped the 188th prepare for an upcoming AEF deployment to Afghanistan (U.S. Air Force photo by Senior Master Sgt. Dennis L. Brambl)
Hi-res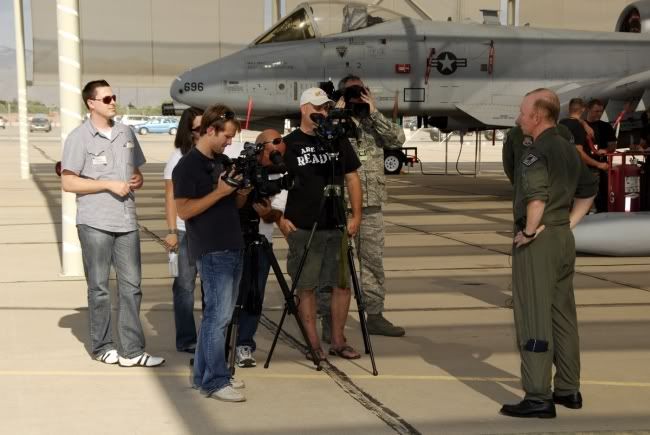 Col. Tom Anderson, 188th Fighter Wing commander, conducts a press conference next to A-10 78-0696 on the Snowbird flightline during a deployment to Davis-Monthan AFB August 5, 2009. (U.S. Air Force photo by Tech Sgt. Stephen Hornsey)
Hi-res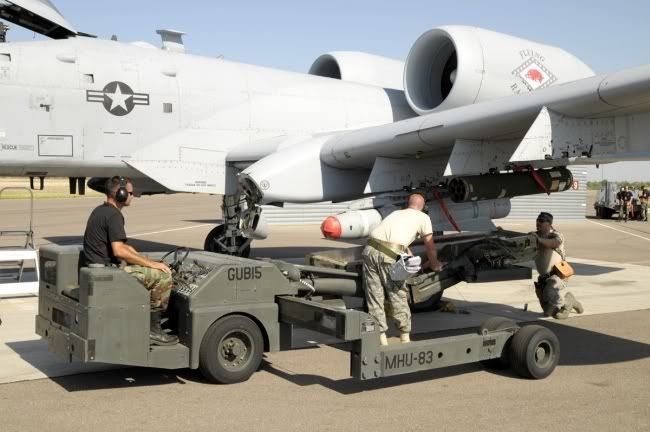 Maintenance personnel from the 188th Fighter Wing load weapons on an A-10 Thunderbolt II on the Snowbird flightline during a deployment to Davis-Monthan AFB July 29, 2009. (U.S. Air Force photo by Senior Master Sgt. Dennis L. Brambl)
Hi-res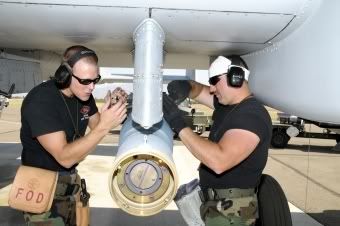 Maintenance personnel from the 188th Fighter Wing load weapons on an A-10 Thunderbolt II on the Snowbird flightline during a deployment to Davis-Monthan AFB July 29, 2009. (U.S. Air Force photo by Senior Master Sgt. Dennis L. Brambl)
Hi-res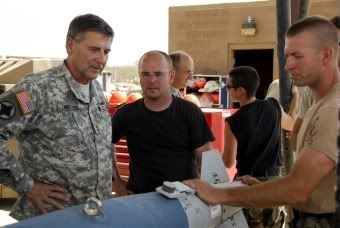 Maj. Gen. William Wofford, Arkansas adjutant general, talks with members of the 188th Fighter Wing during a civic tour to Davis-Monthan AFB August 5, 2009. The purpose of the tour was to observe the training of 188th personnel in preparation for the unit's upcoming AEF deployment. (U.S. Air Force photo by Tech Sgt. Stephen Hornsey)
Hi-res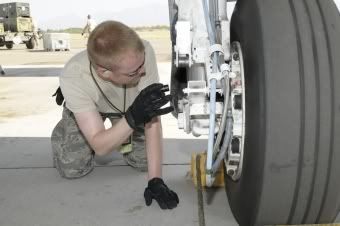 Tech Sgt. Michael Sharum, a crew chief with the 188th Fighter Wing conducts a preflight inspection on an A-10 Thunderbolt II on the Snowbird flightline during a deployment to Davis-Monthan AFB July 29, 2009. (U.S. Air Force photo by Senior Master Sgt. Dennis L. Brambl)
Hi-res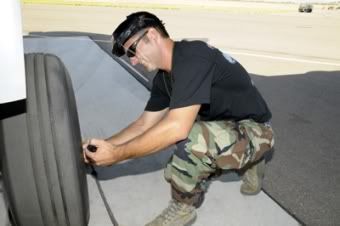 Tech Sgt. Lonnie Nicholson, a crew chief with the 188th Fighter Wing conducts a preflight inspection on an A-10 Thunderbolt on the Snowbird flightline during a deployment to Davis-Monthan AFB July 29, 2009. (U.S. Air Force photo by Senior Master Sgt. Dennis L. Brambl)
Full size
Source
See also:
Unit Prepped For Mission
(Southwest Times Record, August 9, 2009)
188th Fighter Wing Trains in Tucson for A-10 Deployment
188th Fighter Wing Training For Deployment
Arizona Training A Gas For 188th
A-10 attack jets from Arkansas to train over Tucson this week