James R. Compton oversees the aircraft and 1,300 members of the unit with enthusiasm and humor.Idaho Statesman
By Katy Moeller
Edition Date: 11/12/08
Idaho Air National Guard Col. James R. "JR" Compton grew up working in his family's commercial moving and storage business in Boise, but he always dreamed of becoming a pilot.
He often saw or heard planes from Gowen Field flying over the Compton Transfer & Storage metal warehouse off South Broadway.
"The big old jet after-burners would rattle things in there," Compton said.
Today, the 50-year-old Boise native is responsible for all those Guard jets and the roughly 1,300 members of the 124th Wing.
Compton, a pilot whose career in the Idaho National Guard spans 26 years, officially assumed command of the wing in September.
He's had a variety of leadership positions at the wing over the past decade, including chief of safety, operations group commander, maintenance group commander and vice wing commander.
He succeeds Brig. Gen. Richard Johnson, who served as wing commander for four years before becoming a project officer at the National Guard Bureau.
The Guard is very different than when Compton joined a quarter-century ago.
"I was thinking if I ever saw a day of combat, it would be rare," he said. "Now I've been in combat eight times. It's a more dangerous world. We used to be the reserves - we're only going to call you if we can't handle it. Now the Guard is one of the front-line fighting units."
Higher demands and expectations have been good for the Guard, Compton said. Equipment and training has improved.
"In the old days, we used to get the hand-me-down equipment," he said.
About 150 members of the 124th are currently deployed. They are in a variety of places, including Germany, Afghanistan and Iraq, as well as in Africa as part of the war on terror and drugs, Compton said.
In the early 1990s, the 124th Wing was deployed to Saudi Arabia and began combat patrols in the southern no-fly zone of Iraq.
Compton's combat experience includes the first night of attacks leading to the U.S. occupation of Iraq in 2003.
"The first night of 'shock and awe,' I was up over Baghdad in an A-10. I was part of the 'awe,' " said Compton, who was then squadron commander for an A-10 unit that had been involved in patrolling no-fly zones in Iraq.
The single-seat, twin-engine A-10, also called the "Warthog," is highly effective at taking out tanks, mobile missile launchers and other ground targets.
Members of Compton's unit were waiting for a replacement unit when they learned they would need to prepare for full-out combat in Iraq.
"We were ready for it. We are very prepared for these types of conflicts," Compton said.
Compton has a reputation as a skilled pilot who doesn't lose his sense of humor when focused on a mission.
"He was always a jovial, fun guy to be around. He can have fun getting the mission done," said Col. Richard Turner, who got to know Compton during deployments to Turkey and Saudi Arabia.
Chief Master Sgt. Pete Glick said Compton is full of energy and cares deeply for the Guard's mission, its members and their families.
"What makes JR JR is kind of an odd sense of humor," said Glick, who works at Joint Force Headquarters for the Army and Air National Guard. "He finds humor in most everything. He has a sense of humor about himself."
Compton joined the Guard in 1982, when he was in his mid-20s, married and working part-time at his family's business.
He had explored the possibility of joining the Air Force and Navy; his dad was a Navy pilot. But after a friend at BSU told him he should check out the Air Guard, he soon realized it offered the best fit for what he wanted to do.
"What attracted me was I thought I could have my cake and eat it, too - I could go fly jets with the Air Guard and work with my family, too," Compton said.
But his take-off in the Guard didn't go exactly as planned. He applied for flight training school but wasn't accepted.
"I thought I had the right stuff," he said. "I was way bummed."
His dad assured him that other opportunities would come along. And one did, but not what he expected.
A slot in the navigator training program opened up, and he had to decide if he wanted to be among the four considered for the position. At the time, he didn't want to be a navigator.
He was selected for navigator training and found it fascinating, particularly celestial navigation. He was trained in weapons operation in the RF-4C Phantom, which flew Cold War reconnaissance missions, and was certified as a combat-ready crew member of the 190th Fighter Squadron in 1984.
After about four years in the Guard, he applied to go to flight school. The age limit to enter pilot training was 30. He was 29 years old at the time. But he got in, and his navigator training came in handy.
"I had 500 hours flying in a high-speed supersonic jet already," Compton said. "I knew way more than most of my peers, just because I had been flying for so long already."
He graduated from flight training in 1986 and became a full-time Guardsman in 1987, assigned to be an instructor pilot for the 189th RTU (Replacement Training Unit).
In 1990, he was selected for the prestigious U.S. Air Force Fighter Weapons School.
He became a weapons and tactics officer for the 190th Fighter Squadron and later learned to fly the F-4G "Wild Weasel."
The wing converted to the A-10 "Warthog" and C-130 "Hercules" in 1996.
Compton has logged more than 4,000 flight hours. The aircraft he's flown include the T-37, T-38 and RF-4C.
He still flies at least five times each month to keep up his skills. And he's still a partner in his family's 106-year-old business with his brothers, Brett and Scott, and sister, Mary Kay.
"We talk about it all the time. I don't really get involved in it," he said. "I'm too busy."
Col. James R. Compton, who took command of the Idaho Air Guard's 124th Wing in September, heads to the flight line before a recent training sortie. (Photo by Chris Butler / Idaho Statesman)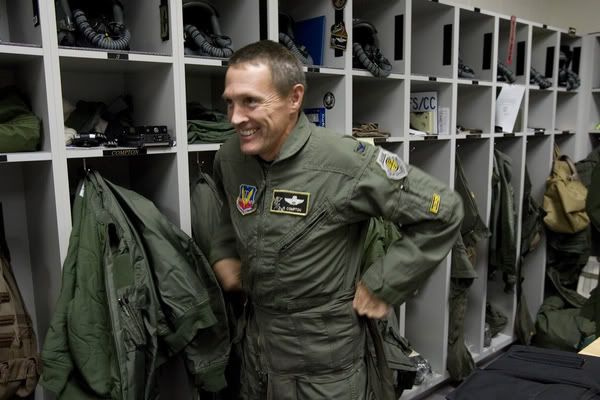 Col. James R. Compton jokes with fellow pilots in the Life Support Room prior to a training sortie last week. (Photy by Chris Butler / Idaho Statesman)
Source
Col. James R. Compton's official online biography