Released by
23rd Wing Public Affairs
: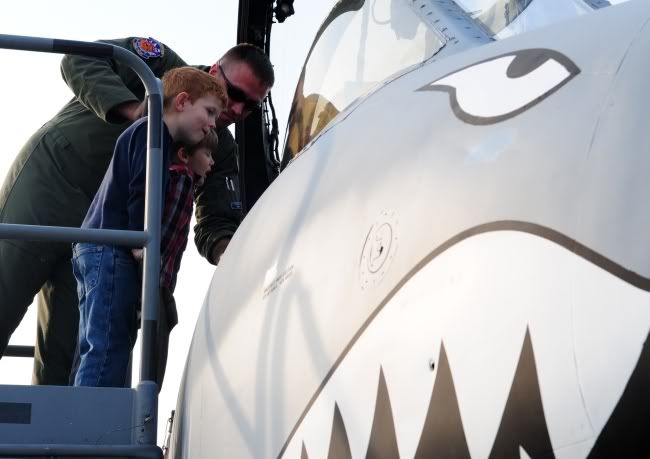 MOODY AIR FORCE BASE, Ga.-- Adrian Lindahl (front) and Reese Morton (center), sons of Justin and Penny Morton, ask Capt. Drew Voss, 74th Fighter Squadron A-10 pilot, questions about the A-10C Thunderbolt II. Thousands of people lined up to see the different types of aircraft used in present day and previous wars. (U.S. Air Force photo by Senior Airman Stephanie Longoria)
Hi-res
by Airman 1st Class Nicholas Benroth
23rd Wing Public Affairs
11/14/2010 - MOODY AIR FORCE BASE, Ga. -- Smoke invaded the skies and there was an unmistakable chill in the air as thousands of people gathered to catch a glimpse of the Moody Community Appreciation Day Air Show.
Approximately 20,000 people came out to see not only the aerial demonstrations but to see the Air Force's mission first hand.
"To come out here and witness all of the aircraft again was an amazing experience, said Pam Danbury, husband of retired Maj. Bill Danbury. "It's good seeing the changes at Moody from when my husband was stationed here."
Static displays lined the grounds of the show. Aircraft from Moody were on display like the HC-130P/N Combat King, A-10C Thunderbolt II, and the HH-60G Pave Hawk. There were also fighter aircraft and helicopters from other locations. But the aircraft were not alone, their crews stood alongside.
"This day was for the community, being able to come out and showcase the capabilities was a treat for all of us," said Staff Sgt. Daniel Weave, 71st Rescue Squadron airborne mission systems specialist. "This may be someone's first time on a military base and this is our chance to teach them as much about us as possible."
The crew's purpose was to educate the community about how these planes are used and what they are capable of.
"What we are here to do is give a basic overview of this plane and let them know what we do," said Sergeant Weave. "We have 15 crew members here to help show the HC-130, educating them on the different parts and functions of the aircraft."
Each aircraft and it crew have a different role to play. This day was a key day in letting the community see the base and the air force mission first hand. A day which furthered the bond between the 23rd Wing and its host communities.
MOODY AIR FORCE BASE, Ga. -- Explosions go off during an A-10C Thunderbolt II demonstration at the Community Appreciation Day Air Show Nov. 13. Moody housed various performers and demonstrations from the A-10 to the P-40 Warhawk, two aircraft that fly with the historic Flying Tigers logo. (U.S. Air Force photo by Airman 1st Class Joshua Green
Hi-res
Source