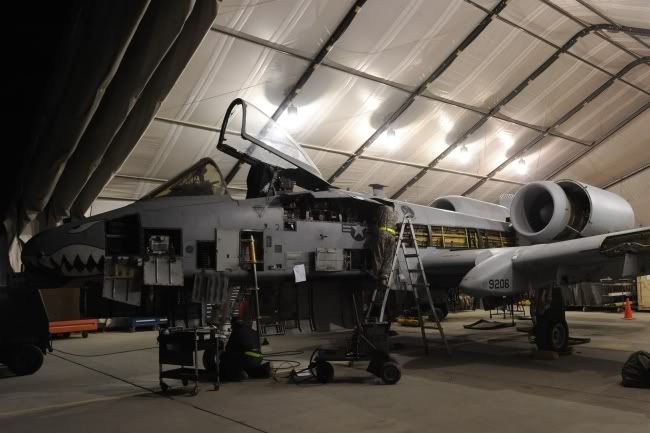 Airmen of the 451st Expeditionary Maintenance Squadron A-10 Aircraft Maintenance Unit perform a phase inspection on an A-10C Thunderbolt II, Nov. 10, 2010, at Kandahar Airfield, Afghanistan. A phase inspection is an extensive process of servicing the airframe integrity, hydraulic system and wiring systems to make sure they are compliant with standards. (U.S. Air Force photo by Tech. Sgt. Chad Chisholm)
Hi-res
Note:
Pictured is A-10C 79-0206.
by Senior Airman Melissa B. White
451st Air Expeditionary Wing Public Affairs
11/12/2010 - KANDAHAR AIRFIELD, Afghanistan -- Half a world away, most people at Kandahar Airfield, Afghanistan, aren't awake at the same time their American friends and family members are going about their days, but that's not the case for some Airmen supporting the 24/7 missions of Operation Enduring Freedom.
At midnight, the tarmac is a significantly quieter place, but it's still bustling with activity as maintainers tend to their A-10C Thunderbolt II aircraft on the parking ramp to ensure they are always "attack ready."
"I like working at night because it's quiet, not as bright and a lot cooler," said Senior Airman Jefferson Jeanniton, 451st Expeditionary Aircraft Maintenance Squadron A-10 Aircraft Maintenance Unit aerospace propulsion journeyman. "I don't mind seeing the stars either. I look up, and it's just straight sky; we don't get that too much back home because there are a lot more clouds ... I think I've only seen clouds once since I've been here."
Moving into the winter season with nighttime temperatures dropping down to the 40s, these Airmen -- some already wearing their watch hats -- don't seem too worried about the dropping temperatures which have been recorded as low as five degrees Fahrenheit.
"It's fine with me ... it just means I'll have to wear more clothes," laughed Airman Jeanniton, who hails from Deltona, Fla. "I like being outdoors, and it's relaxing out here at night."
Working at night may present some challenges, though, as not everything is quite obvious or easily seen by the naked eye as compared to working during daylight hours.
"Light is a definite issue," said Airman Jeanniton. "When I open up the panels to work on the jet, it's really dark inside, so it's hard to see. We rely on flashlights and head lamps a lot."
The Airmen must also remain very aware of their surroundings at night when they're directing the jets to different sections of the flightline. To meet demands of the war, the swelling A-10 mission has physically left them with little room to breathe.
"We've taken our safety observations to a whole new level and we just had an inspection team come through here this week and they said our guys are doing a great job to keep up with the mission," said Chief Master Sgt. Jeffrey Leonard, 451st EAMXS A-10 AMU superintendent. "In an austere, combat environment like we're in, it's hard to do work like this, but they're staying motivated and, in the end, it's all about saving lives," he said referring to the A-10 support of the ground fights across America.
With more than 150 Airmen spanning across 13 different career fields, the Airmen in this AMU are kept busy supporting the around-the-clock operations by performing crew chief duties, weapons maintenance, electronics, avionics, and plans and scheduling to name a few.
"I feel like I'm really contributing to the war effort," said Senior Airman Thomas Wilson, 451st EAMXS A-10 AMU crew chief. "There are a lot of jobs to do, so we're always out here doing something."
The maintenance Airmen make sure the A-10s of the 75th Expeditionary Fighter Squadron are always mission ready. They have provided support for nearly 1,000 sorties, expending nearly 160 bomb units and more than 63,000 rounds of 30mm ammunition against enemy forces since they arrived here at the end of September.
"It's a war out there, and our guys get pretty stoked when they see the pilots come back with less munitions than they left with because it shows how they're contributing to the war effort," said Chief Leonard, who hails from Lexington, N.C. "A million times over we have people come up to us, no matter whether they're Army or NATO ground forces, and they thank us and tell us how we saved 10 of their buddies --in just one day, just one mission."
The A-10 is known for its maneuverability at low air speeds, enabling pilots to provide close air support for troops in contact. Each aircraft is armed with one 30mm GAU-8/A seven-barrel Gatling gun and can carry up to 16,000 pounds of ordnance.
"My favorite part of the job is getting dirty and the thrill of running engines," said Airman Jeanniton, who is on his second deployment. "I'm thrilled to be part of the mission. The best thing to hear is the gun going off and seeing the pilots come back with less ammo ... it means they were protecting our ground forces and we contributed to that."
Day or night, the members of the 451st EAMXS A-10 AMU are maintaining mission capabilities and keeping the aircraft "attack ready" for when they're called upon to keep coalition forces safe on the ground.
Source