Today, 52nd Fighter Wing Public Affairs released their first official info and pictures about the 81st Expeditionary Fighter Squadron's return from Afghanistan:
9/30/2010 - SPANGDAHLEM AIR BASE, Germany – A-10 Thunderbolt IIs from the 81st fighter squadron taxi onto ramps one and two September 27 as they return to Spangdahlem AB after a five-month deployment to Kandahar, Afghanistan. (U.S. Air Force photo by Staff Sgt. Benjamin Wilson)
Hi-res
Please note: A-10C 81-0991 in the center, A-10C 81-0976 at left, A-10C 82-0656 at right.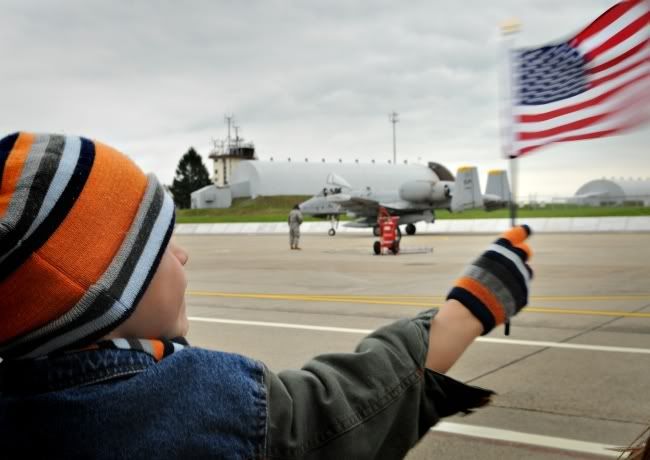 9/30/2010 - SPANGDAHLEM AIR BASE, Germany – A child waves an American flag as an A-10 Thunderbolt II taxis on ramps one and two September 27, 2010. The A-10 was one of five to return to Spangdahlem after a five-month deployment to Kandahar, Afghanistan. (U.S. Air Force photo by Staff Sgt. Benjamin Wilson)
Hi-res
9/30/2010 - SPANGDAHLEM AIR BASE, Germany – The family and friends of five returning A-10 Thunderbolt II pilots from the 81st Fighter Squadron hold signs and wave flags on the flightline Sept. 27. The A-10s returned to Spangdahlem Air Base after a five-month deployment to Kandahar, Afghanistan. (U.S. Air Force photo/Staff Sgt. Benjamin Wilwson)
/30/2010 - SPANGDAHLEM AIR BASE, Germany – Lt. Col. Douglas Sirk, 81st Fighter Squadron assistant director of operations, hugs his wife and kids September 27, 2010, after returning from a five-month deployment to Kandahar, Afghanistan. Colonel Sirk was one of five A-10 Thunderbolt II pilots to return on that day. (U.S. Air Force photo by Staff Sgt. Benjamin Wilson)
SPANGDAHLEM AIR BASE, Germany – The family and friends of five returning A-10 Thunderbolt II pilots from the 81st Fighter Squadron hold signs and wave flags on the flightline September 27, 2010. The A-10s returned to Spangdahlem AB after a five-month deployment to Kandahar, Afghanistan. (U.S. Air Force photo by Staff Sgt. Benjamin Wilson)
Hi-res
source