Only three of a couple of photos, released today by 355th Fighter Wing Public Affairs: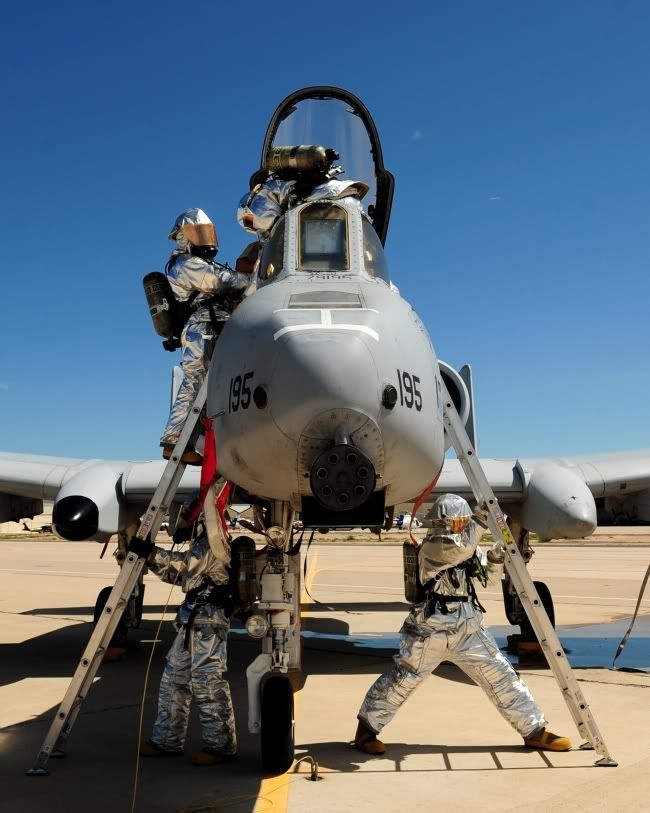 Members of the Davis-Monthan fire and emergency services flight perform initial medical evaluations on a volunteer during an A-10 egress exercise on the flight line here August 25, 2010. The firefighters performed five different exercises, testing overall mission preparedness and capability. It was the base's first UCI in four years. (U.S. Air Force photo by Airman 1st Class Jerilyn Quintanilla)
Hi-res
Note:
The aircraft is A-10 79-0195.
Members of the Davis-Monthan fire and emergency services flight perform initial medical evaluations on a volunteer during an A-10 egress exercise on the flight line here August 25, 2010. The firefighters performed five different exercises, testing overall mission preparedness and capability. It was the base's first UCI in four years. (U.S. Air Force photo by Airman 1st Class Jerilyn Quintanilla)
Hi-res
A member of the Davis-Monthan fire and emergency services flight stands by as his team administers initial treatment to a volunteer pilot during an A-10 egress exercise on the flight line here August 25, 2010. The exercise tested the flight's ability to quickly respond to an emergency on the flight line. The firefighters performed five different exercises, testing overall mission preparedness and capability. It was the base's first UCI in four years. (U.S. Air Force photo by Airman 1st Class Jerilyn Quintanilla)
Hi-res