On August 13, 2010, Warthog News contributor James O'Rear from United States had the opportunity to take the following picture at Davis-Monthan AFB, Arizona: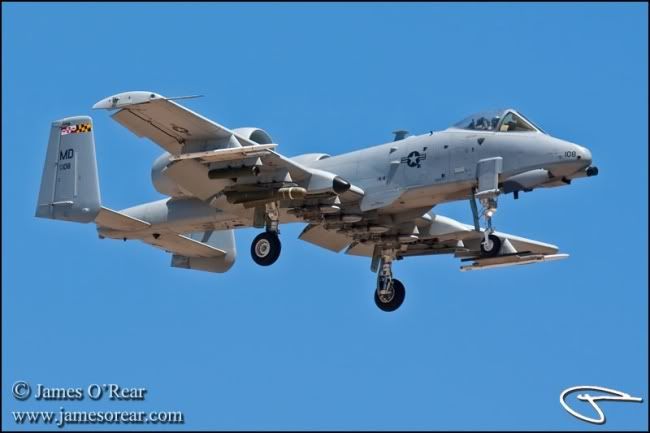 A-10C 79-0108 from the 104th Fighter Squadron, 175th Wing, on final approve. (Photo by James O'Rear)
Full size
Note:
Unusual loadout with Dual Rail Adapters (DRAs) both on stations 1 and 11. Carrying on their outher LAU-105 missile rails are two unknown white pods.
On his photostream on Flickr, James wrote:
Never seen the dual white pods mounted on the twin rails before.
Reply from Henrik, a friend of mine from F-16.net:
Hi Guys,
I don't have the specific designation of those pods, but they are some kind of test ACMI / telemetry pods.
Look closely for ED, ET and on occation NM ANG Vipers in the past - all those have been seen with those pods.
In a mail correspondance with James, he mentioned tie IG pod - it seems he's right!!
"The Inertial Global Positioning System Integration (IGI) Pods are a high dynamic TSPI data collection system. IGI utilizes the global positioning system satellite network and single channel communucations down link technology allowing multiple player tracking and identification in both real-time and playback modes."
I believe that this MD ANG Hog is on loan to the AATC in Tuscon.
www.otc.army.mil/otc/adatd/f16.html
Cheers,
Henrik.
Sometime later yesterday, from James I got the following e-mail:
Joachim,
Am attaching a high-rez image of the MD A-10 we see here from time to time but it is wearing a pair of slender white pods on the outside rail of the twin-missile racks on stations 1/11. They look similar to the IGI pods used in conjuntion with the Army in testing ground missions (such as those flown by the 150th FW out of Holloman until recently) with the exception of the four antenna on the end, not unlike the antenna on an ACMI pod.
Any ideas?!?!?!?
The web-rez version is posted on my Flickr page.
Cheers,
James O'Rear
Sahuarita, AZ
The Hi-res version, exclusively provided to me by James, but already downsized by my uploading on Photobucket:
Hi-res
Question:
Anybody who can/will disclose the pod's designation?
Just a cut-out from the hi-res version. Pod on station 11 is numbered 907.