By Senior Airman Danielle Wolf
442nd Fighter Wing Public Affairs
This month the 303rd Fighter Squadron will lose one of its most valued civilian employees to retirement – Kathi Welch of flight management.
For the last 27 years Ms. Welch has provided the 442nd Fighter Wing with records management and daily flying tasks that keep the jets in the air.
"She runs all of the records for the pilots and keeps us flying legally," said Lt. Col. Brian Borgen, 303rd FS commander. "The 442nd has a lot of people with important jobs, but if we don't get the jets off the ground, we haven't fulfilled out mission; she makes it possible to get the jets in the air."
Ms. Welch has also seen numerous changes throughout the wing.
"Kathi has been a member of the 303rd FS since it converted from C-130s to A-10s in October 1982," said Chief Master Sgt. Carol Tripp, 303rd FS chief of aviation resources management.
Chief Tripp, who met Ms. Welch in 1989 said the 303rd is filled with "dedicated, driven and passionate professionals."
"She is such an integral part of the daily flying operation," she said. "It is difficult to imagine life without her come September."
Not only do the Airmen and civilian employees of the 303rd FS know Ms. Welch well for her hard work and dedication, but others throughout Air Force Reserve Command look to her for guidance, Colonel Borgen said.
"When other units have questions, they ask her," he said. "They petition her opinion because she is a meticulous individual who represents the 442nd extremely well."
Ms. Welch is responsible for obtaining and displaying takeoff and landing data, weather and current airfield conditions. She also schedules airspace and coordinates range scheduling.
"When I got to the unit in 2000, Kathi was already an iconic figure within the unit," said Lt. Col. Stephen Chappel, 303FS director of operations. "Once I was able to decipher that heavy Jersey accent, I realized she was a good source for answering many broad questions that I had with regards to squadron practices. Most pilots have leaned on her job skills to keep their flying schedule and flight pay straight. As a brand new pilot and subsequent scheduler, I greatly depended on Ms. Welch to assist me with my scheduling tasks – especially at a time that our full-time pilot force was less than 50 percent manned."
Working with fewer full-timers is something Ms. Welch knows all about by now.
"(Kathi) has 'manned the fort' during countless squadron deployments and always cheerfully accepted the additional workload demands in our absence," Chief Tripp said.
The chief is not the only one who has noticed Ms. Welch's cheerful dedication to the 442nd FW.
"We have pilots coming (to celebrate her retirement Aug. 6) from New York, Virginia, Indiana, Texas and Nevada to include a former wing commander, several vice wing, group and squadron commanders," Chief Tripp said. "There isn't a pilot in this wing's A-10 history who hasn't been personally supported by Kathi Welch, and I'd venture to say every last one of them consider her a friend."
For Colonel Borgen, Ms. Welch's retirement signifies the end of an era – but certainly not the end of a friendship.
"I will miss her because she really makes me laugh," the colonel said. "She answers the phone and I start laughing. I talk to her every morning; she will be sorely missed."
Chief Tripp agreed.
"She has had a significant and positive impact on the flying operation of this squadron for 28 years," Chief Tripp said. "She will be missed more than I can adequately express in words."
Colonel Chappel said he hopes to see her retire in a warm climate, void of snow and to enjoy her much-deserved time off.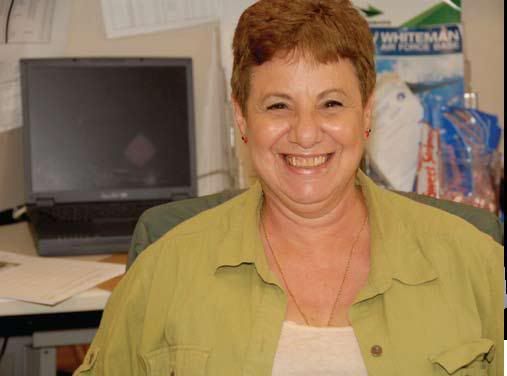 Kathi Welch (U.S. Air Force photo by Senior Airman Danielle Wolf)
Source