In "Combat Aircraft Monthly", July 2010 issue, aviation photographer and photojournalist
Neil Dunridge
from United Kingdom has placed a news article about the latest 104th Expeditionary Fighter Squadron's combat deployment to the 451st Air Expeditionary Wing at Kandahar Airfield, Afghanistan, in support of Operation Enduring Freedom (OEF). Neil, meanwhile also one of my Warthog News contributors, had the opportunity to visit Kandahar Airfield to take some exclusive shots in February 2010. See also:
Photojournalist Neil Dunridge reports from Kandahar Airfield
Publisher's online preview:Baltimore Hawgs at war
In early 2010 the 104th Fighter Squadron became the first Air National Guard unit to deploy to Kandahar Airfield, the new home of the A-10 in Operation 'Enduring Freedom'.
Neil Dunridge
provides an exclusive insight into the unit's operations over Afghanistan
UK edition's cover: AFGHAN AIR OPS - A-10 CLOSE AIR SUPPORT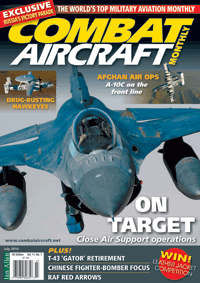 US edition's cover: AFGHAN AIR OPS - A-10C on the front line
Note:
"Combat Aircraft Monthly"
is published by
Ian Allan Publishing Ltd, United Kingdom