6/22/2010 - Capt. Stephen Dzialo, lead coordinator for the JROTC Open House, briefs cadets on the capabilities of the A-10 Thunderbolt II and the B-52 Stratofortress at Barksdale AFB, Louisiana, June 17, 2010. Captain Dzialo is attached to the 2nd Operations Support Squadron at Barksdale AFB. Airmen from over 40 Air Force Specialty Codes (AFSC) at Barksdale were represented during the open house to explain career options to the cadets. An AFSC is an alphanumerical code used by the United States Air Force to identify an Air Force Specialty (AFS) or in layman's term, a type of job or career field. (U.S. Air Force photo by Tech. Sgt. Jeff Walston)
Hi-res
Note the crew names just below the canopy at left:
PLT. LTC. BRADY GLICK [= Pilot Lt. Col. Brady Glick]
DCC. SGT. TURIN ARJIBAY [= Dedicated Crew Chief Sgt. Turin Arjibay]
Note:
Archived USAF picture of this aircraft: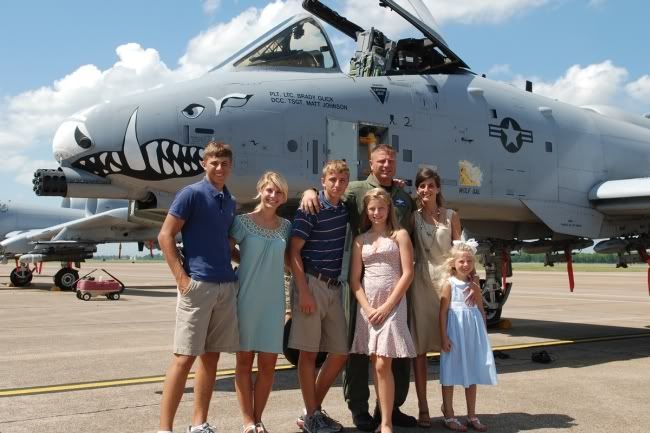 Lt. Col. Brady Glick, 47th Fighter Squadron pilot, poses with his family following his return from a record setting sortie in the A-10 Thunderbolt II. Lt. Col. Glick set the all-time single total flying hours record in the A-10 with 4,666 flying hours and 2,495 sorties on June 13, 2008, 917th Wing, Barksdale AFB, Louisina. (U.S. Air Force photo by Master Sgt. Gregory W. Steele)
Hi-res
Note:
WOLF GAL painting on the left fuselage.
Source