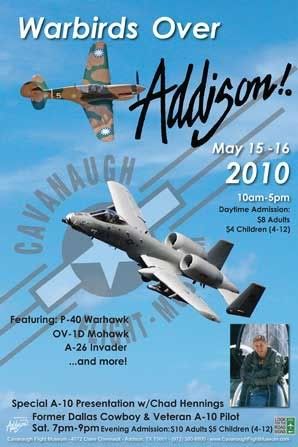 A special A-10 "Walk-around" with Chad Hennings, former Dallas Cowboy and Veteran A-10 pilot, is scheduled for Warbirds Over Addison May 15 - 16, 2010, held by the Cavanaugh Flight Museum, Addison Airport (KADS) - Dallas, Texas, as Saturday Night Special Event. Hours: 7:00p.m. - 9:00p.m. Admission, (Night Event) Adults: $10, Children (6-12): $5, Members: Free
Source
According to the museums's website, there will be two A-10 Thunderbolt II aircraft from the 47th Fighter Squadron, 917th Wing (AFRC), Barksdale AFB, Louisiana, on static display.
Related news article:Hennings' Warthog
12:00 AM CDT on Sunday, May 2, 2010
Alan Peppard
The Dallas Morning News
Former Dallas Cowboy Chad Hennings' most interesting stories aren't about football. They're about cramming his big frame into the cockpit of an A-10 Thunderbolt (a.k.a. Warthog) to fly missions over Iraq during the first Gulf War.
Chad will speak May 15 at the annual Warbirds Over Addison event at the Cavanaugh Flight Museum at Addison Airport. Barksdale Air Force Base is sending an A-10 over so Chad can give a walk-around tour of the plane.
For more info, go to www.cavanaughflight museum.com.
Source
Anybody who will meet Chad on this special event? I would be very grateful for any first-hand report!