I extracted the following picture from the "Prevailing Wind" (The Official Newspaper of the 127th Wing, Selfridge ANGB, Michigan) May 2010 public online issue: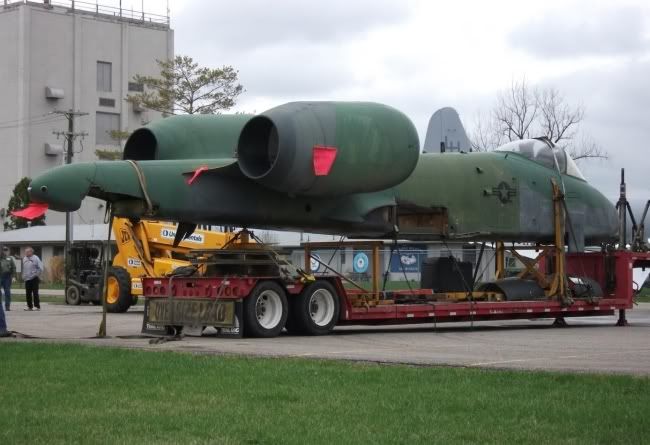 Offical photo caption:
The A-10 Thunderbolt II is now a resident of the Selfridge Military Air Museum at Selfridge Air National Guard Base, Michigan arriving on April 15 - 17. The replica aircraft was delivered from Battle Creek, Michigan by a private contracting company who shipped the fuselage (body), wings, and then tail in three separate deliveries. The A-10 will be ready for display in approximately one week along with 30 other aircraft presently on display. The A-10 is a durable combat aircraft with the mission of protecting troops through close-ground support. The dual engine aircraft plays a crucial role in combating enemy tanks and other offenses. For more information about the Selfridge Military Air Museum call 586-239-6768 or visit www.selfridgeairmuseum.org. (U.S. Air Force photo by Mr. John Swanson)
Full size (Best size selected by me)
Source
Please note: It's not a replica, it's a real Hog. Anybody who can identify this aircraft by serial number?