Capt. Jennie Schoeck, an A-10 pilot and the 354th Fighter Squadron's assistant director of operations, reviews the maintenance records for her A-10C aircraft, prior to her flight April 1, 2010. The first step in the pilot's pre-flight checklist is to review the aircraft's maintenance records. (U.S. Air Force Photo by Staff Sgt. Alesia Goosic)
Hi-res
by Capt. Stacie N. Shafran
355th Fighter Wing Public Affairs
4/2/2010 - DAVIS-MONTHAN Air Force Base, Ariz. -- (Editor's Note: This is the third article in a series highlighting women from Davis-Monthan Air Force Base in honor of Women's History Month.)
From the cockpit of an A-10, Capt. Jennie "Tuzzi" Schoeck has seen the tops of Afghanistan's breathtaking snow-capped mountains, the rugged coastline of the Korean peninsula and the Southern United States' cracked desert landscape.
Her "view" of the Air Force mission, which has mostly been observed from her cockpit, has certainly been different from the majority of the Airmen she serves with.
While her heritage hails from five generations of military service, including parents who were both pilots and an aunt in the Army who became the first female four-star general in the history of the armed services, Captain Schoeck wasn't sure she wanted to fly until she was faced with the decision as a junior at the U.S. Air Force Academy in 2000.
"My dad graduated from the Air Force Academy in '74 and flew MH-53s and A-10s and my mom was the third woman in the Army to become a helicopter pilot, flying the UH-60s. Even with their history and my experiences growing up I didn't really know I wanted to fly until a few weeks before we had to decide," said Captain Schoeck.
After earning a pilot slot, and graduating from the Academy with a Bachelor of Science degree in social sciences in 2001, the captain said her next goal was to become an A-10 pilot.
"I have always been fascinated by the A-10 and its mission," she said. "Growing up around it when my dad flew it, I knew it was an incredible aircraft. When it came time to decide what I wanted to fly, there was no doubt I wanted it to be the A-10."
Since graduating pilot training at Laughlin Air Force Base, Texas in 2003 and the A-10 training course here in 2004, Captain Schoeck has served at Osan Air Base, South Korea and Eielson Air Force Base, Alaska. All of her training and preparation served her well during her first combat deployment in 2006 to Bagram Air Base, Afghanistan.
"It is extremely rewarding to know I had a direct impact on the ground situation in Afghanistan and that based on the decisions and actions my squadron and I made, we helped save the lives of our friendly forces and Allies," said Captain Schoeck, who amassed 158 combat flight hours during her deployment.
In 2007, Captain Schoeck returned to Davis-Monthan to serve as an A-10 instructor pilot in the 358th Fighter Squadron. She just completed a year-long assignment as the 355th Fighter Wing commander's executive officer and will now serve as the 354th Fighter Squadron's assistant director of operations.
"I had an opportunity hire an officer to run my scheduling and training offices and when I learned that Captain Schoeck was available, I jumped at the opportunity to hire her," said Lt. Col. Clarence Johnson, 354th Fighter Squadron commander. "She is a phenomenal officer, pilot, and mentor and I'm proud to have her in my squadron. I have no doubt that with her on board the finest attack pilots are being produced here at Davis-Monthan."
Over the years, there have been other highlights in Captain Schoeck's career. She served as a safety observer for the A-10 West Demonstration Team, which is based here, and enjoyed educating air show audiences about the jet's capabilities.
In 2008, Captain Schoeck was introduced to Hollywood. She served as a military advisor to the producers of "Terminator Salvation." In the storyline, the movie's lead actress, Moon Bloodgood, played an A-10 pilot. To ensure the producers portrayed Moon's character as realistically as possible, Captain Schoeck spent time on the movie set near Albuquerque, N.M., teaching the crew and the actress about the A-10, life support gear and flying tactics. She also hosted the actress's visit to Davis-Monthan so she could learn more about the Air Force's flying mission.
"It was amazing to be a part of something completely different and hopefully bring a sense of realism to the film," she said.
In her spare time, Captain Schoeck is a soccer coach for a local club team. While at the Air Force Academy she played on the Division 1 Women's Soccer team and she continues to play on two soccer teams in town. She also volunteers at church and is also a mentor for girls through the local affiliate of the nationally recognized Girls Incorporated organization.
In April, the captain will be the featured guest speaker at the organization's "Girls and Women in Sports" event, which is designed to encourage elementary school girls to participate in sports and pursue an active, healthy lifestyle.
"We chose her not only because of her past athletic endeavors and her continued involvement coaching soccer in Tucson, but because of her success in a traditionally male dominated field," said Pat Wallace, board chairman of Girls Incorporated of Southern Arizona. "She also serves as an inspiration to our girls showing them that they can succeed in any endeavor they put their minds to. Captain Schoeck embodies our motto of inspiring all girls to be strong, smart and bold."
According to the Jan. 7 Air Force active-duty demographics, women account for only 19.4 percent of the force and only 4.3 percent are pilots.
Captain Schoeck, who was recently, selected for promotion to major, credits her parents and her aunt for their influence on her life and the opportunities she's had during her career.
"I have been truly blessed to be surrounded by amazing people who constantly demonstrate the values you look for in a role model," she said.
And with this, she's well aware of her own position as a role model.
"I would like for young girls to know that they can do anything they want to do. There is no ceiling, if they are willing to work hard and be committed to their goals, they can achieve anything they put their minds to," she said.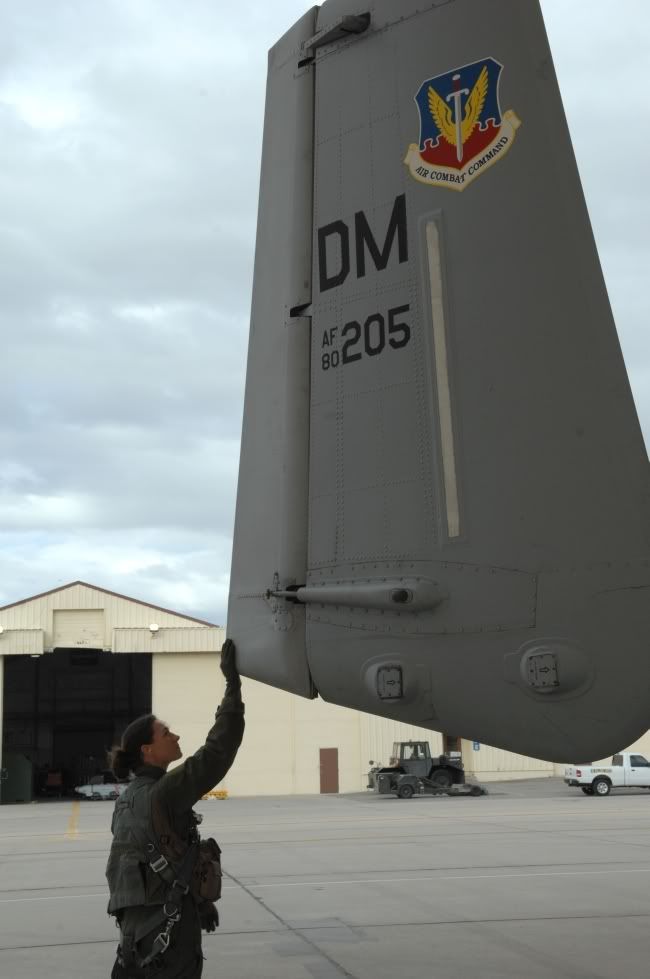 Prior to her flight April 1, 2010, Capt. Jennie Schoeck, an A-10 pilot and the 354th Fighter Squadron's assistant director of operations, looks over her A-10C's rudder to ensure free and correct movement. (U.S. Air Force Photo by Staff Sgt. Alesia Goosic)
Hi-res
Note:
The aircraft is A-10C 80-0205, still without new squadron markings.
Source