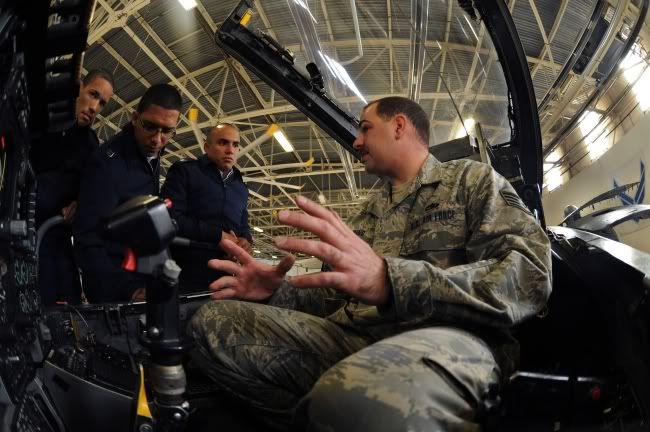 MOODY AIR FORCE BASE, Ga. -- Staff Sgt. Thomas Breining, 23rd Equipment Maintenance Squadron dock coordinator, explains how the gauges work inside the cockpit of an A-10C Thunderbolt II to cadets from the University of Puerto Rico Air Force ROTC Detachment 755, here March 24, 2010. They were also able to see an A-10C while it was being repaired. (U.S. Air Force photo by Airman 1st Class Benjamin)
Hi-res
by Senior Airman Frances Locquiao
23rd Wing Public Affairs
3/29/2010 - MOODY AIR FORCE BASE, Ga. -- During a recent two-day base visit, Air Force ROTC cadets had an opportunity to experience Moody's mission as well as the active duty life.
For many cadets from the University of Puerto Rico-Rio Piedras Detachment 755, this was the first time they were able to leave their home country and visit an Air Force base.
"Since we don't have an Air Force base in Puerto Rico, these visits give cadets a chance to actually see what a base looks like," said Capt. Dominique Rojas, University of Puerto Rico-Rio Piedras Detachment 755 unit admissions officer and group chaperone. "It is a requirement for freshmen, but if other cadets missed the opportunity, we will accommodate them for future base visits.
"In addition to visiting the base, the cadets are able to meet and speak with active duty Airmen in different career fields," she said. "Speaking with enlisted members and officers gives them insight into what a career field entails and a snapshot of active duty life."
Some of the places the group toured to learn more about the different career fields included the 23rd Medical Group, 23rd Civil Engineer Squadron, 23rd Wing Public Affairs and Air Force Office of Special Investigations Detachment 311.
The cadets also visited the 820th Security Forces Group and were able to get hands-on experience with a few of the technologies used in the security forces career field such as the Humvee Egress Assistance Trainer and firearms training simulator.
"This is my fourth base visit and so far I was very impressed with Moody," said Cadet Colonel Josiah Gonzalez-Miranda, Detachment 755 wing commander and an accounting major at the university. "I've met so many energetic people who love and brag about their job. It's great to meet people who are very enthusiastic about the Air Force."
Besides speaking with Airmen in their workplaces, the cadets also were able to sit down and ask questions to several officers during a roundtable session hosted by Moody's Company Grade Officer Council.
"The career day event was very informative because we got a chance to ask questions or address our concerns about officer life," said Cadet 3rd Class Amandaly Guzman, a biology major. "I asked them how they lived and if they liked being an officer--basically what their life is like in the Air Force."
After learning about the base and interacting with active duty members, it was the end of the cadets' visit to Moody, but before they left, many of them echoed appreciation for making their experience a memorable one.
"Our visit has been great because everyone went above and beyond anything that we've experienced," said Cadet Gonzalez-Miranda. "We appreciate them for taking time to come out and talk to us."
The detachment is looking forward to their next visit at a different base, which is scheduled for the winter season.
Air Force Reserve Officer Training Corps is an educational program designed to allow young men and women to pursue a commission in the Air Force while pursuing a college degree. The purpose of the the program is to provide quality development of the individual so that they may serve as effective leaders and officers upon entering the Air Force. For more information, visit the Air Force ROTC program Web site at http://www.afrotc.com.
Source