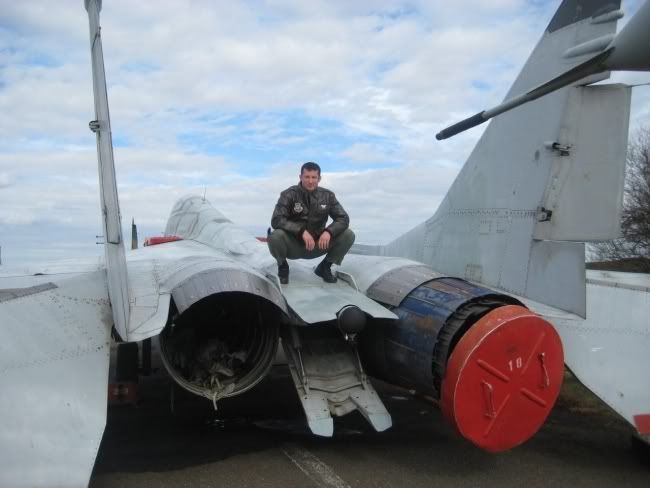 KECSKEMÉT AIR BASE, HUNGARY – Capt. Jozsef Jonas, 75th Fighter Squadron executive officer, poses here in February, 2010, on top of a MiG-29 Fulcrum on Kecskemét Air Base, Hungary. Captain Jonas spent 10 days sharing his close air support experiences with approximately a dozen fighter pilots, some of which he previously served with during his time in the Hungarian air force. (Contributed photo)
Hi-res
by Airman 1st Class Brigitte Brantley
23rd Wing Public Affairs
3/15/2010 - MOODY AIR FORCE BASE, Ga. -- After spending more than a week in Hungary, a Moody A-10C Thunderbolt II pilot recently came home after sharing his experiences with members of the Hungarian Defense Forces.
Capt. Jozsef Jonas, 75th Fighter Squadron executive officer, spent the time on Kecskemét Air Base, Hungary, teaching air-to-ground procedures and providing mentorship for the military members.
The captain was chosen because of his background as a former member of the Hungarian air force and his deployment experiences.
"Close air support is a closely-related aspect of being able to provide air-to-ground capabilities," said Maj. Gergely Grof, Hungarian air force 59th Tactical Fighter Wing JAS-39 pilot. "We knew A-10s fly many combat sorties while deployed and so we figured that an A-10 pilot would be an excellent subject matter expert and be able to provide the beginning guidance we needed to start training on air-to-ground."
The guidance that Captain Jonas provided was based on a six-month deployment to Afghanistan and more than 900 hours in the cockpit.
"Because I am not a certified instructor pilot, I didn't actually teach tactics, but instead shared my experiences," he said. "I was able to provide just what they were looking for- a person with enough experience and know-how to get them thinking. It also helped that I was acquainted with some of the pilots from my previous service in the Hungarian air force."
The captain's main purpose was to get the Hungarian Defense Forces thinking in the general direction of what could be accomplished when utilizing CAS capabilities and part of this was helping the Hungarian pilots understand basic points such as safety.
"One of the major things we learned is that the key to successful CAS missions is communication and cooperation with the ground forces," said Major Grof. "Captain Jonas also explained the pilot's perspective on CAS operations from the cockpit and what kind of important information we should relay to the joint tactical air command units on the ground."
Taking the lessons they learned from Captain Jonas, the Hungarian Defense Forces plans to begin training with more international partners. Scheduled training includes a flying exercise with an Ohio Air National Guard F-16 unit and an Italian JTAC unit.
Captain Jonas said such training is useful, especially taking into consideration the differences between the American and Hungarian air forces.
"The mentality of pilots and training is completely different in Hungary compared to the mentality here," he said. "The Air Force in the United States might graduate hundreds of pilots one year where as in Hungary, they might only graduate four or five, and that is in a good year.
"This is in proportion to their air force, which has only two bases in the entire country," he added. "Because of the smaller size of their forces, they might not have the resources and training opportunities that are available to us."
Because their military is smaller, the Hungarian mentality is different, but they learned a lot from what the captain had to say.
"We are thankful we had the opportunity to invite an American pilot back to the country he is from," said Major Grof. "We are thankful to both his leadership for making the opportunity possible and thankful to Captain Jonas for taking the time to come share his valuable experiences with us."
In addition to the Hungarian air force's gratitude toward Captain Jonas, the captain also acknowledges that sharing his experiences has benefitted him too.
"It was wonderful being able to go back to Hungary and help out the organization where I got my start as a pilot," said Captain Jonas. "The pilots there are very smart and willing to learn and their hospitality to me while I was there was outstanding.
"It was valuable to both sides because of its potential in the future," he added. "Because Hungary is an ally and has troops in Afghanistan, we might one day work with them. By them being proficient in CAS operations, we all benefit."
Source