At Davis-Monthan AFB, Arizona, Warthog News contributor Ned Harris from United States had the opportunity to take the following pictures March 21, 2010, uploaded by him to his
flickr photo stream
yesterday: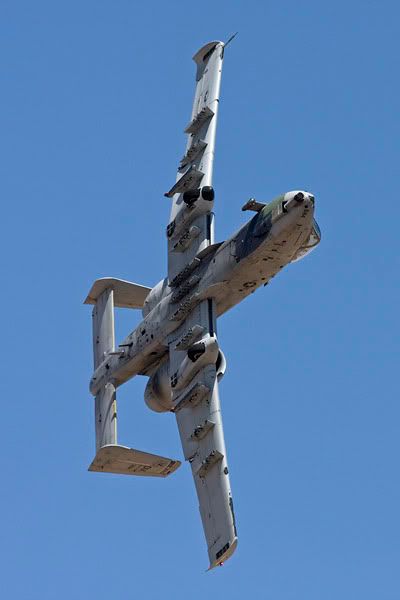 A-10 81-0984 from the 354th Fighter Squadron maneuvering during downed pilot rescue simulation. (Photo by Ned Harris)
Source
Note: Single launch rails LAU-117 for Mavericks on stations 3 and 9. All other pylons are empty. According to
Scramble
this aircraft was formerly assigned to the 81st Fighter Squadron, 52nd Fighter Wing (USAFE), Spangdahlem AB, Germany.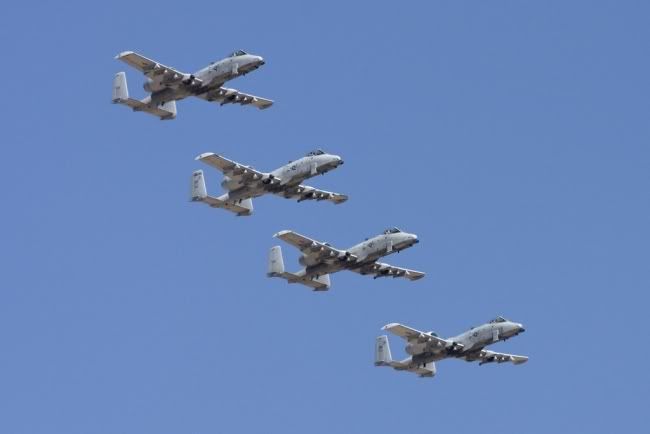 Four-ship of A-10s. (Photo by Ned Harris)
Full size
A-10 breaking away. Other Hogs are 952 and 178. (Photo by Ned Harris)
Full size
In an e-mail, Ned told me: The aircraft in the 4 ship formation never came close enough to me to see the serial numbers. The image of the 3 A-10s is from the same formation after one of them pulled away.