By Joachim Jacob
Updated March 17, 2010
This year's U.S. air show season for the two A-10 Demo Teams started at Titusville, Florida, with the Valiant Air Command TICO Warbird Air Show 2010. Participated was A-10 East, from the 23rd Fighter Group, 23rd Wing, Moody AFB, Georgia, at least with A-10C 80-0223 from the the 75th Fighter Squadron (marked 23 FG as 23rd FG flagship).
Robert D. Baker from United States had the opportunity to take the following shots, already shared by him on
fencecheck.com
:
Heritage flight of A-10C 80-0223 and a very nice painted F-86 Sabre, piloted by Capt. Dale Snodgrass, USN (Ret.). (Photo by Robert D. Baker)
Full size
A-10 demo by A-10C 80-0223. (Photo by Robert D. Baker)
Full size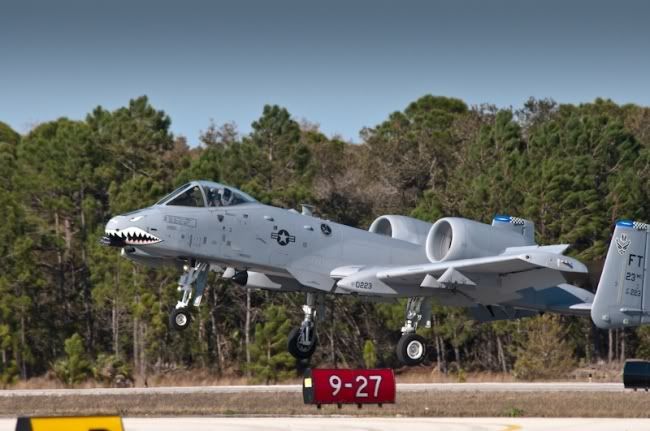 A-10C 80-0223 is landing after performance. (Photo by Robert D. Baker)
Full size
Thanks to Robert for his kind permission to post his pictures also on my blog.
BTW: As Robert wrote in the fencecheck.com topic, it "was a beautiful day in the Florida sunshine...only problem was the wind, gusting up to 40 knots at times...made it somewhat difficult to hold the lens steady." According to the official Tico Warbird Airshow page, unfortunately, due to the weather, the air show on Friday (March 12, 2010) was canceled.
Background info:
Unfortunately, Air Combat Command (ACC) up to date only released an official ACC Aerial Events Schedule for March 2010, and not for the upcoming months.
Source
According to this official schedule, the next A-10-related events would be:
March 13-14, 2010, Brownsville, Texas, Air Show, A-10 West.
March 20-21, 2010, Davis Monthan AFB, Arizona, Open House, A-10 West, HF A-1, CSAR Demo.
Update March 17, 2010:
This night, Robert e-mailed me the following additional shots, exclusive for Warthog News:
Another Heritage flight shot, taken from oppposite direction pass. (Photo by Robert D. Baker)
Full size
A-10C 80-0223 with gear down for low speed camera pass. (Photo by Robert D. Baker)
Full size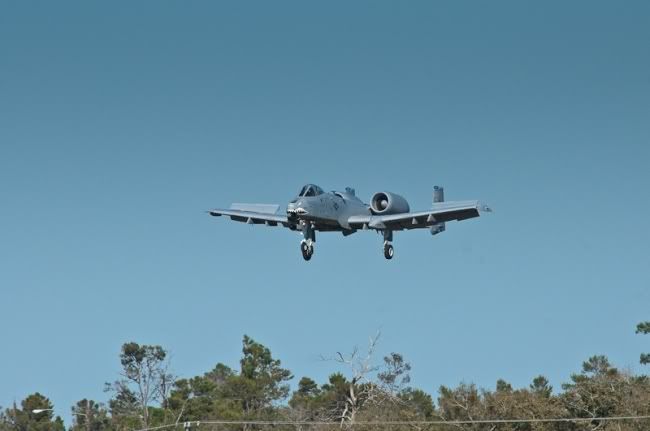 Another landing shot of A-10C 80-0223. (Photo by Robert D. Baker)
Full size
Robert also e-mailed me a Hi-res version of his following known picture:
Hi-res
In his e-mail, Robert told me: All my shots were taken on Saturday, March 13th, 2010. The A-10 took off, and then loitered somewhere while some other aircraft performed. He then performed his show routine, including simulated bombing/strafing run, and then performed the Heritage flight with the F-86. I'm afraid I don't know the serial number of the other A-10, as they were hangared away from the other aircraft, in an area not accessible to the paying airshow public. (Along with the F-18 Super Hornets, a T-33, and an F-104 Starfighter.) I also don't know the name of the pilot.
Many thanks for your great support, Robert. And welcome aboard as my latest Warthog News contributor.