Published by
KOLD-TV
: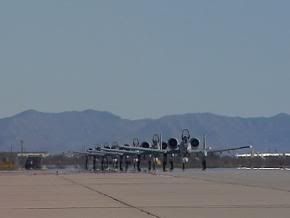 Posted: Jan 25, 2010 2:14 AM
Updated: Jan 25, 2010 2:14 AM
By Van Nguyen
DAVIS MONTHAN AFB, AZ (KOLD) - It's an emotional day for some local families in Southern Arizona.
After a seven month deployment in Afghanistan, some pilots of the 354th Fighter Squadron arrived at Davis Monthan Air Force Base Sunday afternoon.
They were greeted with open arms by loved ones.
One woman brought her husband Jordan Hrupek a bouquet made up of Jack Daniels.
She was so excited to see him, she climbed up his plane and kissed him.
Jordan says he's relieved to be home.
His wife Krissi says "It's hard to be away from him over the holidays, but now we get to celebrate them all over again."
Some of the other members of the squadron arrived home last Thursday.
Source