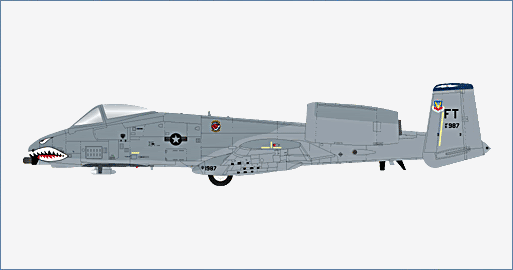 Preview of Hobby Master's 1/72 die-cast display model HA1311 A-10 Thunderbolt II, 75th Fighter Squadron, Operation Iraqi Freedom, 7 April 2003, "Killer Chick", released January 1, 2010. Please note: Currently, their are no model pictures released on Hobby Master's website.Producer's description:
The Aircraft: On April 7, 2003 the 75th FS Capt. Kim Campbell deployed her A-10A to help provide close air support over Baghdad. Beginning the return flight her aircraft was struck by enemy fire destroying all hydraulics and most electrical circuits. Rather than bailing out and with the assistance of other pilots she managed to limp back to base. On landing there were no brakes or steering but Capt. Campbell managed to keep the A-10 from any further damage. This event earned Capt. Kim Campbell the nickname "Killer Chick".
Source
See also:
Gulf War 2 Battle Damaged A-10
They Call Me "Killer Chick"
Call Sign – Killer Chick update