Updated December 31, 2009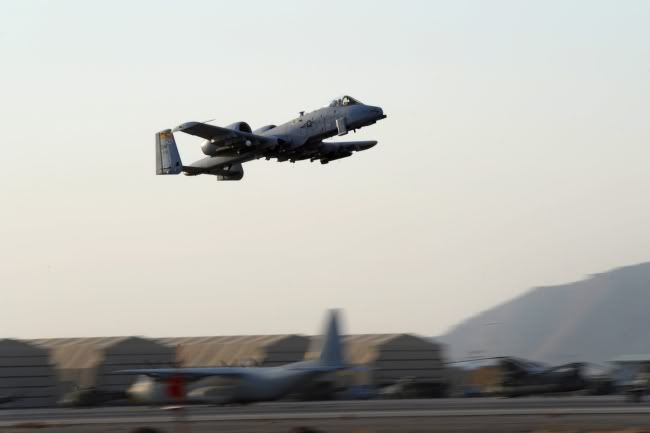 A-10C Thunderbolt II 81-0950 with the 354th Expeditionary Fighter Squadron takes off at Kandahar Airfield, Afghanistan, December 27, 2009. The A-10 is specifically designed to provide close air support for U.S. and coalition ground forces. Visible combat loadout: Sniper XR targeting pod on station 2, empty LAU-117 single launch rail for an AGM-65 Maverick on station 3, GBU-38 JDAM on station 4, GBU-12 on station 5, Mk.82 on station 7, GBU-38 JDAM on station 8, LAU-131 Rocket Pod on station 9, SUU-25 Flare Dispenser on station 10. Stations 1 and 11 are empty. (U.S. Air Force photo by Tech Sgt. Francisco V. Govea II)
Hi-res
by Staff Sgt. Angelique N. Smythe
451st Air Expeditionary Wing Public Affairs
12/29/2009 - KANDAHAR AIRFIELD, Afghanistan -- Whether they are conducting patrols on the ground, riding in convoys or performing clearing operations in villages to search for insurgents, coalition forces know members of the 354th Expeditionary Fighter Squadron stand ready 24 hours a day and seven days a week to provide close air support anywhere throughout Afghanistan.
This includes armed over watch, armed reconnaissance and armed convoy escort with the A-10C Thunderbolt II.
"We get to work with the guys on the ground and they're the ones who are in the heat of it all day," said Capt. Doug Witmer, a 354th EFS A-10C pilot. "It's always rewarding when we can support them and help them do their job and get home safely because, ultimately, that's their goal."
The unit has flown 2,500 sorties during their six month tour. They fly more than twice as much as they normally fly at their homestation, Davis-Monthan Air Force Base, Ariz.
"The pilots and maintainers are producing twice as much as we produce when we're at homestation, which is impressive," said Lt. Col. Michael Millen, 354th EFS commander.
They have supported approximately 400 situations in which troops have been in contact with the enemy.
When a special operations convoy came under ambush northeast of Kandahar in July, two A-10s from the 354th EFS immediately flew out to support them. Both the convoy and aircraft were taking a lot of heavy machine gun fire, rocket propelled grenade fire and small arms fire. The pilots also faced challenges of low ceilings, rain showers and poor visibility.
"The pilots had to get down very low to find the friendly forces, to find the enemy and to really sort out the situation and then kill the enemy so the convoy would not take any more casualties," Colonel Millen said.
When the quick reaction force met up with them, casualties were evacuated, and the pilots began a re-attack on the enemy insurgent forces in the area.
"That's definitely the most dynamic part of our job -- when people start getting shot at, you have to be quick on the ball," Captain Witmer said. "The incredible amount of training, the high quality of training that we do back home is what gets us ready for this."
In October, special operations forces were pinned down northwest of Kandahar by insurgents who fired down at them from atop tower at approximately 20 meters away.
The friendly and enemy forces were too close together for an F-16 Fighting Falcon to shoot at them during the night, but an A-10C pilot was able to engage the enemy with the fighter's Gatling gun.
"Nobody else can do that," said Colonel Millen. "There's no other fighter out there that can shoot the gun or anything else inside of 50 meters of friendly zones. It was very good work on the part of our pilots."
Colonel Millen also lauded the unit's maintainers who were able to quickly get eight A-10s ready and up in the air to protect what was left after an attack on Combat Outpost Keating in October.
"We had A-10 presence over COP Keating for about 16 hours," Colonel Millen said. "We had eight of them airborne at one time and two on alert, which is really significant. The maintainers and pilots did a great job."
The 354th EFS is the first Air Force fighter squadron to have moved to Kandahar in July, brought primarily to have major influence in the Helmand region.
"We spend most of our time here in the Helmand," Colonel Millen said. "The Helmand is fairly well populated. There are a lot of houses and a lot of people. Operations within the Helmand involve insurgents trying to shoot at U.S. patrols, British patrols, Soldiers and Marines. So you end up with all the complexities of having to separate friendly from enemy forces, and then once you find the enemy, trying to separate the enemy from the Afghanistan populace. Working in Helmand where there are lots of places to hide and lots of people have been an added measure of complexity."
Colonel Millen said he attributes the success of this unit to his Airmen.
"They trained hard in the skill sets they knew they would need in this theater and they continued to get better while here," he said. "The guys here have stepped up and done an excellent job. My hat's off to them. I've been incredibly impressed."
"Definitely, the greatest difference between being here and home is that at home it's training and here it's life and death," said Captain Witmer. "At home, if I'm not exact with my shooting, I get to try again and practice again, but over here, if you don't hit your target when you need to hit your target, then one of our coalition forces dies.
"That's the greatest difference, realizing the training's over and now you're starting to do your job."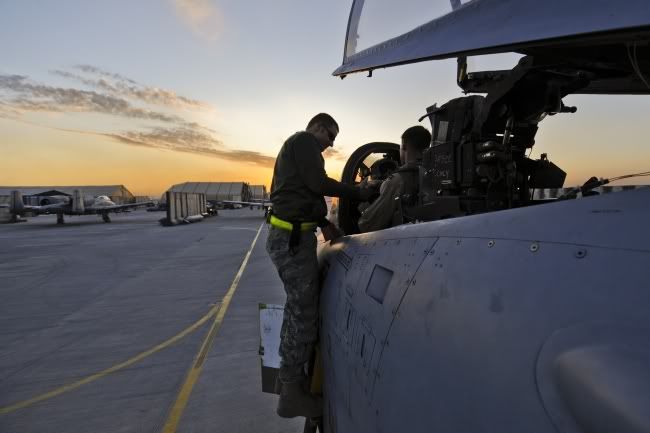 A U.S. Air Force crew chief with the 451st Expeditionary Maintenance Squadron conducts a final inspection on an A-10C Thunderbolt II from the 354th Expeditionary Fighter Squadron at Kandahar Airfield, Afghanistan, December 27, 2009. (U.S. Air Force photo by Tech. Sgt. Efren Lopez)
Hi-res
U.S. Air Force Capt. Richard Wilson, an A-10C Thunderbolt II pilot with the 354th Expeditionary Fighter Squadron, prepares to depart on a mission at Kandahar Airfield, Afghanistan, December 27, 2009. (U.S. Air Force photo by Tech. Sgt. Efren Lopez)
Hi-res
In the cockpit of A-10C 79-0202, U.S. Air Force Capt. Richard Wilson conducts his pre-flight inspection December 27, 2009. (U.S. Air Force photo by Tech. Sgt. Efren Lopez)
Hi-res
Capt. Mike Hobson performs preflight checks in the cockpit of an A-10C Thunderbolt II before taxiing out to the runway for take-off, here, December 24, 2009. (U.S. Air Force photo by Senior Airman Timothy Taylor)
Hi-res
Source
Related additional picture, extracted from "The Kandahar Chronicle" (451st Air Expeditionary Wing newspaper), December 28, 2009, public online PDF issue (Volume 6, Issue 4, Page 9):

A-10C 80-0142. Visible combat loadout: Sniper XR targeting pod on station 2, empty LAU-117 single launch rail for an AGM-65 Maverick on station 3, Mk.82 or GBU-38 JDAM on station 4, GBU-12 on station 5, Mk.82 or GBU-38 JDAM on station 8, LAU-131 Rocket Pod on station 9. Stations 1, 10 and 11 are empty. (USAF photo)
Source