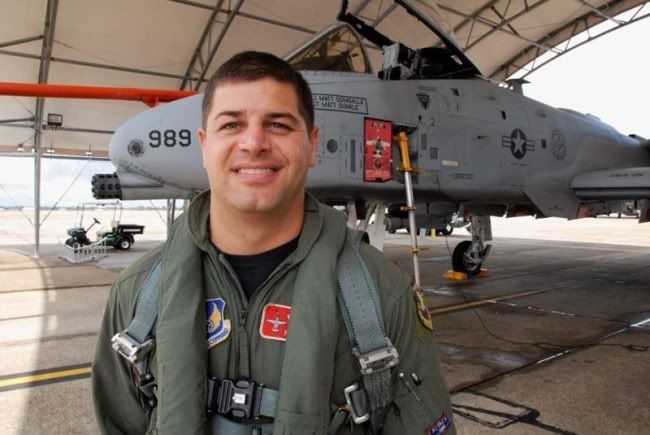 Maj. Pete "Shay" Vitt is an A-10 and F-16 test pilot with the 40th Flight Test Squadron at Eglin AFB, Florida. The Hog in the background is 81-0989. (U.S. Air Force photo)
Full size
This info is extracted from the news article "Dream jobs: A look at the sweetest AF gigs" by Air Force Times staff writer Erik Holmes, released online today:
[...] Perhaps no job in the Air Force has the mystique of being a test pilot. Their lineage goes back to legends such as Chuck Yeager, and the gig has been glamorized in such movies as "The Right Stuff."
For Maj. Pete "Shay" Vitt, an A-10 and F-16 test pilot with the 40th Flight Test Squadron at Eglin Air Force Base, Fla., the work is every bit as cool as he had hoped it would be.
"It is actually my dream job," he said. "I'm living a dream right now."
Developmental or experimental test pilots fly new aircraft or test new weapons or software for existing aircraft. After performing their tests, they write technical reports and work with the engineers who designed the products.
The pilots must be equally conversant with engineering principles and flying jargon.
"A lot of times I think of myself as an interpreter, kind of interpreting the engineering side for the rest of the pilots and interpreting the pilot side for the engineers," Vitt said. "It's really more of someone who can translate between both worlds."
Test pilot isn't a job you can just jump into. To even apply for test pilot school, you must have a bachelor's degree in engineering or a science such as physics. And, of course, you must be an exceptional pilot.
"Flyingwise, you just have to be the best that you can be," Vitt said.
Most test pilots also hold master's degrees in engineering, so Vitt said earning a master's will make you more competitive for the job. It also helps to have experience flying multiple airframes. [...]
Source