By Joachim Jacob
This month, my world-wide unique Warthog News blog, powered by Blogger for free, is celebrating his first anniversary. And now, that's my 397th post.
For the history books (or not): I launched this blog Wednesday, October 8, 2009, at 9:49 AM by posting the USAF news article
Inspections ordered for A-10 Thunderbolt IIs
. The background: At that time I was a member of an education course Online Journalism. Each member had to create his own blog for practice, mostly to promote himself. But my decision was: Let me create a blog about the Hog, one of my prefered combat aircraft like the Douglas A-1 Skyraider, F-16 Fighting Falcon ("Viper"), F-15E Strike Eagle, B-1B Lancer, and B-52H Stratofortress.
Up to this decision, I already was an active member of
F-16.net
, and
F-15EStrikeEagle.com
mostly related to combat deployments during Operation Enduring Freedom and Operation Iraqi Freedom.
A very first unique blog about the A-10 would be very great, because other related online sources were either outdated or not willing to accept updated combat deployment info (including current combat loadouts).
Since October 2008, Warthog News growed every month.
According to Site Meter, 38,304 visits and 87,864 page views were already counted up to day.
Special thanks to all photographers and other people who joined my blog as Warthog News contributors! They are from Belgium, Canada, Germany, Netherlands, Poland, Portugal, United Kingdom and United States (See left side bar just over impressum for all of their names).
Thanks also to U.S. Air Force Public Affairs personnel and U.S. news media reporters who provided public info and photos which I posted on this blog.
Joachim Jacob
Warthog News Editor
Berlin, Germany
Only two samples of Warthog News stats provided by my
free account
on Site Meter October 13, 2009: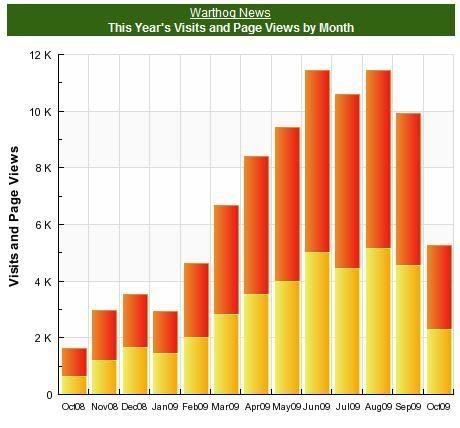 Visits and page views per month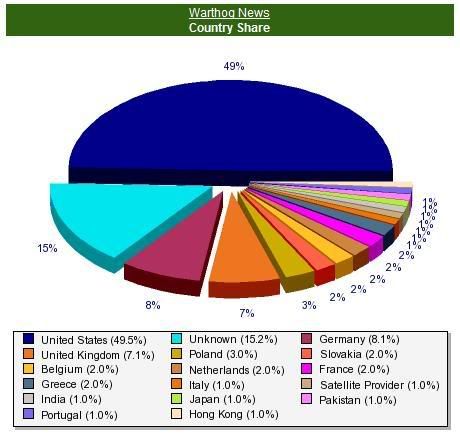 Country share. Please note: Generally, about the half of all visits are from United States. But in some cases, like reports about Spang Hogs, there are more visits from Europe (especially Germany, Netherlands, Belgium and United Kingdom).Personal feedback:
From Michael Tischer, Warthog News contributor from Germany:
Congratulations! Keep up the work! (via comment); Herzlichen Glückwunsch für das erste Jahr des Schweine-Blogs! (via e-mail) For German "Schweine-Blog" (very cool) please read pig blog, hog blog or swine blog.
From John Bezosky, Warthog News contributor from United States:
Congratulations from Tucson. Happy First Anniversary to you and Warthog News. I check in every morning. (via facebook)