Dacian Thunder 2009 / Primul "val" de avioane americane a ajuns la Luna
Scris de Emil HĂLĂŞTUAN
Joi, 08 Octombrie 2009 09:52
ZIARUL 21
Primul "val", format din două avioane americane A-10 Thunderbolt, care urmează să participe la exerciţiul de zbor în comun româno-american "Dacian Thunder 2009", au aterizat miercuri, 7 octombrie, la Baza 71 Aeriană Câmpia Turzii. Până în 12 octombrie, data începerii exerciţiului de zbor "Dacian Thunderbolt 2009", la baza aeriană din Câmpia Turzii vor mai ajunge şase aparate de zbor de tip A-10 Thunderbolt.
Ofiţerul pentru relaţii publice al Bazei Aeriene 71 Câmpia Turzii, locotenent-comandorul Marian Dobre, a spus că la acest exerciţiu de zbor, ce se va desfăşura din 12 până în 29 octombrie, aviatorii români vor executa misiuni de acoperire aeriană cu 12 aparate Mig 21 Lancer, iar avioanele americane A-10 Thunderboldt vor simula atacuri aeriene la sol. Elicopterele româneşti IAR 330 SOCAT vor face exerciţii de recuperare a militarilor răniţi pe teatrul de luptă. Dobre a precizat că aviatorii români şi cei americani vor executa misiuni atât separat cât şi împreună. Înainte de încheierea exerciţiului s-ar putea ca avioanele americane A-10 Thunderbolt şi Mig-urile 21 Lancer să fie pilotate de echipaje mixte, alcătuite din aviatori români şi americani, a mai adăugat Dobre.
Cele opt aeronave americane A-10 Thunderboldt, ce vor lua parte la exerciţiul de aviaţie "Dacian Thunderbolt 2009" aparţin forţelor aeriene americane din Europa, dislocate la Baza aeriană de la Spangdahlen, Germania.
Pe lângă cei 250 de militari americani, la exerciţiul "Dacian Thunder 2009" participă peste 300 de militari din bazele aeriene 71 Câmpia Turzii, 90 Bucureşti-Otopeni şi 95, Bacău.
Într-o scurtă declaraţie de presă, locotenent-colonelul Scott Hurrelbrink, director asistent pentru operaţii, la Baza aeriană americană de la Spangdahlen, s-a referit la utilitatea acestui exerciţiu şi la buna colaborare cu aviatorii militari români.
Obiectivul exerciţiului este perfecţionarea nivelului de pregătire şi executare a misiunilor specifice operaţiilor aeriene şi a activităţilor de asigurare a sprijinului acţiunilor de luptă, a mai precizat Marian Dobre. Acesta a spus că exerciţiul care va începe în 12 octombrie este cel de-al doilea din acest an executat în comun cu aviaţia americană dislocată în Europa. Colaborarea dintre Baza 71 Aeriană Câmpia Turzii şi aviatorii americani datează din 2008, când la aeroportul militar de la Luna au mai avut loc două exerciţii comune, executate de piloţi din armatele României şi Statelor Unite ale Americii.
Ultima actualizare (Joi, 08 Octombrie 2009 09:59)
Associated pictures: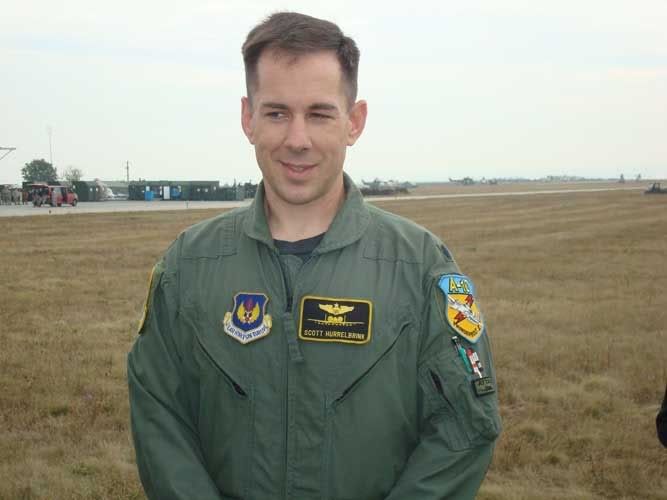 Source
Related A-10 pictures, titled "Lupte aeriene romano-americane la Campia Turzii", and released by City News: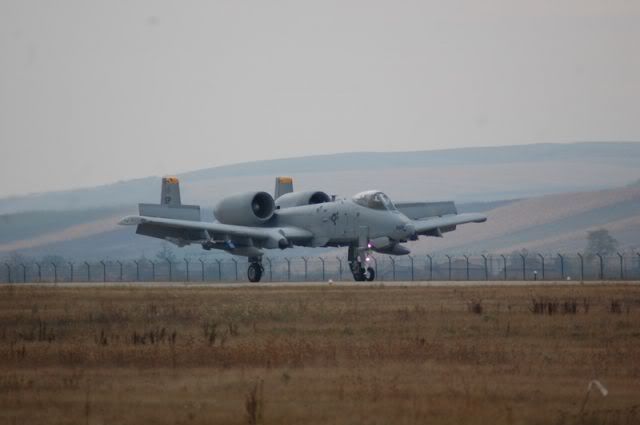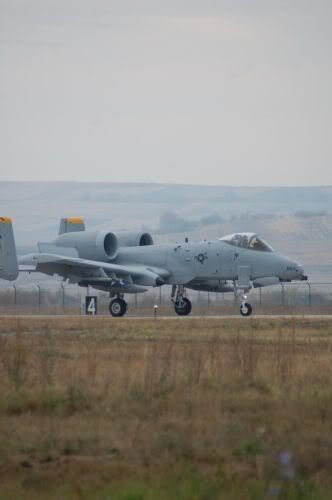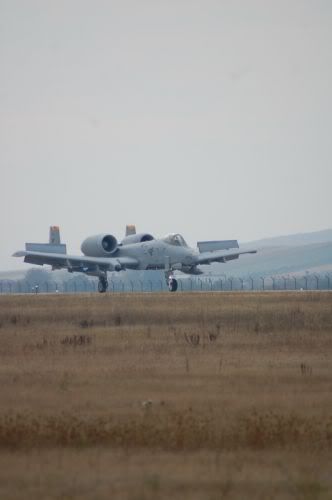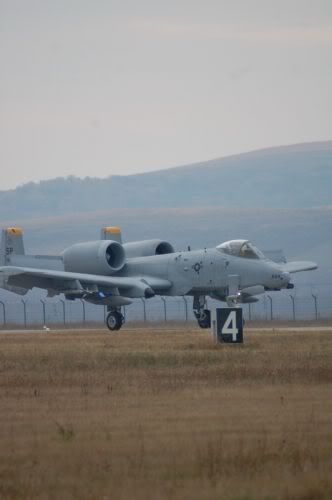 Source
Related video from YouTube:
Warthog News contributor Michael Tischer from Germany contributed to this post.