By Dave Hinton
Monday, September 28, 2009 7:04 AM CDT
The News-Gazette
The American public knows them as the Flying Tigers. To Taliban fighters in Afghanistan, they're The Mountain Monsters.
Capt. Kyle Lanto pilots a Flying Tiger, an A-10 Warthog assigned to the 455th Air Expeditionary Wing's 74th Expeditionary Fighter Squadron deployed from Moody Air Force Base, Ga.
Lanto, son of Col. Reino C. and Jeanene Lanto of Rantoul, recently returned to the States from a 5 1/2-month deployment in Afghanistan.
Lanto's squadron saw a lot of airtime – a record amount.
It flew a record 12,000 combat hours in about five months.
To put that in perspective, Lanto said, "Usually during the year a normal A-10 unit will fly about 7,000 hours."
Lanto is a multi-ship flight leader whose mission was to support the troops on the ground.
Allied forces have intercepted radio transmissions that show the respect the Taliban holds for the A-10.
"They know the A-10 very well," Lanto said. "When they hear our jet, ... they say they're hiding because the A-10 is back."
The Taliban primarily employ guerrilla tactics with "four to 20 hiding in the hills, and (shooting down) onto American positions. It's not like your typical ... war movie."
Lanto said the Taliban fight as snipers and use rocket-propelled grenades. "They would run and hide, and when we would find them we would shoot them from the plane with the assistance of the guys on the ground and working with Army helicopters."
During its 5 1/2-month stint, Lanto's squadron, which traces its roots to the pre-World War II volunteer flying unit that fought the Japanese in China, flew more than 2,800 missions. It dropped or fired hundreds of 500-pound bombs, 2.75-inch rockets and more than 54,000 30 mm high-explosive rounds.
Typical flight time for Lanto's A-10 missions was four to five hours. His longest mission clocked 7 1/2 hours, and one pilot spent more than eight hours in the air.
Each A-10 is refueled in midair after three hours.
Lanto said there is no typical flight in Afghanistan. Many flights were uneventful and boring, but "sometimes you go out it would sound like World War III," he said.
Lanto's most memorable action in Afghanistan took place in the southern part of the country.
Ground troops had spotted a white truck carrying several people with weapons. The truck was tracked to where it stopped next to a house, "and (the spotters) said, 'OK, take him out with your gun,' and he blew up in front of my eyes. They said no one else was hurt," Lanto said.
A midlevel Taliban commander was among those in the truck.
"That was a pretty good day for us," said Lanto, who expressed satisfaction that the house was not touched by the blast. "That's a testament to the A-10," he said.
The A-10 is designed as a precision engagement, close-air support and airborne intelligence, surveillance and reconnaissance aircraft.
Lt. Col. Philip Weilhouwer, 74th EFS commander, commended the work of the squadron. "Whether we drop (bombs) or shoot doesn't really matter," he said. "It's whether we've supported the guys on the ground, and if they are protected and they get the mission accomplished is what counts."
This marked Lanto's second tour of duty in the Middle East. He was deployed to Iraq in 2007 – the first time the A-10 had been sent back to that country since 2003.
Lanto's wife, Stacy, is an intelligence officer with the Tactical Documentation and Media Exploitation Brigade Support Team, whose mission is to exploit captured enemy documents and electronic media.
During a recent interview, Lanto learned that his wife had just returned to the States, which he said "is a huge relief."
She had been deployed to Iraq. She had also spent parts of 2006 and 2007 in Afghanistan.
Stacy Lanto formerly served as an A-10 intelligence officer.
"She tried to find out any information she could about the enemy, their tactics about how they would attack our guys and how they would dictate how we would fly," Kyle Lanto said. "She did that for about 4 1/2 months and did an amazing job over there."
History lessons
Kyle Lanto is well aware of the heritage of yhe Flying Tigers.
The all-volunteer unit, headed by Gen. Claire Chennault, went into China to fight the Japanese in July 1941, before the U.S. entered World War II.
The Flying Tigers inflicted heavy losses on the Japanese while suffering few losses themselves.
"We still have a Flying Tiger reunion every year," Lanto said. "Those original Flying Tigers come back and tell us their stories, and we tell them our stories.
"They were hired mercenaries. They weren't in the air forces. They went with fake names, aliases and fake jobs."
Lanto said the old-timers share many common traits with the new breed: "It sounds like in talking with them they're pilots like we are. Most of the guys wanted to fly, and they got paid to do it."
Among the legendary Flying Tigers Lanto has met is Tex Hill, whom John Wayne played in the 1942 "Flying Tigers" movie.
Lanto said Hill and Wayne became good friends.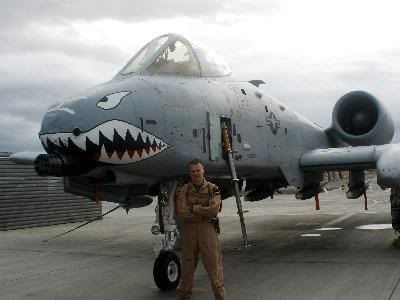 Capt. Kyle Lanto of Rantoul with his A-10 at Bagram AB, Afghanistan. (Photo by Lanto family)
Source