by Senior Airman Kenny Holston
509th Bomb Wing
Public Affairs
9/26/2009 - WHITEMAN AIR FORCE BASE, Mo. -- Crew chiefs from the 442nd Aircraft Maintenance Squadron perform varied, but routine, maintenance on the 442nd Fighter Wing's 27 A-10 Thunderbolt II attack aircraft.
Each of the 442nd FW's A-10s is painted with the name of the plane's assigned crew chiefs. It's often said that crew chiefs "own the airplanes, while pilots borrow the jets to go fly."
In addition to maintenance, crew chiefs launch and recover the aircraft for daily training sorties from here.
The 442nd FW is an Air Force Reserve Command unit based here. The unit has deployed aircraft, pilots and maintenance personnel four times to support operations in Afghanistan and Iraq.
Airman Jill Hallandsworth, 442nd Fighter Wing crew chief, performs a pre flight engine check on an A-10 Thunderbolt II during an overall aircraft inspection, September 25, 2009. Crew Chiefs with the 442nd FW maintain a vast fleet of 27 A-10 aircraft keeping each jet prepared for any mission at a moment's notice. (U.S. Air Force photo by Senior Airman Kenny Holston)
Hi-res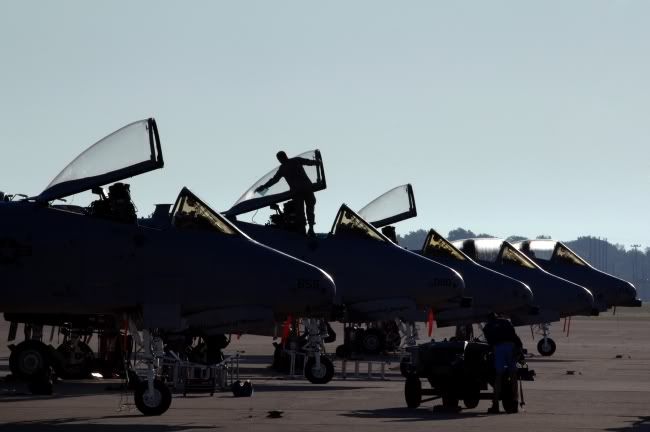 Master Sgt. William Porterfield, 442nd Fighter Wing crew chief, wipes the morning dew from the cockpit of an A-10 Thunderbolt II before inspecting the aircraft for takeoff, September 25, 2009. Crew chiefs with the 442nd FW maintain a vast fleet of 27 A-10 aircraft keeping each jet prepared for any mission at a moment's notice. (U.S. Air Force photo by Senior Airman Kenny Holston)
Hi-res
David Greenberg, 442nd Fighter Wing crew chief, discusses specific portions of the A-10 Thunderbolt that need to be checked out during a morning inspection of the aircraft, September 25, 2009. Crew chiefs with the 442nd FW maintain a vast fleet of 27 A-10 aircraft keeping each jet prepared for any mission at a moment's notice. (U.S. Air Force photo by Senior Airman Kenny Holston)
Hi-res
Airman Jill Hallandsworth (left) , 442nd Fighter Wing crew chief, prepares to gather the tools need to perform a pre-flight inspection on an A-10 Thunderbolt II as her partner David Greenberg, 442nd FW crew chief, discusses what parts the aircraft will need, September 25, 2009. Crew chiefs with the 442nd FW maintain a vast fleet of 27 A-10 aircraft keeping each jet prepared for any mission at a moment's notice. (U.S. Air Force photo by Senior Airman Kenny Holston)
Hi-res
Doston Ross, 442nd Fighter Wing crew chief, goes over a pre flight checklist after performing an inspection on an A-10 Thunderbolt II prior to take off, September 25, 2009. Crew Chiefs with the 442nd FW maintain a vast fleet of 27 A-10 aircraft keeping each jet prepared for any mission at a moment's notice. (U.S. Air Force photo by Senior Airman Kenny Holston)
Hi-res
Airman Jill Hallandsworth, 442nd Fighter Wing crew chief, performs a pre-flight inspection on an A-10 Thunderbolt II prior to take off, September 25, 2009. Crew chiefs with the 442nd FW maintain a vast fleet of 27 A-10 Aircraft keeping each jet prepared for any mission at a moment's notice. (U.S. Air Force photo by Senior Airman Kenny Holston)
Hi-res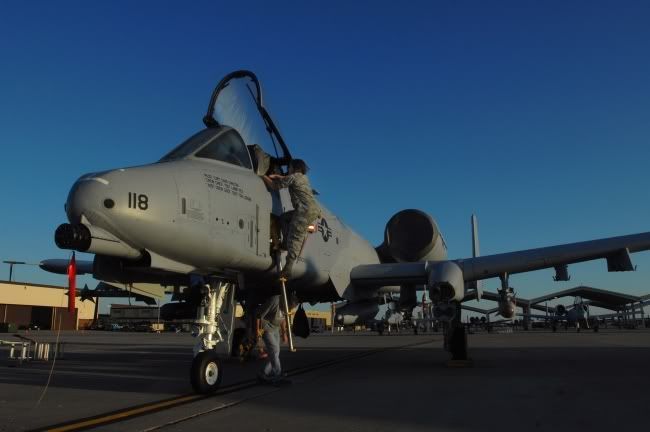 Airman Jill Hallandsworth and Larry Rex, 442nd Fighter Wing crew chiefs, make their way into the crew station of an A-10 Thunderbolt II during an early morning pre-flight inspection of the aircraft September 25, 2009. Crew chiefs with the 442nd FW maintain a vast fleet of 27 A-10 Aircraft keeping each jet prepared for any mission at a moment's notice. (U.S. Air Force photo by Senior Airman Kenny Holston)
Hi-res
Source