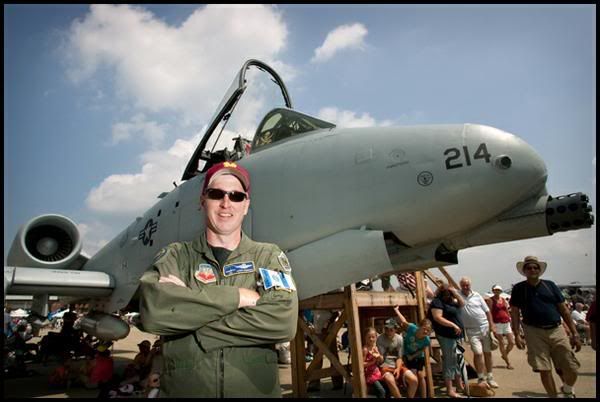 John O'Brien, an alumni of Cardinal Mooney, stands before his A-10 Warthog as a member of the 103 Fighter Squadron from the Willow Grove Naval Air Reserve Station in Philadelphia PA, during the Thunder Over the Valley Air Show on August 9, 2009, afternoon. Note: The aircraft on static display is A-10 214. (Photo by Geoffrey Hauschild)
By Peter H. Milliken
Youngstown Vindicator
Published: Mon, August 10, 2009 @ 12:06 a.m.
Introduced in 1975, the Warthog is scheduled to fly until 2044.
VIENNA — The pilot of an A-10 Warthog flies solo, serving as pilot, navigator, gunner and bombardier in this versatile twin-engine jet, which is specially designed to support ground troops, day and night.
For two ambidextrous pilots of these planes who grew up in Mahoning County, the weekend's Thunder Over the Valley air show was a homecoming.
Lt. Col. John O'Brien, a 1985 graduate of Cardinal Mooney High School in Youngstown, and Capt. Mike Stock, a 1997 graduate of West Branch High School, fly these planes with the 103rd Air National Guard Fighter Squadron based at Willow Grove, Pa., near Philadelphia.
Three of the Warthogs were displayed at the air show, two from Willow Grove, and one from Barksdale Air Force Base near Shreveport, La.
The Warthog, which features a large Gatling gun and carries missiles and laser-guided bombs, has withstood the test of time. First delivered to the Air Force in 1975, the plane is scheduled to remain in service until 2044, O'Brien said. "There's nothing that's going to replace it with the same capability," he observed.
A mechanical engineering graduate of Case Western Reserve University, where he was enrolled in ROTC, O'Brien has served tours of duty in Kosovo in 1999 and more recently in Iraq and Afghanistan.
Having flown the A-10 since 1996, he flew 33 combat missions in Kosovo, where he participated in the rescue of an F-117 pilot who was shot down. He said he also flew 30 to 35 combat missions each in the A-10 in Iraq and Afghanistan.
"What attracted me to this airplane is this is the last of the stick and rudder airplanes, where you still have to have a map out. It harkens back to the good old days of flying," O'Brien said.
"To me, it's more challenging as a pilot," than flying planes with advanced avionics, he said. "There's a lot of stuff to keep track of, and it's challenging for me as opposed to having the computer figure it out for you and just doing what the computer tells you," he added.
"If they need me to go into combat again, I'd certainly volunteer to do that," he said.
O'Brien's grandfather, Lawrence Snovak, a paratrooper with the Army's 82nd Airborne Division, was killed during World War II's Normandy invasion on June 6, 1944.
A son of Donald and Mary O'Brien of Canfield, O'Brien said his desire to fly airplanes began when he was 8 years old.
O'Brien lives near Philadelphia with his wife, Colleen; a son, Aidan, 5; a daughter, Kayleigh, 3; and a son, Connor, 1.
"Now I feel it's my time to come back and give back to whatever little kid's climbing up the ladder to look, and hopefully encourage him to do the same thing I did," O'Brien said of the air show.
A son of Karen and Jim Rice of Beloit, Stock received a bachelor's degree in communication from the University of Pittsburgh.
Stock, who has been piloting the A-10 for five years, said his interest in flying an A-10 began in his childhood when he attended the Cleveland Air Show. "When I was a kid, I saw an A-10 there, and wanted to fly it," he recalled.
"The Number 1 thing is helping the guys on the ground. Our mission is to take care of that 18-year-old soldier on the ground with the rifle. We live for those guys. That is our job — close air support," Stock said.
Stock, who has served in combat in Afghanistan, resides in Quakertown, Pa., with his wife, Jennifer, and sons, Aidan, 5, Gavin, 2, and Tyler, 4 months.
Stock said he enjoyed participating in the air show and "coming back home and meeting up with old buddies that I haven't seen in a long time."
A-10 214 on static display.
(Photo by Geoffrey Hauschild)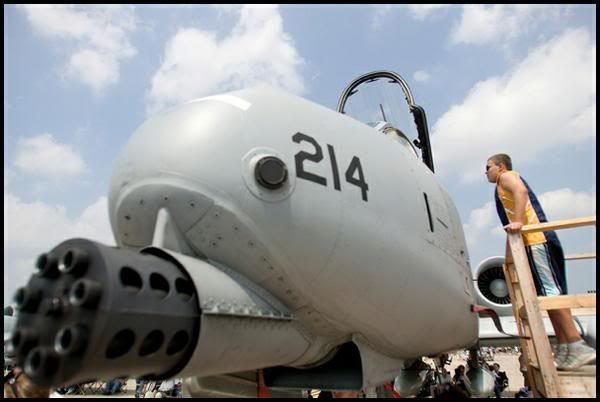 A-10 214 on static display.
(Photo by Geoffrey Hauschild)
All three A-10s lined up on static display.
(Photo by Geoffrey Hauschild)
All three A-10s on static display, surrounded by the crowd.
(Photo by Geoffrey Hauschild)
Source