Two Warthogs from the 74th Expeditionary Fighter Squadron sit on the tarmac awaiting clearance to launch on a mission in support of Operation Enduring Freedom. The 74th EFS, deployed from Moody AFB, Georgia, recently surpassed 12,200 combat flight hours - a record. From left: A-10C 78-0674 from the 74th Fighter Squadron (marked 74 FS as squadron bird) and A-10C 78-0596 from the 75th Fighter Squadron. (U.S. Air Force photo by Tech. Sgt. John Jung)
Hi-res
Posted 7/25/2009 Updated 7/25/2009
by Tech. Sgt. John Jung
455th Air Expeditionary Wing Public Affairs
7/25/2009 - BAGRAM AIRFIELD, Afghanistan -- In the past five months, the 74th Expeditionary Fighter Squadron, deployed from Moody Air Force Base, Ga., set a record number of combat flying hours in the A-10 Thunderbolt II - 12,200 to date - breaking a former record held by their sister squadron, whom they replaced in March.
During that span of time the 74th EFS 'Flying Tigers,' who trace their roots back to the American Volunteer Group of WWII, have employed hundreds of 500-pound bombs, 2.75-inch rockets and more than 54,000 30-mm high explosive shells, according to Lt. Col. Philip Weilhouwer, 74th EFS commander.
"What the team of the 74th Expeditionary Fighter Squadron and 74th Aircraft Maintenance Unit have accomplished is fly more than 2,800 missions in support of troops on the ground. Whether we drop [bombs] or shoot doesn't really matter, it's whether we've supported the guys on the ground, and if they are protected and they get the mission accomplished is what counts," said Col. Philip Weilhouwer.
The partnership between the operations and maintenance groups is one to be envied as the Flying Tigers have not gone a single day where there were not A-10s airborne conducting operations in the skies over Afghanistan.
The A-10 'Warthog,' as it is affectionately nicknamed, excels in its role of precision engagement, close air support and airborne intelligence, surveillance and reconnaissance for American and Coalition ground forces throughout Afghanistan.
Among the Warthog's large array of weapons is the GAU-8 Gatling gun mounted on internal pylons in the aircraft that makes the enemy 'fear the Hog" most when it comes to precision engagement and close air support. The GAU-8 is capable of firing upwards of 4,000 rounds of high explosive 30-mm shells per minute in a very compact footprint.
"The 30-mm is the preferred weapon of the ground commander," said Maj. Kevin Eilers, a veteran A-10 pilot. "It's a distinct advantage in a close-in fight, because I can confidently target a bad guy with almost surgical precision. There's just a lower risk of unintentional casualties."
Lt. Col. Philip Weilhouwer, 74th Expeditionary Fighter Squadron commander, readies his Warthog for a mission in the skies of Afghanistan. His A-10 squadron has a lineage prior to WWII and were known as the Flying Tigers and recently they've completed over 12,000 combat hours – a feat for any fighting unit. The native of East Windsor, Connecticut, is currently deployed from Moody AFB, Georgia. Note: Ladder door art "Claw One" and 20 mission markings. (U.S. Air Force photo by Tech. Sgt. John Jung)
Hi-res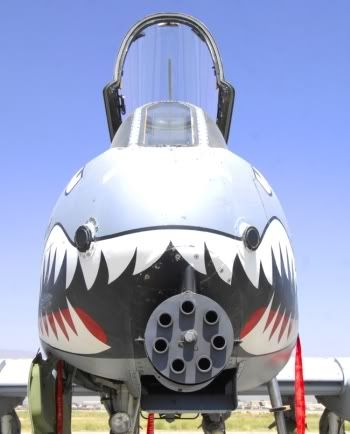 The Airmen who fly, maintain and support the 'Warthog' strive to uphold the proud heritage of the unit, which traces its roots to the American Volunteer Group, better known as the 'Flying Tigers' of WWII. The Warthog, like P-40 Warhawk of WWII, still sports the iconic gaping smile of a shark's mouth. Within that smile rests the GAU-8, 30-mm Gatling gun, capable of unleashing a torrent of high explosive rounds. (U.S. Air Force photo by Tech. Sgt. John Jung)
Hi-res
Captain Kyle Lanto, an A-10 pilot with the 455th Air Expeditionary Wing's 74th Expeditionary Fighter Squadron, checks munitions on his 'Warthog,' during his preflight inspection here. Capt. Lanto is deployed from Moody AFB, Georgia, and is a native of Rantoul, Illinois. Capt. Lanto is a graduate of Eastern Carolina University is currently deployed in support of Operation Enduring Freedom in Afghanistan. Capt. Lanto's A-10 squadron has a lineage prior to WWII and were known as the Flying Tigers and recently they've completed over 12,000 combat hours – a feat for any fighting unit. (U.S. Air Force photo by Tech. Sgt. John Jung)
Hi-res
Source