The following news article was released today by 455th Air Expeditionary Wing Public Affairs in the Bagram News Express, June 23, 2009, public online PDF issue:
Falcon pilot takes command of 455th EOG

By Staff Sgt. Jason Lake
455th Air Expeditionary Wing
A tearful A-10 Thunderbolt pilot redeployed home and an F-16 pilot took command of the 455th Expeditionary Operations Group during a change of command ceremony June 19.
After serving a year as commander, Col. Raymond Strasburger relinquished command of the 455th EOG to Col. Patrick McKenzie as aircraft engines hissed on Bagram's close air support ramp.
Col. Steven Kwast, 455th Air Expeditionary Wing commander, thanked Colonel Strasburger for his dedication after completing his fourth deployment here since A-10 Thunderbolts first arrived in 2002.
"The accomplishments of the operations group in the last year have been extraordinary," said Colonel Kwast who presided over the ceremony that followed a tradition dating back to eighteenth century Prussia. "When a man like Colonel Strasburger has accomplished and sacrificed so much, you can't help but leave without a deep sense of sadness and joy. 'Donk,' you're actions as an officer and a warrior have been exemplary."
Shortly before handing over the guidon to his successor, Colonel Strasburger was awarded the Bronze Star for leading his unit through a historic year.
Just last month, the two fighter squadrons under his leadership tallied more than 5,000 combat flight hours in a single month – a feat typically accomplished in nearly six months back at home station.
Some of the other accomplishments recited in his award citation include:
Colonel Strasburger led the group as nine squadrons flew more than 16,800 sorties and spent nearly 1 million pounds of munitions while responding to more than 930 troops-in-contact situations. The group also scrambled alert aircraft more than 160 times, transported more than 53 million pounds of cargo and air evacuated more than 600 patients throughout Afghanistan.
"The opportunity, friendships and memories will remain vivid for the rest of my life and when the day comes that I'm lying on my deathbed, I will hearken back to the days and nights we spent at Bagram," said the 25-year Air Force veteran. "I will remember the blood, sweat and tears. I will remember the maximum effort to serve our brothers and sisters on the ground. I will remember how the team pulled together to serve our Nation when she needed us most. But most of all, I will remember each of you and what you did here, this day and every day."
As the new operations group commander, Colonel McKenzie is responsible for leading hundreds of Airmen conducting air operations ranging from combat search and rescue to close air support.
"I'm delighted to be a part of this team of warriors and look forward to leading this operations group through a very critical mission," said the F-16 command pilot with more 80 combat missions in Southwest Asia, Bosnia and Kosovo. "I'm confident we will ensure our mission is conducted with professionalism, purpose and pride. Our mission of providing integrated and synchronized kinetic and non-kinetic effects, airlift of supplies and personnel, electronic warfare and attack, air space management, air traffic control and airfield operations is critical to the success of the Central Command mission."
The 21-year Air Force veteran thanked his predecessor for setting high standards and challenged his Airmen to take the unit's achievements to new heights.
"I demand that you remain brilliant in the basics of your craft and disciplined in the manner in which you execute," said the University of Kansas ROTC graduate. "Those are the enduring characteristics that will enable quick and sound decisions that will render proper execution."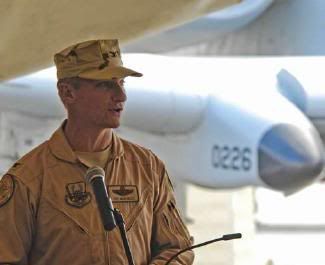 Col. Patrick McKenzie, 455th Expeditionary Operations Group commander, delivers his first address to his Airmen shortly after taking command June 18, 2009. Visible in the background is A-10C 80-0226 from the 74th Fighter Squadron, originally deployed as part of the 75th Expeditionary Fighter Squadron's aircraft package. (U.S. Air Force photo by Senior Airman Erik Cardenas)
Source
Related info:
Wing surpasses historic 5K combat hour mark in single month
A-10 unit reaches 10,000 hour milestone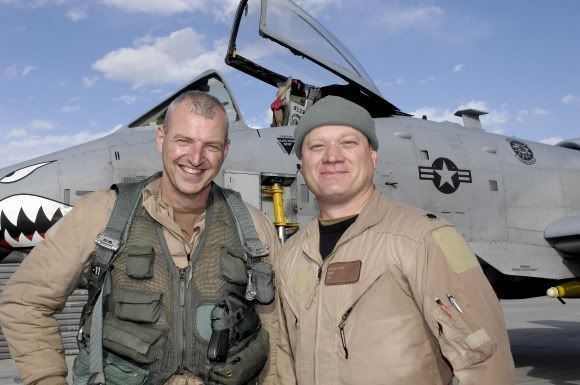 Col. Raymond "Donk" Strasburger (left), 455th Expeditionary Operations Group commander, and Lt. Col. Sam "Spam" Milam, 75th Expeditionary Fighter Squadron commander, completed a mission on February 24th, 2009, that brought the 75th EFS's total combat flight hours during one deployment rotation over the 10,000 mark. This was the first time a squadron deployed here reached 10,000 combat hours. The 75th EFS arrived here from Moody Air Force Base, Georgia, in September for a four-month deployment, but was extended to six months. The A-10C in the background, flown by Col. Strasburger, must be 80-0228 from the 74th Fighter Squadron (according to the numbers on the ejection seat and on the canopy rail). (U.S. Air Force photo)
Hi-res
Note:
- Unfortunately, I can't find any official online biography of Raymond T. Strasburger.
- As a Lieutenant Colonel, A-10 pilot Raymond T. Strasburger participated in Operation Iraqi Freedom as 75th Fighter Squadron operations officer. For the Air Force Museum he donated a desert flight suit, desert boots, dog tags, squadron patches, a mini flash light he said came in very useful on OIF missions and an American flag he said flew with him. He also presented, on behalf of 1st Lt. John Blocher, an A-10 pilot who served as a battalion air liaison officer with the Army's 3rd Infantry Division, a map of Iraq and a forward air controller kit he used to call in air strikes on Baghdad.
Flying coveralls worn by A-10 pilot Lt. Col. Raymond Strasburger during Operation Iraqi Freedom. The mini flashlight attached to the suit's zipper proved especially useful to pilots. (Photo by National Museum of the U.S. Air Force)
Hi-res
According to a 75th Fighter Squadron fact sheet
Lt. Col. Raymond Strasburger was the commander until 8 Jun 2003; followed by Lt. Col. Richard Turner, 2 Apr 2004; and followed by Lt. Col. Tim Rice, 10 Jun 2005-. Please note: This info will be upgraded.