Updated May 27, 2009
By Joachim Jacob
With a missing-man flying formation, four A-10 Thunderbolt II aircraft from the 81st Fighter Squadron, 52nd Fighter Wing (USAFE), Spangdahlem AB, Germany, participated in Memorial Day observance at Luxembourg American Cemetery (Hamm), Saturday, May 23, 2009 (2 p.m.). According to exclusive serial number info and first nice pictures on the German
FlugzeugForum
, A-10s 81-0952, 81-0962, 81-0984 and 82-0654 were involved. As Stars and Stripes reported, this event was also supported by the 1st Armored Division.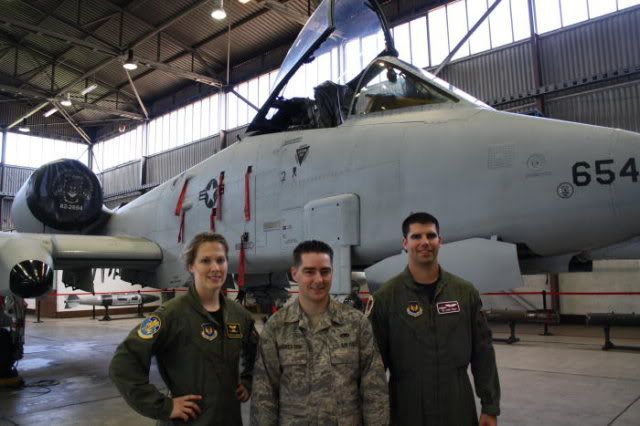 Pilot Jason Pruitt (r.), Pilotin Priscilla Giddings (l.) und Chris Andreasen, der für die Wartung der A-10-Maschine verantwortlich ist. (Foto: Jeroen van der Hoef)A-10 pilot Jason Pruitt (right), A-10 pilot Priscilla Giddings (left), and Chris Andreasen (either an A-10 crew chief or another aircraft maintainer) pose in front of A-10 82-0654 which was part of the missing-man flying formation. (Photo by Jeroen van der Hoef / Luxemburger Wort)
Please let me post the following news article in German language, especially for my European readers:
"Es ist eine Ehre, fliegen zu dürfen"
Jeroen van der Hoef
Luxemburger Wort
22.05.2009 07:01 Uhr
Am Samstagnachmittag wird auf dem Friedhof in Hamm der gefallenen US-Soldaten aus dem Zweiten Weltkrieg gedacht. Die Zeremonie steckt momentan in der Planungsphase. Für einen Piloten ist es ein besonderes Erlebnis, die Gedenkfeier selbst mitgestalten zu dürfen.
Traditionell am Samstag vor dem letzten Montag im Mai, dem "Memorial Day", wird auf dem Hammer Militärfriedhof den amerikanischen Gefallenen des Zweiten Weltkriegs Respekt erwiesen. Es ist eine Gedenkfeier, die jedes Jahr stattfindet, aber immer wieder aufs Neue bis ins letzte Detail geplant werden muss. Dies gilt auch beim Überflug von vier A-10-Maschinen des in Spangdahlem stationierten 52. Kampfgeschwaders, die in Formation, kurz nach der Begrüßung, mit einer Geschwindigkeit von rund 600 Kilometern pro Stunde unterwegs sein werden.
Die "A-10 Thunderbolt II" ist ein Erdkampfflugzeug der US Air Force. Dieser zweimotorige Unterschall-Jet kann gegen jede Art von Bodenzielen – inklusive Panzer und andere gepanzerte Fahrzeuge – verwendet werden.
Zeitplan bereits im Kopf
In einer der Maschinen wird Pilot Jason Pruitt sitzen. Er hat, bereits einige Tage vor der Zeremonie, den genauen Zeitplan im Kopf. Obwohl eine A-10 rund 20 Minuten von der Air Base Spangdahlem in der Südeifel nach Hamm braucht, wird sie kurz nach 13 Uhr in die Luft starten, damit er und die drei weiteren Kollegen auf jeden Fall Hamm nicht zu spät erreichen werden.
In der Luft steht er mit der Air Base Spangdahlem, mit den drei anderen Piloten sowie mit einer Person am Boden am Soldatenfriedhof in ständigem Funkkontakt. Pruitt geht davon aus, dass er vor dem Überflug kurz warten muss, ehe er das Zeichen von unten bekommt, mit der A-10 durchzustarten. Das Timing muss auf die Sekunde passen. Dabei ist die Organisation schon längst mit dem Flughafen Findel abgesprochen, der ja unmittelbar an den Militärfriedhof Hamm grenzt. In diesem Punkt erwartet Pruitt keine Schwierigkeiten.
Zusammen ist das Quartett noch niemals geflogen. Dafür verfügen die Piloten über viel Erfahrung, so dass es ausreicht, den Überflug am Boden zu planen und zu besprechen. Meist ist Pruitt in einer A-10 unterwegs, aber er ist auch mit anderen Kampfjet-Typen geflogen. Beispielsweise gibt es in den Niederlanden und in Deutschland ausgewiesene Areale für Übungsflüge. Auch war er an verschiedenen Einsätzen in Krisengebieten beteiligt.
"So etwas will jeder Pilot einmal erleben."
Für ihn ist es das erste Mal, dass er an einer Zeremonie wie "Memorial Day" teilnimmt. "Es ist für mich absolut eine große Ehre, am Samstag fliegen zu dürfen", sagt Pruitt.
Den Militärfriedhof von Hamm hat er bereits besucht und er hat auch am Grab von General George S. Patton Jr. gestanden. Doch der Flug morgen stellt viele Einsätze in den Schatten. "So etwas will jeder Pilot einmal erleben."
Source
Related info:
Memorial Day observances in Europe
(Stars and Stripes, May 23, 2009)
Related photos (posted on FlugzeugForum.de):
81-0952
81-0962
81-0962
81-0984
81-0984
82-0654
Note:
All four aircraft are carrying Sniper XR targeting pod on station 10, what indicates an A-10C upgrade. But only 81-0952 and 81-0984 are equipped with the new AN/ARC-210 secure voice radio antenna behind the cockpit.
Related USAF photo (released on 52nd Fighter Wing's public website May 27, 2009):
Senior Airman Bryan Craver, 81st Aircraft Maintenance Unit, prepares an A-10 for a Memorial Day flyover at the Luxembourg American Cemetery at Hamm, Luxembourg, May 23, 2009. (U.S. Air Force photo by Airman 1st Class Nicholas Wilson)
Hi-res