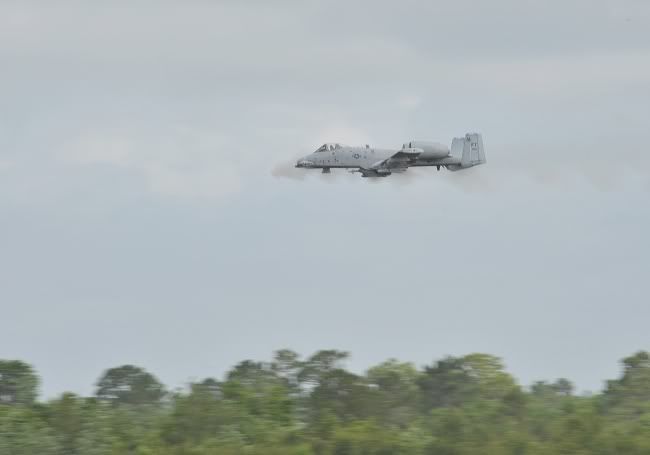 A-10C 78-0207 from the 74th Fighter Squadron engages with a simulated enemy element that is closing in on the position of a downed pilot who is awaiting rescue during a live fire and rescue demonstration during the Moody Spouses Appreciation Day here May 15, 2009. (U.S. Air Force Photo by Staff Sgt. Javier Cruz Jr.)
Hi-res
5/20/2009 - MOODY AIR FORCE BASE, Ga. -- The Moody Spouses Club sponsored a day of recognition to show appreciation for the sacrifices made by military spouses during the Moody Spouses Appreciation Day May 15, 2009. The day began with a bus ride to Grand Bay Bombing and Gunnery Range, where event attendees were able to view a live fire and simulated real world rescue demonstration.
Members from the 75th Fighter Squadron, the 71st Rescue Squadron, the 41st Rescue Squadron and the 38th Rescue Squadron participated in the demonstration which gave an opportunity for military spouses to view a rare glimpse of part of Moody's mission firsthand.
Two A-10C Thunderbolt II aircrafts provided close air support for two HH-60G Pave Hawk helicopters that deployed three Pararescueman in the hopes of retrieving a downed pilot.
At least one Pararescueman from the 38th Rescue Squadron landed near the position of a simulated downed pilot who has gone down behind enemy lines.
After viewing the demonstration by all of the specialized units from Moody, the military spouses were transported to the next event - to view the 820th Security Forces Group's military operations in urban terrain village.
Members from the 820th Security Forces Group were ambushed during a simulated patrol by enemy forces during a demonstration of the group's ability to perform non-traditional ground assaults. This demonstration provided a rare insight into the specialized operations and abilities of the 820th SFG.
Spouses were able to try on the heavy armor and equipment that is worn by the 820th SFG members.
(Courtesy 23rd Wing Public Affairs)
An A-10C Thunderbolt II evades a simulated enemy missile launch during a demonstration held for the Moody Spouses Appreciation Day here May 15, 2009. (U.S. Air Force Photo by Staff Sgt. Javier Cruz Jr.)
Hi-res
An A-10C Thunderbolt II engages with a simulated enemy element that is closing in on the position of a downed pilot who is awaiting rescue during the Moody Spouses Appreciation Day here May 15, 2009. (U.S. Air Force Photo by Staff Sgt. Javier Cruz Jr.)
Hi-res
An HH-60G Pave Hawk helicopter from the 41st Rescue Squadron along with an A-10C Thunderbolt II patrol the airspace above where a simulated downed pilot is located during a live fire and rescue demonstration during the Moody Spouses Appreciation Day here May 15, 2009. (U.S. Air Force Photo by Staff Sgt. Javier Cruz Jr.)
Hi-res
An A-10C Thunderbolt II evades a simulated enemy missile launch during a demonstration held for the Moody Spouses Appreciation Day here May 15, 2009. (U.S. Air Force Photo by Staff Sgt. Javier Cruz Jr.)
Hi-res
Moody spouses gathered at the viewing area of Grand Bay Bombing and Gunnery Range for a live fire and rescue demonstration during the Spouses Appreciation Day here May 15, 2009. (U.S. Air Force photo by Staff Sgt. Javier Cruz Jr.)
Hi-res
Source
(including some more pictures)