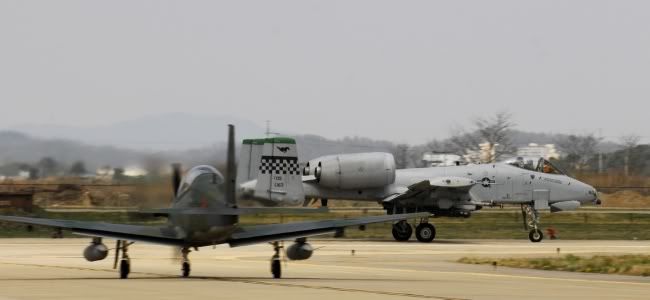 A-10 80-0163 from the 25th Fighter Squadron readies for takeoff past a ROKAF KA-1 during the Buddy Wing Program at Osan AB on April 14th, 2009. The 51st Fighter Wing hosted a combined exchange exercise called the Buddy Wing Program this week, with the participation from 25th Fighter Squadron here and Republic of Korea Air Force 15th Composite Wing from Seoul Air Base. The ROKAF aircrew members along with 25 FS trained together in this program allowing both units to introduce tactics and improve interoperability between the U.S. Air Force and the Republic of Korea. (U.S. Air Force photo by Senior Airman Stephenie Wade)
Hi-res
by 1st Lt. Malinda Singleton
51st Fighter Wing Public Affairs
4/15/2009 - OSAN AIR BASE, Republic of Korea -- Members of the 25th Fighter Squadron here hosted Airmen from the Republic of Korea's 15th Composite Wing April 13-15 for a "Buddy Wing" exercise and exchange program.
The purpose of the Buddy Wing Program is to introduce and review tactics, exchange ideas, and improve interoperability between the United States Air Force and Republic of Korea Air Force pilots, maintainers and support personnel.
The exercise kicked off with an afternoon of briefings and academics allowing Airmen from both countries a chance to introduce tactics as well as review and discuss them with each other. Classroom time was followed by hands-on air training exercises where the 51st Fighter Wing's A-10 Thunderbolt II and the Republic of Korea Air Force's 15th Composite Wing KA-1 aircraft flew a joint mission based on a simulated scenario.
"One of the big things is that Koreans and Americans speak different languages, so that can make it difficult for us to work together," said Capt. Eric Hart, project officer for the Buddy Wing program and also a pilot for the 25th Fighter Squadron. "But, if we train a few times beforehand, then we can be very efficient with our missions."
Maj. Park, Jwa Yrong, KA-1 pilot for the 15th Composite Wing, Seoul Air Base, agreed with Capt. Hart and added, "Speaking English is stressful to Korean pilots to get exact translations but day by day, training partners helps."
This program allowed the USAF and its allies an opportunity to train for combined air operations, said Col. Michael Newman, 51st Operations Group commander.
"The Buddy Wing exercises are designed for U.S. and ROKAF to work together in a joint training environment to show our ability to defend the [Republic of Korea] against any threats we think are out there," he continued. "So if we are ever faced in a contingency, we know and understand each other's tactics and procedures."
Both member of the 25 FS and 15 CW found this exercise to be beneficial in their overall training experience, and helped to strengthened the U.S.-ROK alliance.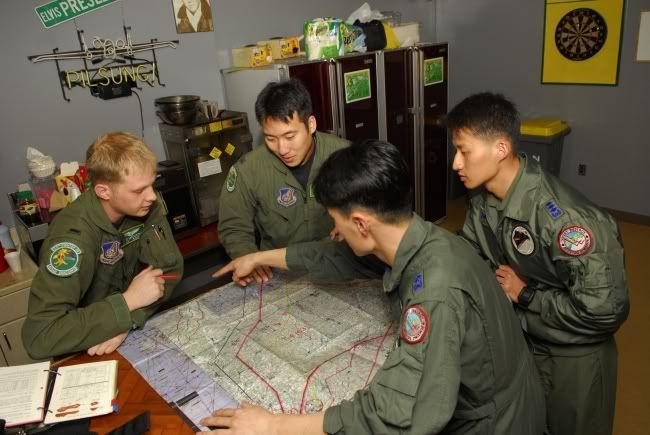 First Lieutenants Mike McCarthy and Al Chang from the 25th Fighter Squadron discuss their flight plans as they prepare for an upcoming mission with Capt. Pak, Chan Mu and Maj. Chong, Hyaon Dong from Republic of Korea Air Forces 15th Composite Wing. (U.S. Air Force photo by Senior Airman Stephenie Wade)
Hi-res
Source
Related info:
Exercise teams South Korean, U.S. fighter jets
Allies to practice close air support