By Joachim Jacob
The following first-hand info is extracted from the "Sandy Hog Gazette", 111th Fighter Wing newspaper, March 2009 public online PDF issue. At least on the moment, there are no related news articles and pictures on 111th FW's public website.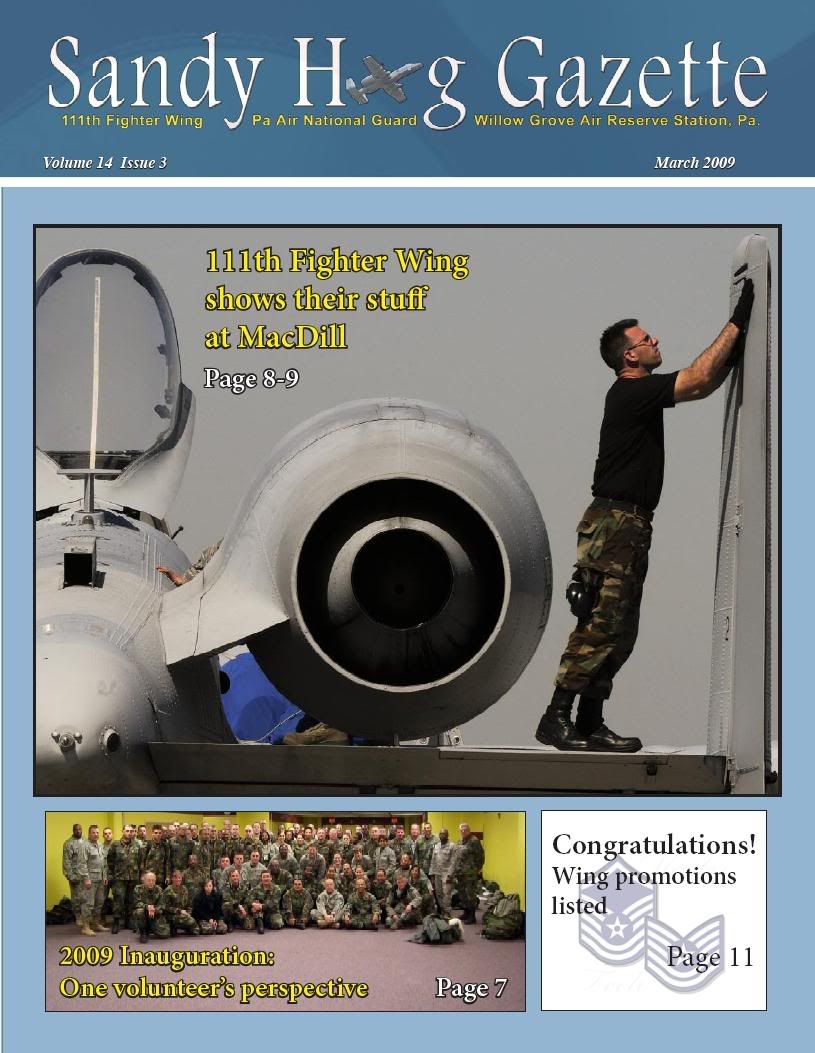 ON THE COVER: Staff Sgt. Joseph Galada III, 111th Aircraft Maintenance Squadron, conducts a pre-flight inspection on an A-10 Thunderbolt. (Photo by Master Sgt. Patrick Cashin)
Wing heads to Florida; kicks off training Pa. style

By Tech. Sgt. Jonathan E. White
111th Fighter Wing Public Affairs

MACDILL AIR FORCE BASE, Fla.— Approximately 160 guardsmen with the 111th Fighter Wing, Pa., Air National Guard, arrived here Feb. 17 to support the Joint Tactical-Air Controllers (JTACS) from Avon Park Air Force Range located in central Florida.

"The JTACs communicate, plan and facilitate the execution of close-air support for ground forces while working hand-andhand with the fighter aircraft in identifying ground targets," said Senior Master Sgt. John Felice, detachment noncommissioned officer in charge.

"This is the wing's third year in a row working with the JTACs here. The JTACs requested the wing's support in preparing other squadrons deploying to Afghanistan for this year's deployment," said Lt. Col. Timothy O' Toole, detachment project officer.

"All of the logistics basically started three months ago," said Colonel O' Toole.

"We are one of the most recently returned squadrons from Afghanistan. We had a very successful deployment."

The wing deployed to Afghanistan July 2008, and the JTACs requested the wing's assistance because of (the wing's) recent knowledge and experience gained in theater.

"The advantage we have is our massive experience. We are going to use our knowledge to train the JTACs," said Colonel O'Toole. Sharing knowledge through experience gained has been a common practice during this deployment.

Tech. Sgt. Michael Scully, 111th Maintenance Squadron electro-environmental technician, participated in last year's MacDill deployment.

"My supervisor, Master Sgt. Andy Jarosz, and I have been working since day one." said Sergeant Scully. "We've trained Koder and Jeffries and brought them up to spec from the C-130s to the A-10s.

It's very good having them, and they are definitely an asset to our shop."

In addition to training the JTACs, another goal was to bring people who normally do not get the opportunity to deploy on a regular basis, considering this could possibly be the unit's last trip with the [news is not finished - J.J.]



Lt. Col. Ed Fink, a pilot from the 111th Fighter Wing, does a final pre-flight inspection before launching during A-10A Snowbird Support Exercise at MacDill AFB. (Photo By Tech. Sgt. Marie Harmon)
A-10s bomb, rattle ground at Avon Park bombing range

By Tech. Sgt. Elisabeth A. Matulewicz
111th Fighter Wing Public Affairs

A caravan of 111th FW personnel left the Tampa area on Feb. 23 headed for Avon Park Air Force Range, Fla. to experience an A-10 training mission. They drove interstate to local highway, past palm trees and cattle, covering over 100 miles.

Once they arrived, they scaled several metal staircases up to an observation tower. The A-10s roared in one by one dropping practice bombs called BDU-33s onto ground targets.

Several screaming passes later, the A-10s came in lower and fired their 30-mm GAU-8/A cannons. Each aircraft burst plumes of smoke before emitting a roar reminiscent of a loud zipper pull.

Sunny, blue skies set the backdrop for a perfect live firing for pilots and audience alike.

Watching the A-10s descend towards each target, take aim and rock the sky was breathtaking—especially for a brother-sister team with the 111th Maintenance Sq. munitions section.

"Seeing what we make being used here is interesting," said Senior Airman Aaron M. Thieroff.

On a typical day, Airman Thieroff and his team pack fuses and safe aiming devices into shells before loading them 40 to a trailer. The munitions are delivered to the armament section and loaded onto the aircraft. "I think it's awesome," Senior Airman Ashley B. Thieroff added.

For several first-timers (including myself), seeing the A-10s in action broke a few misconceptions. "I always wanted to see how they did it," said Tech. Sgt. Byron S. Lockett, 111th Logisitics Readiness Sq. "I thought they'd be over the target when they let the bombs go. But when they come in, they're several hundred yards away."

An added bonus was having Col. Paul W. Comtois, 111th FW Commander, there to talk us through what we saw. We were very lucky to have him explain everything from a pilot's point of view and educate everyone on the A-10.

The following pilots made up the 4-member team that flew that day: Lt. Col. Niclas Szoke, Lt. Col. Scott Hreso, Col. Jim Blaydon, and Lt. Col. Gary Beard.

Avon Park Air Force Range is located in Polk and Highland counties, Fla. and covers over 106,000 acres, of which 82,000 is open to the public for recreation.

Surprisingly, the range is home to a number of endangered species of birds and reptiles. According to Range Control Officer Chris Spears, Avon Park is the largest bombing range east of the Mississippi; Nellis's being the largest in the country.



A BDU-33 is dropped at a target from an A-10 from the 103rd Fighter Sqadron at Avon Park Air Force Range near Tampa, Florida, on February 23rd, 2009. Approximately 160 guardsmen from the 111th Fighter Wing trained at the Deployment Unit Complex (DUC) at Mac Dill AFB. (Photo by Master Sgt. Patrick Cashin)

Pictured in this photo essay is A-10C 81-0981 from the 103rd Fighter Squadron.
Source